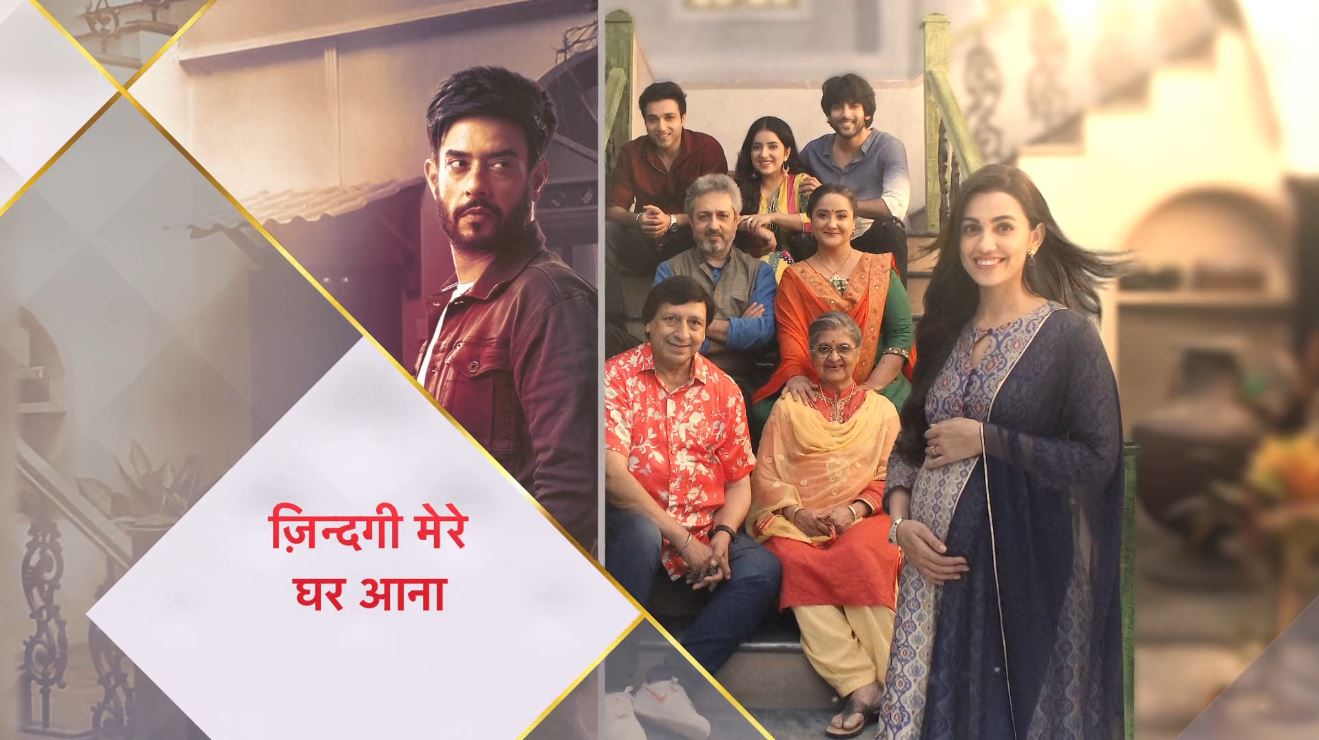 Zindagi Mere Ghar Aana 26th July 2021 Written Episode, Written Update on TellyUpdates.com
The Episode starts with Sakhuja's family getting ready for some function. Zindagi….plays… Amrita wears a dupatta and says this one is good, Karan got this for me. She cries. Her sister-in-law Soni gets emotional. Amrita sees her baby bump and smiles. Dada and Dadi have an argument. He practices for his standup. He asks Angad to help. He flirts with his wife. Angad laughs. He says I won't get into your fights. Nimmo comes and asks them not to fight. He asks them to get ready. Angad says its Dolly's haldi today. He smiles seeing Dada and Dadi's argument. Nimmo asks him to stop smiling and go. She asks Amrita and Soni to come. Amrita sees Karan's pic and talks to him. She says its Dolly's haldi, Dolly, Chadda uncle's daughter, how do I look, shall I go. Soni compliments Angad and says I m clicking his pic to send it to Meera. Nimmo says you can take their pics together. Guneet comes and asks Angad to understand his responsibility. Nimmo says I was sorting your parents' fight, don't blame me. He says no way, I won't blame you, where is Kabir. Soni says Kabir is really sad today. Kabir gets some grocery. The car alarm rings. Kabir hears the music and dances.
Chobey says Kabir kicks my car and rings the alarm. Kabir says I just touched it. Dada ji also goes and dances with Kabir. Guneet stops them. He asks Dada and Dadi not to start arguing here. He asks Kabir to go and help Chadda. Kabir says I m sad, my Paro is leaving. Angad says he is talking about Dolly, he is Devdas. Kabir says my world is getting ruined. Dada ji checks his look. Nimmo says explain Kabir first, else I will not leave him. Dada ji asks Kabir to teach his style as well. He kicks Chobey's car. Kabir and Dada ji dance. Chobey complains to Guneet. Nimmo stops Kabir and asks him to go to Chadda's house. Kabir says I was going to marry Dolly, I can't work there. Nimmo and everyone scold him for not doing any job, Chadda had agreed for the alliance before. She asks Sunny and Ronny to take Kabir with them. Kabir compliments Amrita. Dada ji kicks the car. Kabir dances with Amrita. Kabir jokes on Nimmo. Amrita laughs. Dadi asks Amrita to keep smiling. Dada ji says we will take a selfie. They take a selfie. They come to Dolly's haldi function.
Kabir gets sad and asks the friends to burn the chairs. Nimmo asks what did you say. Kabir says nothing. He argues with Chadda. Chadda says I told you that your son won't come here until Dolly's bidaai. Guneet says he didn't wish to come, we wanted some guys to work for free, he has come and got his friends also. Chadda says your son is very mean, you don't know him, no one knows what Kabir will do. Nimmo says yes, he is mean. Guneet says I promise, he won't do anything wrong. Sushma asks Nimmo about Karan. Chaddha apologizes and takes Sushma from there. Nimmo gets sad. Guneet pacifies her. He says just keep yourself fine, if we have come here, then people will talk about Karan. She asks Kabir to work. Kabir collides with Dolly. He compliments her. She asks what are you doing here. He says I m doing arrangements in your function. She says we were going to get married, you aren't ashamed to work here, if you did anything in your life, then we would have got married. He says you look really lovely like Alia. She says I know you are so mean. He says I also wanted to work, your dad wanted a working guy. She says money is imp for life. He says I got a job once, your dad didn't agree. She says your appointment letter was fake. He says my attempt was right, my heart is crying, apply mascara. Chadda comes and asks what are you doing here. She says he is troubling me. Kabir asks him to get dressed up well. Amrita asks Kabir not to do anything wrong. Kabir says my love is marrying someone else. She says you should have done a job if you really loved Dolly, marriages are made in heaven, forget Dolly. He asks could you forgot Karan, its not easy to forget. Amrita says I lost Karan in just few years of marriage.
Kabir is with his friends. Dolly calls Kabir and says meet me outside. Kabir asks what will you do now. She says meet me first, I didn't get the haldi yet. He asks her to get a whiskey bottle. She says meet me first. Kabir goes to meet Dolly. He asks what did you want to talk. She asks will you elope and marry me. He asks what. She says yes, there is no option, I saw you upset and realized how much you love me. He says it doesn't look good, you marry where Chadda uncle wants, I will forget you. She scolds him. He asks where will we go and stay. She says at my friend's hotel. He says we will elope and run to Manali. She says we will get married and also have a honeymoon. He says we will need 2-3 lakhs for this. She asks if I get jewellery worth 4 lakhs then… just say yes. He says I m ready to elope if you get the jewellery. She hugs him. She says I m going, we will run away, be ready. She goes and gets the haldi applied. She winks to Kabir. Dadi dances. Soni takes Amrita for dance. Sushma says let it be, Amrita shouldn't dance, Karan isn't here. Kabir gets angry. Amrita signs him to stop. Nimmo cries seeing Amrita. The family members hug Amrita. Amrita says I should dance for Dolly in her haldi. She dances for Dolly. Sasural genda phool…plays… They all hug.
Kabir talks to his friends. He asks them to talk to jeweller. His friend says jeweller will pay less, but give the cash. Amrita comes and asks what are you doing here. Kabir hugs her. She asks why are you getting emotional. She asks why did you pack your bag. He says I m going to Manali. She asks are you running away. He says no, how do you know. She says I didn't know you were so serious about Dolly. He says I can't see her marriage with someone else, keep this secret. She says fine, how will you go.
He says I will go from the window. She says fine, be careful, all the best, take care, stay in touch. She goes. Guneet gets angry. Angad says you should have stopped her. Amrita asks what happened. Dadi says Nimmo left again. Angad says she went to the workshop to check. Guneet says nothing will happen, she doesn't listen, Amrita has kept patience, when will Nimmo keep patience. Amrita goes to her room and cries. Nimmo is at some govt. office and argues with the lady. She asks for Karan. The lady doesn't answer her well. Nimmo gets angered and shouts on the lady. The lady slaps her. She asks the watchman to make Nimmo out. Nimmo says I won't go. The watchman pushes her. Nimmo gets hurt. The lady says I shouldn't see this woman in the office again. Kabir gets Dolly's call. He says I m just leaving. He hears everyone shouting. Angad gets Nimmo home. Everyone shouts seeing her hurt. Kabir gets angry. He gets Dolly's call and disconnects. He runs to Nimmo and says tell me who has raised hand on him. Angad says lady staff. Kabir says come, we will go and teach her a lesson. Guneet says stop it, why doesn't Nimmo stop going there. Nimmo says how can I stop, Karan is mine, his ashes are there. Amrita and everyone get sad. Nimmo says I asked them for his ashes. She cries.
Dada ji says this pain isn't just yours, its ours also. Nimmo says I know Karan will never come back, but his ashes should come, we shall bid a bye to Karan. Guneet says we also want that, but how shall we do this, we met Karan, we didn't know that its the last meet. Everyone cries. Kabir says Karan gave his life while treating the people from corona, they can't even give his ashes, I won't leave them. Guneet says we have tried everything, they don't have Karan's ashes, they are just doing timepass with us. Amrita comes and acts strong. She does aid to Nimmo's wound. Everyone looks at her. Nimmo asks won't you tell anything. Amrita says everyone has convinced their hearts, why don't you convince your heart, why do you keep going there. Nimmo says I go there for your sake. Amrita says forget it. Nimmo asks did you forget Karan. Amrita goes and thinks of the corona times, when she lost Karan. She recalls the day. Karan comes home wearing a PPE kit. He waves to Amrita. The neighbors see him and shut the door.

Precap:
The neighbors oppose Karan and ask him to leave the locality. Dolly says I didn't call Kabir, he has come himself, he asked me to elope. Chadda pushes away Kabir.

Update Credit to: Amena
The post 1st Epi – Zindagi Mere Ghar Aana 26th July 2021 Written Episode Update: Sakhujas deal with Karan's loss appeared first on Telly Updates.