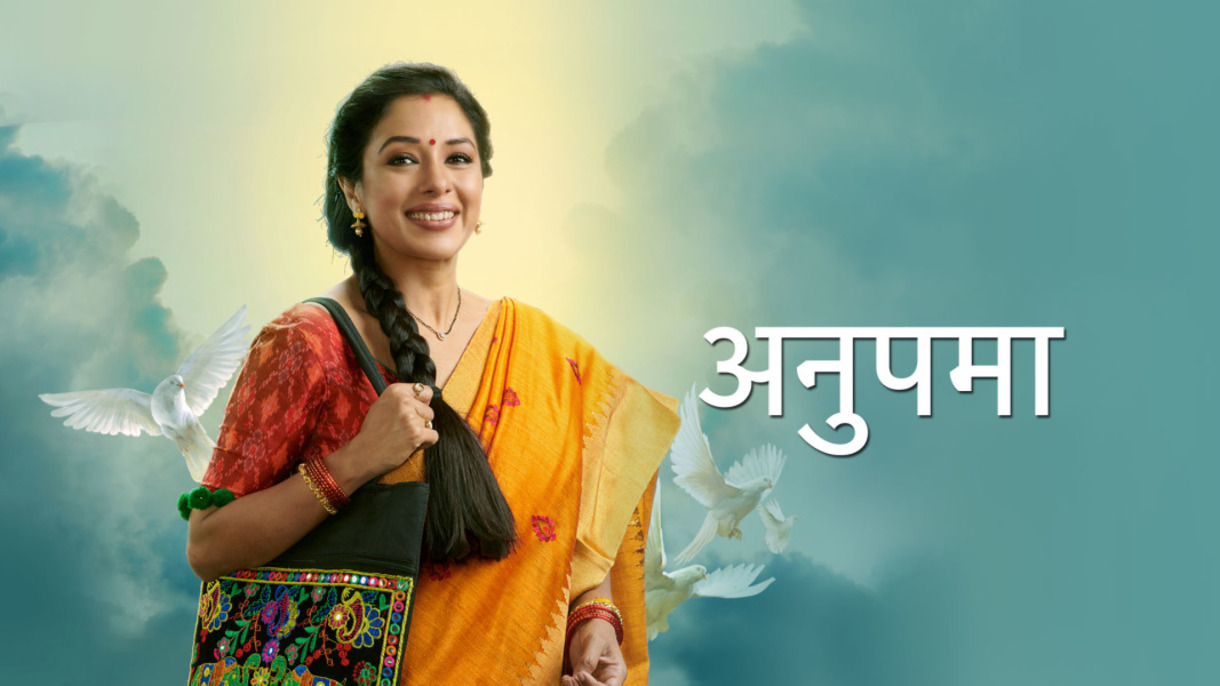 Anupama 29th July 2021 Written Episode, Written Update on TellyUpdates.com
Kavya eagerly waits for news paper while Anu performs tulsi pooja and hopes Mansi Jain gave a good review of their cafeteria. News paper man delivers news paper, Kavya snatches it from Anu and rushes in calling Vanraj. Whole family gathers. Vanraj gets angry after reading the review and throws news paper. Kavya reads next and shouts at Anu for blaming her for a bad review. Anu asks why she is shouting when she is standing her. Kavya shouts they got a 2 star review because of Anu's bad tasting food. Vanraj says its not Anu's mistake as Mansi has clearly written that food was good, but the owner was very irritating and self-obsessed who was boasting about her grandmother's recipes while she herself doesn't know anything about cooking and hence Anu and Baa got 1 star each and minus 3 because of Kavya. Baa comments that people say they will bring stars for the lover, Kavya brought him -3 stars and ruined his business. Bapuji says there is no use blaming Kavya. Vanraj says he warned Kavya not to overdo, but her self-obsessive behavior ruined his cafe's reputation. Samar gets his fiend's messages and surprised says oh no. Vanraj asks he cannot hear anymore bad news. Samar says its a good news and plays video blogger Kiara's review on TV. Anu identifies the blogger as the cute short-haired customer. Kiara praises that they feel comfortable like home and praises its food and especially Anu who made her feel like a family. She continuously praises Anu with her long review and then Vanraj's singing and their friendly bonding even after a divorce. Toshu asks who informed Kiara about Anu and Vanraj's divorce. Baa says she must have overheard her and her friends' conversation. Kiara ends her review saying what youngster cannot an uncle and aunty did and gives 5/5 stars. Nandini enters to inform about review and young customers' approach. Family congratulates Anu. Kavya stands burning in jealousy.
Vanraj taunts Kavya that she is jealous of Anu, but should chill. Kavya brainwashes him that its sad that its his loss as Kiara took only Anu's name and he is nowhere, he and his whole family are habituated to Anu's help that they cannot manage if she is not present. Vanraj warns her to stop. Kavya continues that he took care of Anu for 25 years and now she is taking care of him in everything, etc. He says Kavya is her friend and friends help each other. She says she doesn't want him to be under the burden of Anu's help, she had married a man who used to help others but got a man who is taking help now, she wants her V back who was his own man and used live and win for himself.
Samar excitedly praises Anu while she cooks that Kiara's video reached 1 lakh views and will soon reach 10 lakhs and 1 crore views, then she will be a brand of her own with her brand accessories and clothes and then she and Baa will rock; they are getting good publicity. Anu says in a world where people don't befriend family, they befriend strangers on social media. He says they got a good publicity of their cafe. She says someone is hurt though. He says he knows Kavya is hurt. She says she is talking about Mr Shah as the most delicate thing in the world is a man's ego and its hurt the most first.
Baa decorates halwa. Bapuji says its smelling pleasant. Vanraj passes by and informs Baa that he is going to cafe. Baa asks him to have sweets and go. He says she should feed sweets to Anu as she became more famous than cafe. They all sense his frustration. Bapuji comments via an old song that people cannot hear good. Samar says Mr Shah shouldn't have reacted like this.
Toshu sees pent house's keys in Kinjal's purse and gets happy thinking Kinjal agreed to shift from Shah House. Kinjal enters room. He hugs her happily and romances her. She notices pent house and asks if he thought she agreed to stay in pent house. He says yes. She says for his happiness, they will stay in penthouse during alternate weekends as she wants to spend 1 weekend with family and 1 weekend alone in penthouse. He gets angry and warns her that he wants to shift to penthouse permanently and gives her 2 days to think.
In cafe, Vanraj tells chef that they cannot take Anu's help daily. Anu walks in and asks what did he say to Baa. He rudely ignoring her. She asks to speak to her properly when she is and asks if he is angry that Kiara praised her instead, she didn't want to enter his cafe at all but seeing him need, she helped him. He thanks her for help and says she wants more views and likes for her praise. Anu says whether she gets views or likes, she should get some conscience so that she can remember his rude behavior and stop helping him hereon, he couldn't follow their relationship and now cannot follow their friendship, so they will act as friends at home and professionals here. He says he doesn't take anyone's favor and will pay her cafe's rent after 1 month.
Precap: Tax official informs Vanraj that karkhana/factory's property tax is not paid since years and they owe 20 lakhs tax to be paid in a month. Vanraj shows notice to Anu and asks how will they pay 20 lakhs in 1 month.
Update Credit to: MA
The post Anupama 29th July 2021 Written Episode Update: Kavya Manipulates Vanraj Against Anupama appeared first on Telly Updates.