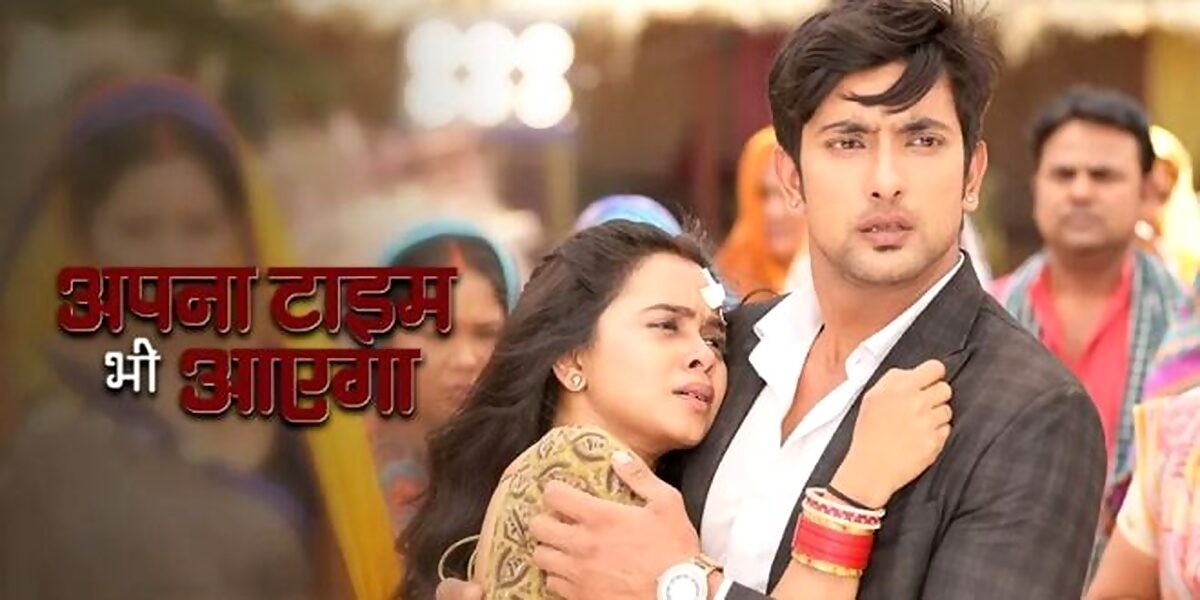 Apna Time Bhi Aayega 23rd July 2021 Written Episode, Written Update on TellyUpdates.com
Scene 1
Veer says he's my patient and my responsibility. Until he gets better he will stay here in front of me. Thank you for bringing him here. Rajeshwari says to Rani how dare you to bring him here without my permission. Rani says I was.. Rajeshwari says you will pay a big price for this. She leaves. Digvijay says Rani Rajeshwari will be very angry. Why did you have to put him in danger? Rani says I did it for Veer. Ranvijay is your son and brother. I couldn't leave him helpless. Who else can take care of him but his son? Digvijay says we also care for him but.. Rajmata says Rani is right. One day or other we had to bring him here. Digvijay says we have to ensure that Ranvijay doesn't come in front of Rajeshwari. She should never know. Vikram comes and says who Ranvijay?
Veer takes Ranvjay to the room and says I am so glad to see you better. I don't know how was I drunk but thank God I didn't do any mistakes. I want to see you on your feet soon. Vikram asks who Ranvijay? Rani says he was talking about work. Rani tells Vikram Veer is happy. I brought kaka home. Veer can treat him now. Vikram says that's great but we have to get his license back. His work is his passion. Rani says he was fine. I don't know how he got drunk. She recalls Veer drank lots of water. Veer sets up things for Ranvijay's treatment and starts his treatment.
Scene 2
Vikram and Rani come to the hospital and ask for CCTV footage of Veer's cabin. Veer keeps drinking water. Rani says something was mixed in it. Rani and Vikram come to the trash can and find the bottle. Rani smells it. Vikram says something is mixed in it. Let me find out through the lab. Rani calls Veer. She asks Veer who gave him that water bottle? Veer recalls Rajeshwari gave it. He says Rani sa gave me that bottle. Rani is shocked. He says what happened? Rani says nothing. She hangs up. Rani cries. Veer says I have to find out what was in that bottle. Veer leaves.
Scene 3
The watchman doesn't let Veer in. He says I will lose my job. We have been given the order to not let you in. Please go. Vikram says how dare you? Do you know who he is? How can you ask him to leave? Veer says he's doing his job. The watchman says sorry to Veer. Veer asks what's the story of the bottle? He says Rani didn't tell you? Veer says no.
Rani comes to Rajeshwari. rajeshwari asks why are you here? Rani says you told me to question when I have the proof. Here is the proof. She shows her the bottle. rani says I have sent it for the test. Will have the report soon. When I heard the name I was shocked. I didn't know how could you stoop so low. How could you accuse your own son and get everything from him? Why did you do this? She says because Veer doesn't deserve to be called my son. He has shown that an outsider remains an outsider. And you know where did it start? When he married you. You are the reason of all these failures. He married a maid and made her sit next to me. You thought I will forget it and forgive him? If you weren't there, this family won't have broken and that homeless patient won't be in our house.
Champa records their video and sends to Jai. Rajeshwari says blame yourself. Nandini sees the video. She takes it from Jai's hand. Nandini says what is this? You are spying on my family? Jai says give me the phone. The tea falls on her hand and she burns her hand. Jai says don't dare to interfere in what I do. Can't make a tea and telling me what to do? He leaves.
Rani says I can't change what you think about me. I tried but I can't. But I won't let you blame this on me. You ruined Veer's career. Rani says I don't care. And I don't care if that patient lives or dies. Shanti says to Rani you asked for this? Rani says keep it in his room. Rajeshwari says no. Nothing will go to that patient. Shanti leaves in there. Rajeshwari says enough of your choices. I will kick that patient out of this house. This is my house and I will decide what happens here. Rani says he needs treatment. She says that the homeless man won't stay here for a second.
Vikram says it was all planned against you. Here is the proof of your innocence. Veer is shocked. He recalls Rajeshwari came to him and said today is very important for you. Veer said I am sorry for what happened. Rajeshwari said I will always care for you. You are my son after all. Veer coughed. He said did you use perfume I am allergic to? She said I am sorry I forgot. She gave him water. Veer cries and says Rani sa did it all? Vikram says are you okay?? Do you know who did it?
Episode ends.
Precap-Rani stops Rajeshwari. she says please don't do this. He's Veer's patient. Rajeshwari shoves her and says you also get out with him. She takes off his mask and sees his face. Rajeshwari is shocked. she says this can't happen. Rajmata holds her.
Update Credit to: Atiba
The post Apna Time Bhi Aayega 23rd July 2021 Written Episode Update: Veer finds out Rajeshwari intoxicated him appeared first on Telly Updates.