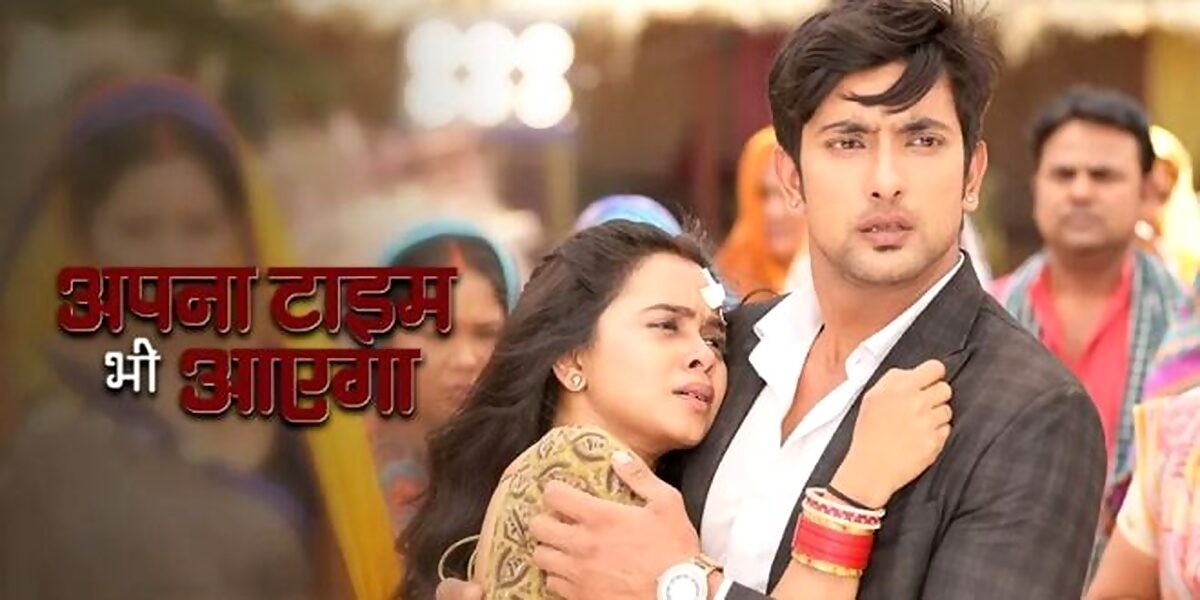 Apna Time Bhi Aayega 26th July 2021 Written Episode, Written Update on TellyUpdates.com
Scene 1
Rajeshwari says Veer is my son? She cries. She recalls what she did to him. Rajeshwari says Veer is my son? Digvijay says yes. Rajeshwari says I gave birth to him. Veer comes in and says why did you do this with me Rani sa? Rajeshwari says that.. He says don't try to clarify. My license is canceled. My career is over. You mixed something in my water. You risked a person's life. What was my mistake? He cries. He says I always cried why you didn't give birth to me but now I am glad. I am glad I am not your blood. You don't deserve to be a mother. Rajeshwari cries. Everyone is shocked. Veer says thank you for all that you have done for me but I am going now. I will never come back.
Rani says please stop. This is your house. He says this is Rani sa's house. She never considered me family. Veer takes Ranvijay. Rajeshwari cries. She recalls everything. she cries. Digvijay holds her. Veer packs his bags. Rani says you are not doing right. We can't leave our family. He says it's all shallow. Rani sa showed me she isn't my family. I am an orphan. No one cares if I live or die. Rani says how can you leave your mom? He stops. Rani says yes, Rani sa is your mom. Veer says she never considered me her son and from now I don't consider her my mom either. rani says she gave birth to you. Veer says don't make stories to stop me. Let's go.
Digvijay comes in and says Rani is right. Rajeshwari is your mom. He says you will say anything to stop me? Please don't do this. Let me go. Digvijay says Rajeshwari is your mom. Veer says Rani pack your bag and let's go. He goes out.
Scene 2
Rajeshwari cries. Rajmata says I will talk to Veer. Digvijay says Veer listen. Rajeshwari stops Veer but he doesn't listen. Rajeshwari says she's your mom. Veer says don't make these fake relations stop me. Let's go Rani. Rani says I won't go anywhere. Neither would I let you go. Veer says I am leaving everything behind. I can't do it without you. Please. Let's go. Rajmata says Vikram talk to Veer. Vikram says you can't leave the house. I won't let you go. Veer says Vikram I have decided. I won't stop now. Vikram says but. Veer says you are the only son of this house now. Rajeshwari says Digvijay please stop Veer. I can't live without my son. Veer.
Ranvijay holds Veer's hand. Veer is shocked. Veer says you are conscious? He says listen to me veer. They are all right. Rajeshwari is your mom. Veer is shocked. Veer says who are you? And how do you know that about me? What is happening? Rani what is he saying? He doesn't know any of us and now he's saying Rani sa is my mom? Will anyone tell me what's happening? Rani says he's your dad. Veer is shocked. Veer looks at Digvijay and Rajeshwari.
Scene 3
Ranvijay tells Veer Rajmata got him married to Rajeshwari. But he realized he wasn't ready for marriage and responsibility. He left the house and went to Dehli. But in a few years, I realized that I have made sin. I gathered courage and came back here. Yes maa sa, I came here but I found out Rajeshwari was in a coma. But when she healed, Digvijay married her. He fixed my mistake by marrying Rajeshwari. He saw their photo and left. He says i couldn't hurt my family again so I left.
A few years ago, I met an accident with a truck. I was in a coma since then. But life had to play it's course and it brought me to my son Veer. When I opened eyes, I was in my own house with my family. Veer says what? My whole life was a lie. You left me alone all these years? And all of you lied to me?
Episode ends.
Precap-Veer says when trust is over, the relationship is over as well. Rajeshwari cries. Rani says how can you say that to your mom after knowing everything? He says I have no relation with Rani sa. Rajeshwari cries and says please forgive me. Veer says I don't want anything from you. He leaves the house. Rajeshwari cries.
Update Credit to: Atiba
The post Apna Time Bhi Aayega 26th July 2021 Written Episode Update: Veer finds out the truth appeared first on Telly Updates.