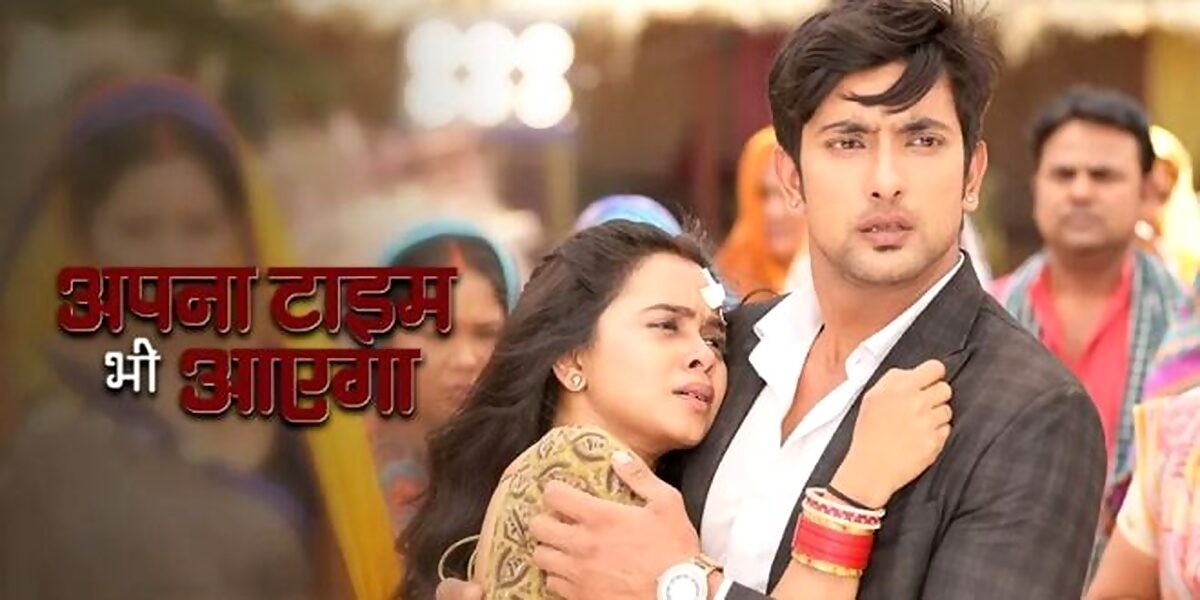 Apna Time Bhi Aayega 27th July 2021 Written Episode, Written Update on TellyUpdates.com
Scene 1
Veer says I want to go far away from you all. Rani says how can you leave your family and mom? He says Rani sa isn't related to me. Rajeshwari says if you leave me I will be shattered. Please forgive me. She holds her hands. Veer recalls what she did. Rajeshwari says please don't leave your mom. He says you are nothing to me. I am leaving. Veer leaves her hand and leaves the house. Rajeshwari sits down and cries. She says please Veer.
Veer walks out. He recalls what happened. Rani says please stop. Where are you going? He says away from this house. Rani says how can you leave your house? You are saying all that in anger. Veer says let's go. Ranvijay says Veer.. Would you listen to me? I know if you have decided it must be right. You shouldn't go to that house but that doesn't mean you have to live alone. He says I am your dad. I have everything but my son. I have done huge mistakes in life. Life has given me one chance to solve those mistakes. Please come with me. Veer says you will come with me. Veer hugs him. rani is shocked. Ranvijay says we will be there for each other. You are my son. I won't let you feel the absence of anyone. Veer says let's go. Rani says I won't leave my house.
Scene 2
Rajeshwari cries and recalls what Veer said. Digvijay says Rani will bring him back. He will have to come. It's his birthday tomorrow and he will celebrate with us.
Veer says you can let me go alone? You care about them and not me? Rani says I care about you that's why I am stopping you. Ranvijay says we should understand him. Living here would remind him of what he has been trhough. Rani says but his family isn't shallow. We can't leave everything. I know you're mad at Rani sa. Did you leave me when you were mad at me? We can all live together. We have to make space in the heart. Please decide what's right. Veer says not this time Rani. Rani I will live where my family is and I want you to live with me. Rani goes back in. Rani says in heart I know you can't leave your family.
Scene 3
Rani comes back in. Everyone is shocked to see her. Digvijay says Rani? Where is Veer? Veer comes back in as well. Everyone is shocked to see him. Rajmata hugs him. She says please forgive me. Veer says you don't have to apologize. Digvijay says I am sorry Veer. We kept you in dark. Forgive me please. Veer hugs him. Rajeshwari comes towards him. Veer says stop there Rani sa. The more you try to come closer to me, I will go far away. I won't forget and forgive you. I only decided to stay because of Rani. And I don't want dadi and papa to be away from their son and brother again. You aren't the reason. Rajeshwari says veer.. He says please stay away from me as long as I am here. He goes upstairs. Rajeshwari says I have done many mistakes but I will fix it now. I will make tomorrow very special for you.
Rajmata thanks Rani. Rani says don't say that. She says you brought both my son back. Rani says we will all live together. We will bring Veer and Rajeshwari closer too. Rajmata hugs her. Veer keeps recalling everything. Rani comes to him. Rani says I am happy you decided to stay He says I am not. Why didn't you listen? I can't breathe here. Rani says I know you love Rani sa. You can't live away from her for one day. Veer says I don't love her and she isn't my mom. She's nothing to me. Rani says your eyes can't lie. Ranvijay comes in.
Episode ends.
Precap-Veer celebrates the birthday. Rajeshwari says to Rani if you want to help me, give the gift I have for Veer to him.
Update Credit to: Atiba
The post Apna Time Bhi Aayega 27th July 2021 Written Episode Update: Rani stops Veer appeared first on Telly Updates.