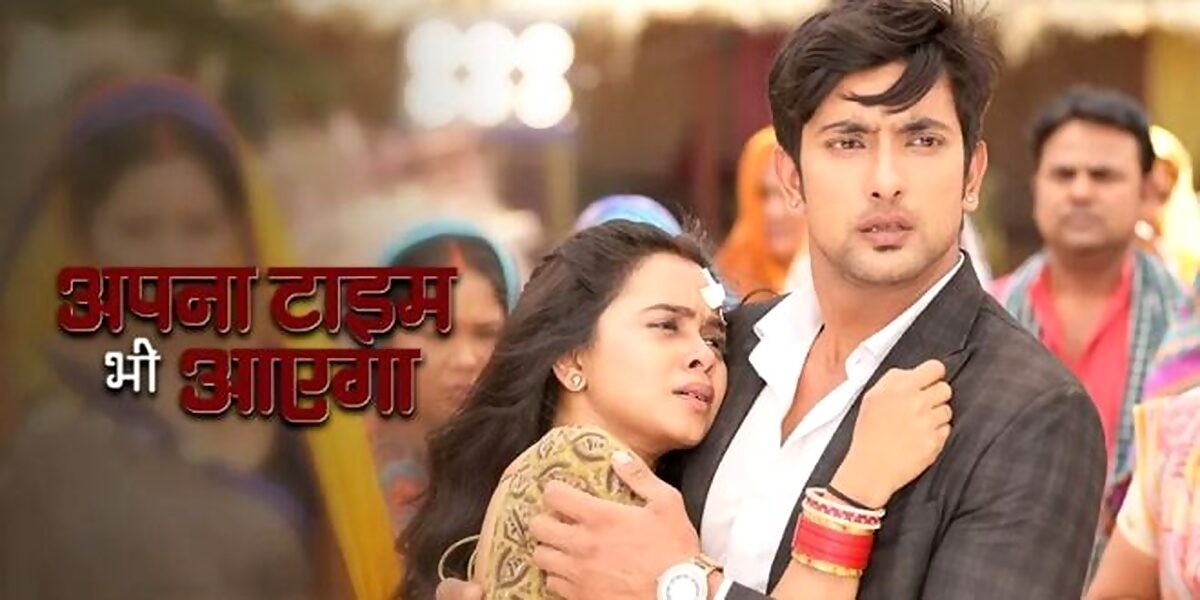 Apna Time Bhi Aayega 29th July 2021 Written Episode, Written Update on TellyUpdates.com
Veer tells Rajeshwari that Ranvijay is there because he's elder son of that house. Ranvijay tells Veer that Rajeshwari is right. He made mistake so he will have to pay for it. Veer says at least he accepts his mistake. Some have done mistakes for years, but no acceptance. Ranvijay tells him to go to Rani, she needs him.
Veer comes to his room. Rani has put food stalls and decorated the room. She says they celebrated his birthday in a city style, now they need to celebrate it in village style. He says, but she's injured. He asks her about it, but she puts a pani puri in his mouth. He says it's so spicy. She says there is no fun if tears don't come while eating pani puri. She informs him that she and Vikram have applied for his license and he shall get it tomorrow. He gets very happy. He holds her hands and thanks her. She tells him to enjoy his birthday now. He says it's his birthday, but everything is of her choice like all the food stalls. She says, you're also of my choice. Both look at each other and smile. They feed pani puri to each other.
Rajeshwari tells Raj Mata that just like her, she will make kheer for Veer on his birthday. She is afraid that he won't eat and asks Raj Mata to give him saying she made. Raj Mata tells Rajeshwari to give on her own, he won't refuse. Rajeshwari comes to kitchen. Rani is surprised. Rajeshwari sends servants out. She can't find things in kitchen. Rani helps her. Rani tells her that Veer will love kheer, he's desperate for such love. She further tells her that she's looking very cute while making kheer. Rajeshwari asks her to leave. Rani tells Rajeshwari about Veer's license and leaves. Rajeshwari thinks to look into license first and then make kheer.
An officer informs Vikram about delay. Veer is little disappointed. Rani tells him that they didn't say no, it will just take some time. Rajeshwari tells Veer not to worry, he will get it soon. Veer taunts Rajeshwari that of course it will take time because someone put so much effort to cancel it. Veer leaves from there. Rajeshwari thinks it's because of her his license was cancelled. She will do anything to get it back. She calls the officer and tells him that she wants Veer's license today itself. He asks her to send someone. She says she will come herself. When she reaches the office, the officer tells her that someone already took it. She asks who came? He says Ranvijay.
Ranvijay is giving interview to media. He gives credits to Veer for his return from coma. He also says medical board accepted that Veer was at not fault and gave his license back. Rajeshwari comes there. Ranvijay continues, soon Veer will resume his duties. In end he is son of… Rani interrupts saying Rajeshwari's. He came to this height because of Rajeshwari's upbringing. Ranvijay hands the license to Veer. Everyone claps. Media leaves. Raj Mata tells Rani that she handled everything well today. If Veer's truth came out, then they wouldn't have been able to control the media. Ranvijay apologizes saying he got emotional. Raj Mata asks Rajeshwari how's her kheer preparation going that she was making for Veer. She says it's almost ready. Veer tells Rajeshwari that she doesn't need to do anything for him. He leaves from there. Rajeshwari gets sad and she also leaves. Ranvijay asks Rani whether she can make kheer on this happy occasion. Rani says how she can make? Rajeshwari has prepared everything. She wanted to make for Veer. Ranvijay says all the happiness came in the house because of Rani and she should be making kheer. Rani is not sure. Raj Mata nods her. Rani says okay.
Rani comes to the kitchen. She feels bad for Rajeshwari. She decides to make kheer in Rajeshwari's style and tell Veer about it. She goes to Rajeshwari to get the recipe. Someone comes to kitchen and cuts the gas pipe. Rani comes to Rajeshwari's room, but she's not there. She searches for her, but can't find. She thinks she will have to make kheer on her own now. She returns to kitchen. The person is hiding and watching as she lights the lighter.
Episode ends.
Update Credit to: Simmy
The post Apna Time Bhi Aayega 29th July 2021 Written Episode Update: Veer gets his license back appeared first on Telly Updates.