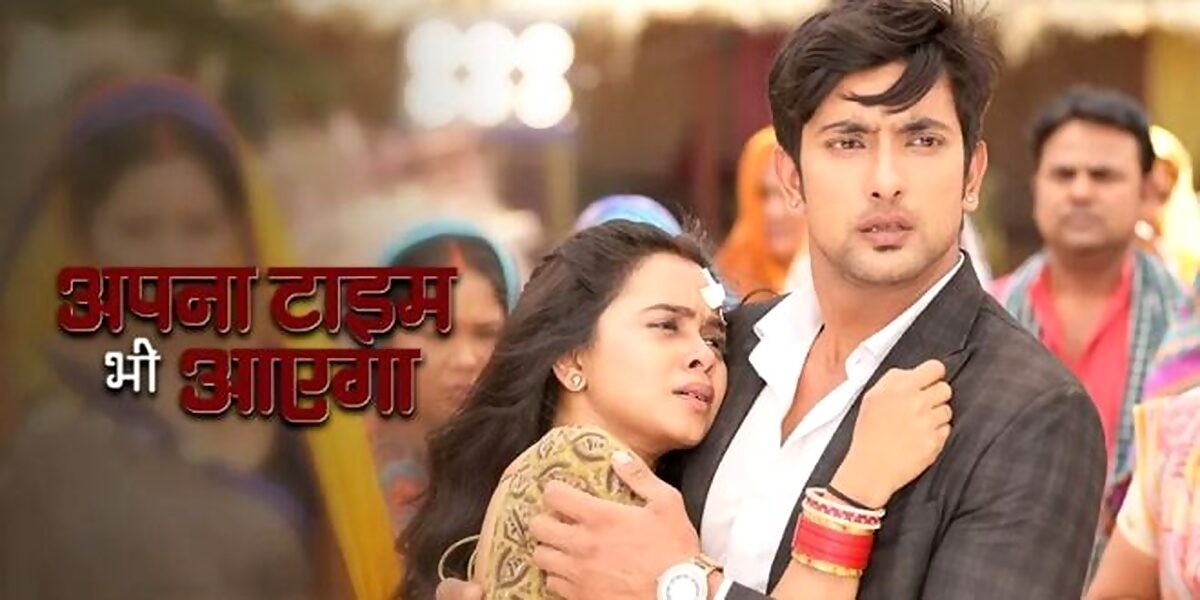 Apna Time Bhi Aayega 31st July 2021 Written Episode, Written Update on TellyUpdates.com
Scene 1
Rajeshwari cries. She recalls what Veer said. Digvijay gives her water. She says you must be happy seeing me crying as well right? He says what are you saying? She says you kept asking me to give Veer a mother's love. I always discriminated between him and Nandini and Vikram. He says don't cry. Forget about it. She says my son has gone away from me. I didn't let him call me his mom. I have lost his trust and my respect. I made a mistake. I didn't try to kill Rani. I am being blamed for everything. I am shattering inside.
Scene 2
Ranvijay says you have hurt my son only Rajeshwari. Now you will have to go through this pain. Rajeshwari says when will this pain end? Digvijay says he's your son. He's angry like you but he can't stay away from his mom. Ranvijay says I will take him so far away from you that your love will never get to him. Veer loves Rani as well. When Rani is hurt, his love for Rani sa will end too. Vikram says to Rajmata someone did it. Who could it be? Rajmata says Rajeshwari can't do it.
Rani says I am sure Rajeshwari didn't do it. There must be some proof. She looks around. Rani sees a napkin. She says this might tell me about the person who did it. Rani picks the napkin. She says I will get the fingerprints matched. But how will I get everyone's prints? There's one way.
Scene 3
Rani calls everyone. Rajeshwari asks did Veer say anything? Rani says everything will be fine. Everyone is upset on his birthday. So I thought I should do something special that would make him smile. Rani says I used to print my hands on this paper and give it to my dad. We should do the same for Veer. They stamp their hands on the paper. Rani says let me get it done from Ranvijay too. Rajeshwari says in heart she's also the reason for all the misunderstanding between me and Veer.
Scene 4
Jai tries to contact Champa. Nandini says give me your phone I have some work. She says why are you so worried. Nandini says I need to see Veer's birthday photos. You took such bad photos. He says your beauty can't be captured on the phone. Champa calls. Nandini picks and says why are you calling Jai? Nandini says how could you be so irresponsible? You forgot your license there. Champa found it. Jai says in his heart thank God.
Veer checks Ranvijay. He says you look happy. Veer says your heart rate is normal. You are recovering well, dad. He says what did you say? Veer says I call papa, papa. So I thought I should call you dad. He never discriminated between me and others. Can I call you dad? He hugs Veer and says I was dying to hear dad from you. He says in heart I will be your world. I will take you away from me. Veer says let me get your medicine. Rani comes to Ranvijay and says I am making this gift for Veer. He would be very happy to see this. You have to stand your hands on it. He stamps his hands. Rani says thank you.
Scene 5
Rani's friend calls her and says come to college. There is an important test. The lab person calls and says please come to give the handprints. She says can I come in the evening? He says sure. Rani says I need to go to college. Ranvijay recalls he left his napkin. He recalls Rani got prints on it. He says I have to stop Rani or I will lose Veer forever. He goes after Rani. Veer asks Rani where are you going? She says college. He says I am also going to the hospital. Come let me drop you. They go together. Rani comes to the college. Veer leaves. Rani goes to the test room. Veer realizes Rani forgot her geometry kid. Rani is in the lift. She comes to the 6th floor as the peon told her. No one is there. Rani is confused. Rani says no one is here. Why did kaka send me here?
Episode ends.
Episode ends.
Update Credit to: Atiba
The post Apna Time Bhi Aayega 31st July 2021 Written Episode Update: Ranvijay plans to take Veer away appeared first on Telly Updates.