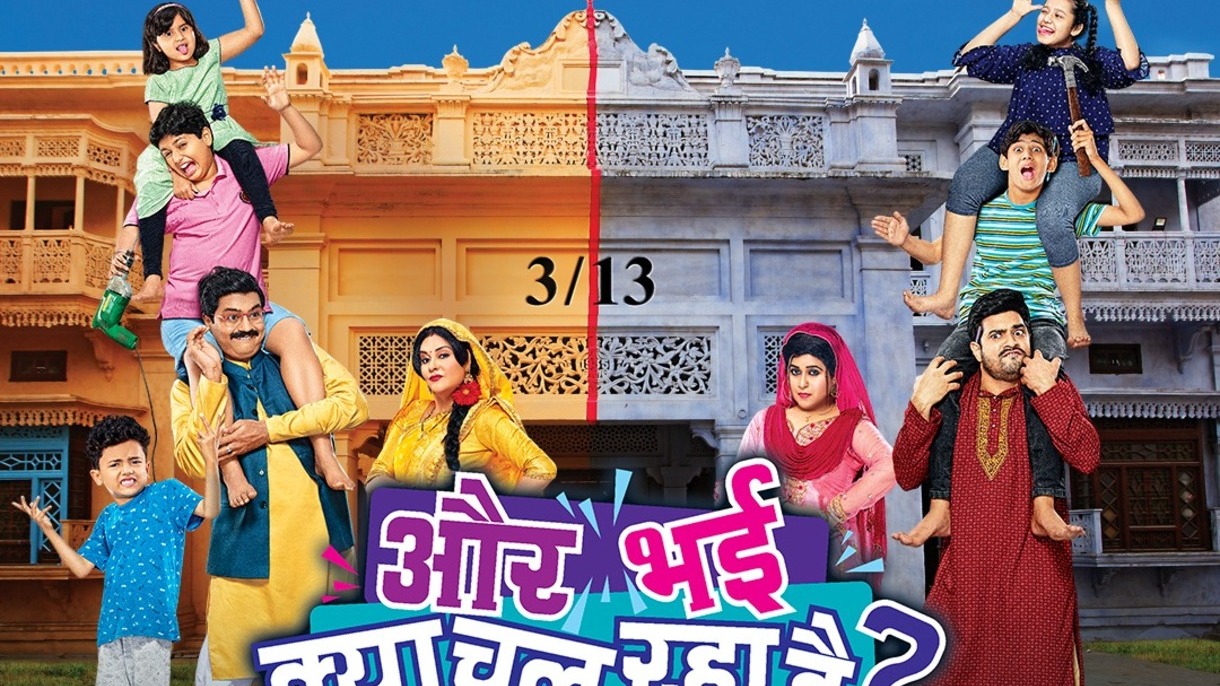 Aur Bhai Kya Chal Raha Hai 28th July 2021 Written Episode, Written Update on TellyUpdates.com
The Episode starts with Shanti asking Pappu if she shall bring chana as she has no water, so can't make tea. Pappu says ok. Shanti goes inside. Mishra asks if you are threatening or giving idea. Pappu says he is just asking 5000 Rs. Mishra says he has just paan shop and don't have money plant. Pappu talks about Mirza. Mishra agrees to give 5000 Charity. Pappu goes. Sakina tells Mirza that there is a scarcity of water and tells that she thinks how to manage with shortage of water. Mirza says his hands' skin is peeled by fetching water. Shanti asks Mishra to go and get the water. Mishra says I am thinking to give 5000 Rs to Pappu and get this problem solved. Bittu says he will stand with Bittu and get free govt line. Sakina persuades him to give 5000 Charity to Pappu to get the water. She says she can't see him fetching water from outside. Sakina says you gives free tea to many worth 1000's and asks him to give charity, before she goes to her mayka. Shanti also gives ultimatum to Mishra. Mirza thinks what to do and gets upset with Pappu. Mishra also gets upset with Bittu. Mishra asks Shanti to do his work. Shanti taunts him. Mishra says I will see what Mirza will do. Shanti says Mirza haven't done anything till now and that Sakina will not let him do anything. Brij comes there and says Ramesh can't do anything. Mishra says Bittu will get the water. Shanti gets upset. Mirza asks Sakina what happened? Sakina doesn't talk to him. Mirza asks what happened to you. Sakina asks for divorce. Mirza asks what are you saying? No. He says he thought to see what neighbors will do. He asks for 3 days and says then I will see what I can do. Noorjahan asks if you will do work to show others, or do it to complete it. Mirza says why shall I do the work always. Noorjahan asks him to hang them so that they don't have to struggle for water. He asks him to think that her flower like bahu is suffering a lot and says if he couldn't make arrangements then she will go to Aminabad with Sakina. Sakina says now I understand why she is talking sweet.
Bittu and Pappu talk about politics. Bittu says politician is big, who has big problem and who solves it. Pappu asks what we will do then? Bittu asks him to come to his side. Pappu says he will get Motor in the neighborhood. Bittu gets upset. Pappu likes tea. Shanti says she had made this tea 2 hours before and added some milk into it. Pappu laughs and tells that Bittu couldn't do anything. Shanti says what is our problem, if are getting water due to Bittu. Mishra asks him to show the way. Pappu says good solution is to get the motor and then have their own swimming pool. Shanti says what is the guarantee that the motor will work and asks if it stops working. She says bittu's plan is good. Pappu says he will get special motor. He says he has written his name at first and thought to write his name on the board. Shanti whispers to Mishra not to give. Mishra tells that he don't have money. Pappu says he is going to get charity from others. Shanti warns Mishra not to give money. Bittu tells that he will sit in hunter strike and get the water. Shanti says I think Pappu's plan is good. Mirza convinces Sakina. Sakina says she shall get water else..
Later Shanti and Sakina praise their hometowns. Sakina says Bittu will have a hunger strike and get water. Shanti says it will take months. She tells that Mirza shall also sit on a hunger strike. Sakina appreciates her plan. She says if Mishra ji will for the strike then problem will be solved soon. Shanti says why not. She says we shall talk to them. Mirza tells Sakina that water will come in a week. Sakina says he shall do it at the earliest. Mishra tells Shanti that water will come in 2-3 days. Shanti and Sakina ask Mirza and Mishra to sit on a hunger strike.
No Precap.
Update Credit to: H Hasan
The post Aur Bhai Kya Chal Raha Hai 28th July 2021 Written Episode Update: Shanti and Sakina trouble Mishra and Mirza for water problem appeared first on Telly Updates.