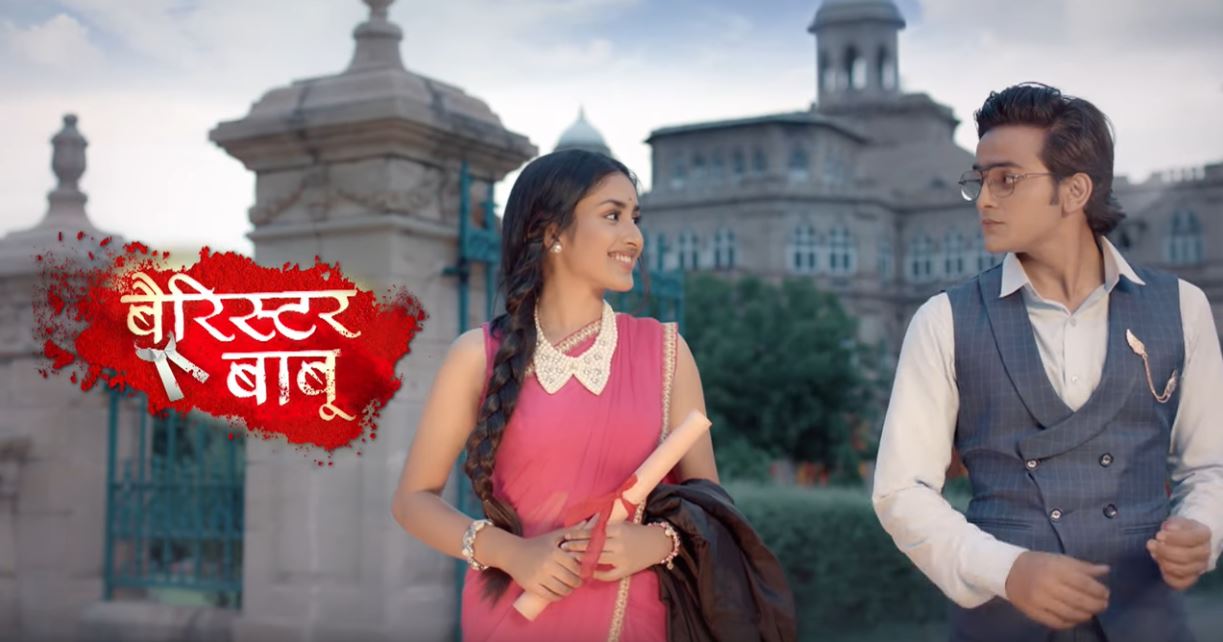 Barrister Babu 27th July 2021 Written Episode, Written Update on TellyUpdates.com
The Episode starts with Anirudh dropping Bondita to the train station. She thinks its my last chance to knock on his heart. She runs back and asks why did you laugh today, tell me, people get angry and hate such thing, why did you smile, will you tell me, you never answer me. He says you will get your answer today. She asks really. He says yes, I will tell you my feelings today. She asks him to say. He says I didn't laugh on you, I recalled something. She asks whom did you recall. He says your train will get missed, come I will drop you. She says I can't go without knowing this, let the train get missed, who is that you thought of, your smile came back, I will get scolding from my parents, its fine, you tell me who is the person you remembered, you won't answer me, right. He asks will you be my friend. She asks what did you say. He asks will you be my friend. She holds his hand. She says friends, I won't leave your hand if you say, I m your best friend, you can share anything with me, even about Bondita. Thakumaa comes there. Bondita sees her. She turns away. Thakumaa goes. Bondita says I will go, thanks for friendship. He says you have to run and catch the train. She goes.
At her home, she imitates Anirudh and smiles. She says Anirudh was laughing thinking of Bondita, he was going to take Bondita's name, its fine, he can't hide his feelings now, I have become his friend now, I will take him to his Bondita. She imagines a romantic moment with Anirudh. They play piano. He fixes her pic on the family pic wall. He asks for coffee. She says I will get it. He stops her and holds her close. He says I love you a lot. He hugs her. They dance. Bondita closes eyes and dances alone in her room. Chandrachur sees her and thinks why is she dancing alone madly, she is staying much happy since few days, I have to find out.
Trilochan chooses clothes for himself. He says I have to fix Anirudh's relation with Vaijanti. Bihari says she is good, but Bondita…. Trilochan shouts on him. He gets ready. Bihari says no one can take Bondita's place. He prays to Durga Maa to get Bondita back. Sampoorna says I got the fruits and sweets kept in the car. She says Vaijanti has come, once her parents agree for this alliance, we will get them married. Bondita worries and thinks they are getting Vaijanti and Anirudh's relation fixed, what will I do now. She says I can't do this marriage. Trilochan laughs. He says you got shocked, why can't you marry. Sampoorna asks don't you like Anirudh. Bondita says I didn't think of such a thing, how can I marry him. Trilochan says good valued girls don't think, elders think of alliance, I m going to meet your parents. She says no use, my parents went out for few days, did you ask Anirudh, he says that marriage should happen by mutual consent. Trilochan says he runs away whenever I talk about his marriage, you find out his feelings, he gets angry on you and then listens to you, you try to find out. Bondita says I m trying to find out, I mean I will try, he is so arrogant. He says fine, think. She thinks thank God, I reached on time and stopped them.
Bihari says Anirudh will never agree, Bondita is in his heart, he had promised her. His wife says I think Anirudh has forgotten all his promises after his enmity, he will agree to marry Vaijanti. Bihari says he will never agree. Bondita thinks Anirudh has to answer now if he would marry Vaijanti, if he says no to Vaijanti, it means its yes for Bondita. Trilochan asks did you think of anything. Bondita says yes, I will talk to him. He laughs and goes. She thinks its tough to make Anirudh speak up. She prays. She goes to Anirudh. Anirudh speaks to the men about the sword-fighting competition. He says no one will go home, stay here in the guest house, have food and come for practice. The men leave. She says you don't ask me to stay back, like you told them. He says your studies got complete, why did you come. She says for you, to take a proof that you have studied me, you give me the report. He types the certificate.
He asks what did you think now. She says I will get married, the guy is really nice. She describes him. She says elders have agreed, just that guy has to agree, how to know his feelings. He says then meet him and ask him if its his yes. She says they will call me shameless, how will I meet him in private. He says we are also meeting here, is anyone telling you anything. She laughs and says I m young, but you….. sorry, I will meet that guy today at 5pm. He says fine, I heard it. She says if he finds it wrong then… He says if he is a right guy, then he will be glad to see your honesty. She asks how do I look, if he doesn't like me. He asks didn't you meet him till now, you should meet him. She says but my face, my mum says that my nose is longer than my tongue, don't know if my eyes are right. He says yes, left eye is bigger than right eye, ears are like rabbit. She asks does anyone say this to a girl. He asks why do you think so, see yourself with your eyes, you are beautiful, no one can dislike you. She asks even you?
Precap: Bihari gives a note to Anirudh. It's from Vaijanti. He reads, now you must have understood that my alliance talk is with you. She asks him whether he is ready to marry her. She wishes that he says no and says only Bondita is in his heart.
Update Credit to: Amena
The post Barrister Babu 27th July 2021 Written Episode Update: Anirudh and Vaijanti become friends appeared first on Telly Updates.