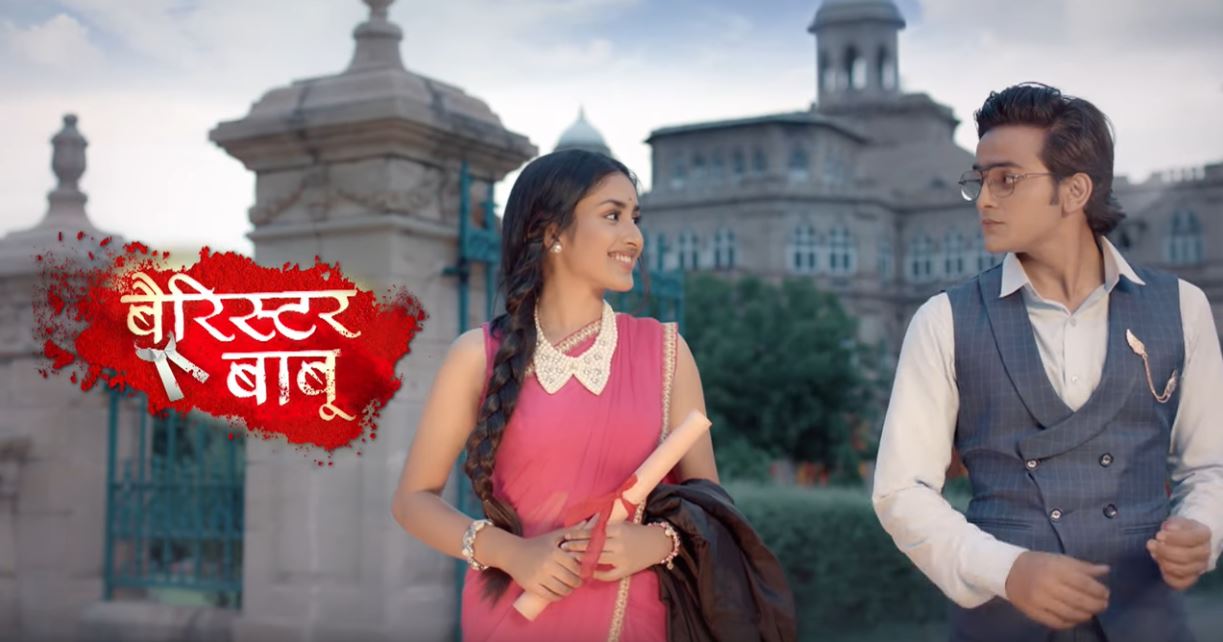 Barrister Babu 28th July 2021 Written Episode, Written Update on TellyUpdates.com
The Episode starts with Bondita saying you say anything, I feel shy. Anirudh says then you be shy, I will go. She says you give me that paper plane. He gets it and asks where do you want to send this. She says I have to write a letter and send it to the guy, I have two conditions before marriage. He recalls Bondita. She writes the letter. She says I m scared, shall I let it be. He says no, its right, that guy should know, write the address, I will ask Bihari to send it. He goes. She writes the address of Anirudh's house. Bihari comes and says give me the letter, I will send the letter. She thanks him. He goes.
She says you have to answer me Sakha babu that Bondita is in your heart, not Vaijanti. Chandrachur asks the guard did you see barrister Bondita. The guard says no, she didn't come since two weeks. Chandrachur says Bondita has become a barrister, she is playing a game with me, but I have become a barrister of barristers now. He asks the man to find out, where does Bondita go, maybe she is finding ways to meet Anirudh.
Anirudh gets shocked seeing Bondita sitting under the table. He recalls Bondita. She asks did you get shocked, do I look beautiful, tell me. He says yes, why did you do this. She says I have to go and meet the guy. He asks why do you want to go like this. She says I thought to do some makeup, don't I look good. He says yes, but that would be a lie. She asks what's the truth. He says you look fake. She says you find me fake. He gives her a tissue. He says your real makeup is you yourself. He cleans the makeup. He says the guy who doesn't understand your inner beauty isn't suitable for you. She asks really. Rishta tera mera…plays… He says clean your makeup. She thinks your heart didn't change, I wish you understand your feelings soon.
Thakumaa says Tupur, feed these laddoos to Chandrachur, keep him happy, the sword fighting competition is ahead. Tupur cries and thinks I want to focus and save my marriage. She says I m not fine, Chandrachur's happiness isn't there, I can't give him a child, I asked you to get him married to Bondita. Thakumaa says I know Bondita will never agree for this. Tupur says then find out some way to make her sit in the mandap, do something. Anirudh does sword fight practice. Bihari gets Vaijanti's letter. Anirudh says I asked you to post the letter. Bihari says I did the same, the post master read the address, its of our haveli. Anirudh checks. Bihari asks why didn't she give the letter to you here itself at home. Anirudh says I will check. He reads, you are the guy, my alliance talks is going on with you, I don't know what's in your heart, I like you, I have two conditions for marriage, you will never lie to me and we will always be friends after marriage, tell me what's in your heart, meet me at the temple at 5pm. Anirudh worries. Thakumaa says no one should know this, when Bondita comes back, try to make Bondita emotional, tell her that you will die, then she will think of marrying, this is the only way to convince her. Tupur says I have to save my sindoor, I can share it with my sister.
Bondita waits for Anirudh. He comes there and sees the decorations. She asks did you get the letter, do you accept the conditions. He says I just befriended you. She says friendship is also a relation of lifetime. He says but there are some limits in friendship. She says I know you don't follow any bounds, my parents are ready, your Kaka and family are also ready. He says marriage needs love as well, I mean guy and girl's consent. She says I m ready to spend my life with you, I will sign on your every condition, I have thought of it, I will make you have coffee early morning after marriage, I will wake you up by bangles sound. He asks did you ask me before thinking all this. She asks him to say what's in his heart. She says I know who is in your heart. He asks what do you know. She says I know that you also love me, you like me, you had sweets on my saying, you had played the piano, you laughed aloud, your Kaka says that just I can make you smile, there can't be a better life partner, you tell me your wish, are you ready to marry Vaijanti.
She thinks refuse for this alliance, say that just Bondita is there in your heart. She asks will you marry me, yes or no. He says I don't want to marry you, I will not marry Vaijanti, you got the answer. She smiles and thinks no to Vaijanti means yes to Bondita, but I want to hear it from you. She asks why don't you want to marry me, because I m not Bengali, I will learn Bengali language and also customs. He says its nothing like that. She says you don't find me beautiful, you said I m beautiful from looks and heart. He says you are beautiful but… She says if you think I talk a lot, then I will talk less, do you think I m not educated. He says no. She asks is there anyone else in your heart, tell me, is there anyone. He says yes, I don't know what's going on in my heart, else I would have told you. She says then hold your heart and ask by whose name does it beat, close your eyes and see whose face do you see. He recalls Bondita. She asks who is that you see in your dream, who is she, tell me.
He says look Vaijanti. She says no, just say yes and hold my hand, if your answer is no, then tell me the reason, I will give you one day time, I will marry anyone and run away, my life is in your hands now, my future is in your hands, think well and decide, I will go. Rishta tera mera….plays…

Precap will be added later

Update Credit to: Amena
The post Barrister Babu 28th July 2021 Written Episode Update: Vaijanti proposes Anirudh appeared first on Telly Updates.