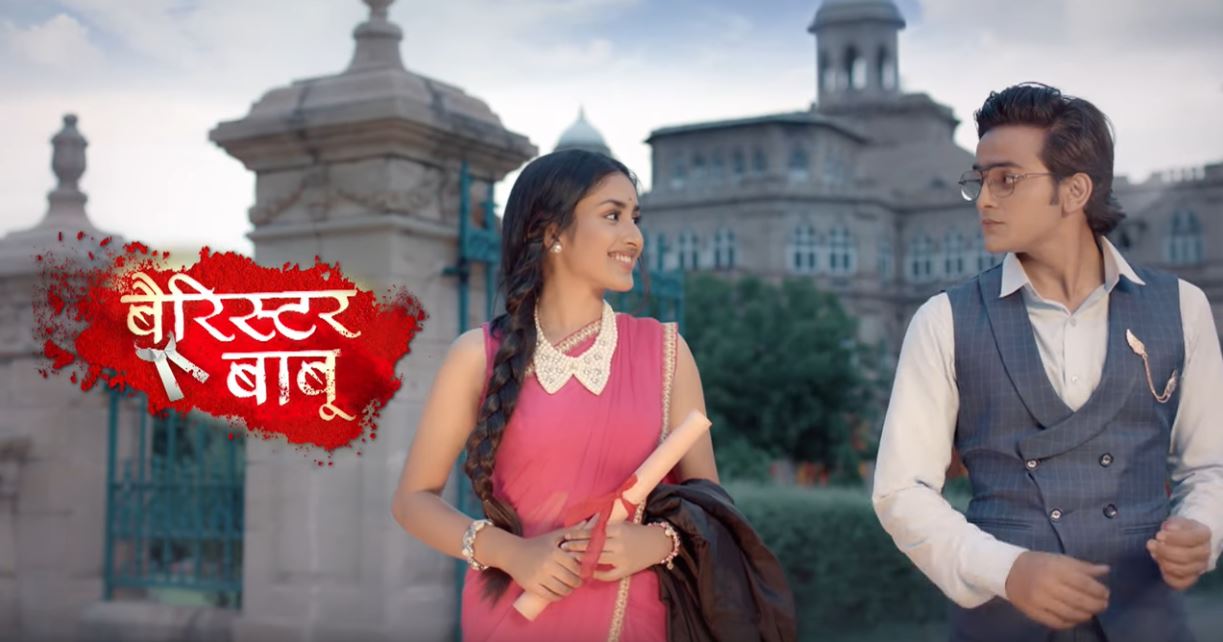 Barrister Babu 29th July 2021 Written Episode, Written Update on TellyUpdates.com
The Episode starts with Sampoorna asking why not Vaijanti, she has taught you to smile, she has every quality which a man wants in his wife, I have seen love for her in your eyes. Trilochan says you are still Anirudh for us, at least tell us your feelings, maybe you are keeping promise to Bondita, I remember, you told her, when she comes back, then she will decide whom she will marry, you or someone else, are you waiting for her answer. Anirudh says no way, I have cleared told Bondita that our relation is over, now there is no promise. Trilochan asks what's the reason of this no. Anirudh says I wish I could explain.
Trilochan says if you think she is the same Bondita, then listen to me, she is just an enemy's daughter, we have a relation of pain with an enemy, you can't marry her. Anirudh thinks. Bondita comes home. She says Vaijanti's question will force Anirudh to accept his feelings. She sees Tupur pouring kerosene on herself. She runs and breaks the door. She stops Tupur. Tupur says let me die, I don't want to live. Bondita says I can understand your pain, I will do as you say, tell me what can I do, trust me. Tupur says do me a favor, you marry Chandrachur. Bondita gets shocked. Everyone looks on. Tupur says give him his child to take his family ahead.
Binoy laughs and asks Anirudh to shake hands with the british officer. Anirudh acts. He asks Binoy to take rest. Binoy says ask them to come for lunch, Bondita cooks food well. Anirudh cries hearing him. He makes Binoy sleep. He says my heart is dead, my heart doesn't say what's right and what's wrong. Bondita asks what are you saying. Thakumaa says Bondita is educated, you don't expect this from her. Tupur says she ran away to London, my parents died, my face got burnt, I m asking a little thing, we burnt our future for her dream, can't she do this for me. She begs Bondita. Bondita cries. Anirudh cries. Rishta tera mera….plays…. Bondita says I can do anything for you. She hugs Tupur. She says I will give you my life, but I can't marry Chandrachur. She asks Chandrachur to forgive Tupur. She says I know you are also ashamed to hear this, you are like an elder brother for me, no one will talk of second marriage in this house. She leaves.
Everyone goes. Chandrachur gets angry and says she is calling me an elder brother, I m not your brother, I want to give you my wife's place, I want to get you Bondita, I will get you at any cost, whatever Bondita says, she is trying to reach Anirudh, its time to teach her a lesson. He gets Bondita's bracelet there. Anirudh hears some sound. He goes to the room and sees the attackers beating the villagers. The attackers injure the villagers and run out from the window. They leave in the jeep. Anirudh points the gun. He sees a girl in the attackers' gang. He thinks its some girl. Trilochan gets shocked and asks who did this. Somnath says we will take you to the hospital. Anirudh says Krishnanagar people did this, Somnath they need the aid. Somnath takes the men to the hospital. Chandrachur laughs and says we have bashed up those men who were participating in the competition, we also broke Bondita's innocent pic in Anirudh's eyes. Anirudh gets a bracelet. Chandrachur says he would have got that bracelet till now, he doesn't forget anything. Trilochan asks who does it belong to. Anirudh recalls and says Bondita.
Chandrachur sings. Trilochan says Bondita has done all this, can't you see, she has become stone-hearted, she forgot your relation. Anirudh says we shouldn't jump to conclusions, maybe its someone's plan. Trilochan asks is your heart connected to her, do you still like her. Anirudh says no, it maybe someone's plan. Somnath says I admitted them to the hospital, one of them lost his life. Anirudh says I will give a solid reply to Krishnanagar people. Trilochan says no need, you will teach them a lesson in the competition by defeating Chandrachur, break their pride and bones also, I will announce your marriage with Vaijanti, this will be a slap for Bondita, she should know that we know to keep enmity. Anirudh says but marriage isn't necessary. Trilochan says its my command, you will marry Vaijanti.
Its morning, Bondita is on the way. Anirudh sees the bracelet. Bondita comes and knocks. She says I won't put you in a difficulty, choose this red rose if your answer is yes for marrying me, else choose this yellow rose, tell me the reason for your refusing, if you can't say, then write it. He says yes, you are right, I have to decide for you and myself also, I have to explain myself, that I can't run away from myself, we can't touch our own shadow. He picks the yellow rose. She smiles and thinks thanks Durga maa, it means, no to Vaijanti and yes to Bondita. He throws the yellow rose away. He recalls Trilochan's words. He picks the red rose. She gets shocked. She says it means, its your yes. He leaves. She cries.
Precap will be added later
Update Credit to: Amena
The post Barrister Babu 29th July 2021 Written Episode Update: Anirudh agrees to marry Vaijanti appeared first on Telly Updates.