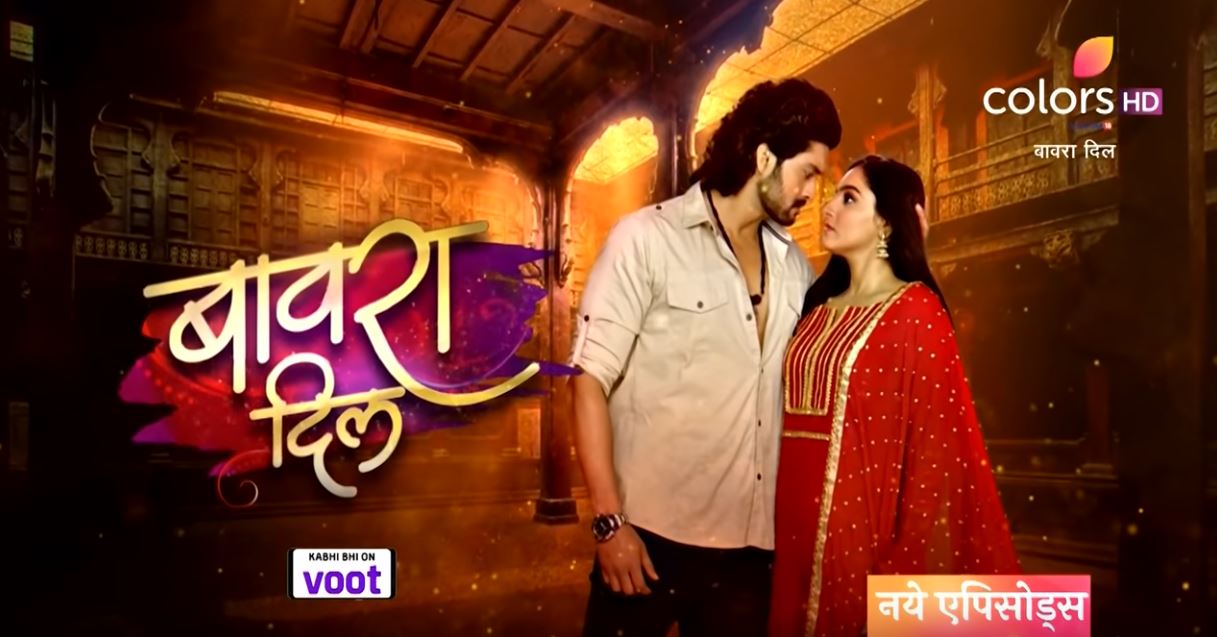 Bawara Dil 27th July 2021 Written Episode, Written Update on TellyUpdates.com
Scene 1
Narpat calls Sidhi and tells her that Shiva beat a guy and you didn't file a complaint against him? This is our chance to trap Shiva because of his acts. Sidhi is stunned but hears some noise from Soni's room.
Shiva is cleaning the river. Sarkar comes there and says you are doing good work for the competition. We will throw a coconut in the river and whose party workers bring it out first usually rules this town. Narpat's party won the competition for 15 years but then Shiva won the competition and the game changed. he gave the coconut to Akka Bai and she became governor of this town. He asks Shiva to win this time also. Shiva angrily looks on.
Sidhi rushes to Sonal's room but the door is locked. Sidhi screams to not do anything wrong. I won't let you marry that monster.
Sarkar tells Shiva this you winning the competition will make Akka Bai governer again and I will become brother-in-law of Shiva by marrying Sonal. Shiva is angry hearing that.
In her room, Sonal takes out the poison and is about to drink it. Sidhi is trying to break the door. She opens the lock just in time and throws away the poison. Sonal screams to let her do it. Sidhi cries and says this marriage won't happen.
Jalwa asks Shiva have you gone crazy? You are getting Sonal married to this animal Sarkar? I will not talk to you if you let it happen. Shiva says do you really think I want my sister to marry him? Akka Bai is like a God to me. Jalwa says so you will sacrifice your sister for her? You have to stop this marriage.
Sonal tells Sidhi that I would rather die than marry him. Sidhi says I promise to not let you get married to him. Sonal says promise me you will cross all limits to stop this marriage otherwise let me die. Sidhi says I promise to not let your life get destroyed and I will do everything in my power to stop this marriage.
Shiva promises to Jalwa that this marriage won't happen and I have an idea. This swimming competition will make me ask Bai what I want. Jalwa says what will you do? Shiva says I can't let my sister's life be destroyed at any cost.
Scene 2
The competition starts, the priest tells everyone that swimmers will jump in the river and would look for coconut. They can't attack oponnents with weapons but they can use their strength. The one to bring out the coconut first will win the competition. Akka Bai says Narpat has cheated even before the competition started, his participant is not from this village. The priest says it's not against the rules. Akka Bai I have Shiva as a participant and I am sure he will win the competition.
Shiva tells Jalwa that Akka Bai offers me a wish after I win the competition every year but I never demand for anything. This time, I would ask her to take back Sarkar's marriage proposal respectfully. Jalwa says that's a good idea. Let's go and tell this to Sidhi and Sonal. Shiva says no, if Bai and Sarkar find out about this then they will figure out another way so we have to be silent.
Sidhi says I have to do something. She calls Yashwant but Mangala has called him already. Sidhi says I want to talk to him. Mangala says he is busy, she goes from there. Sidhi calls Yashwant again but his phone is not reachable. Sidhi says I have to do something before Sonal takes a wrong step.
Sarkar is eyeing Sonal's photo in his phone. Sagar comes there and says why are you trying to get married to Sonal? You can find any girl you want. Sarkar says I have a heart connection with her. Sarkar gets a call and goes from there.
Sidhi is outside the house and thinks I have to stop this marriage at any cost. Narpat sees her there and starts acting in front of his men. He says I have brought a swimmer to make Akka Bai lose the competition. If they lose then they would be banned in this village. We have to protect our women from that monster Sarkar. Sidhi hears all that and leaves. Narpat thinks I have to bring Sidhi on my side to make Shiva lose the competition. Sidhi is going away but recalls how Sarkar kept harassing Sonal. She thinks I need Shiva's help to stop this marriage, Akka Bai won't win this time.
Shiva jumps in the river to practice. Akka Bai comes to him and says I know nobody can win against you. I am sure you will make me win. Narpat comes there and says you beat Kiran again? I won't spare you this time. Shiva says yes, I beat him. Sarkar says he is a master who teaches your sister. Shiva says I will do anything for my sister. Another man says you are protecting your sister who you have given to Sarkar? You have put a bet on your sister just to win in Akka Bai's eyes? Shiva gets angry and beats the man. He shouts at Narpat to never take his sister's name again. Narpat leaves from there. Bai looks on.
The episode ends.
Update Credit to: Atiba
The post Bawara Dil 27th July 2021 Written Episode Update: Shiva plans to stop Sonal's marriage appeared first on Telly Updates.