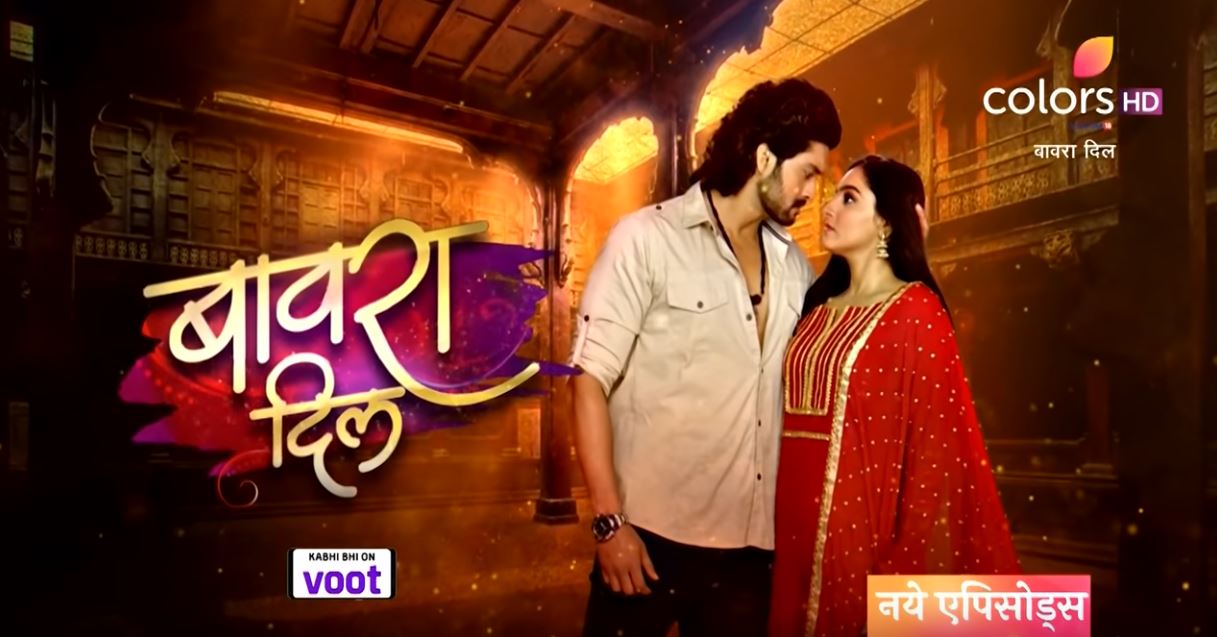 Bawara Dil 28th July 2021 Written Episode, Written Update on TellyUpdates.com
Scene 1
Akka Bai tries to calm Shiva down and says why are you listening to them? They want to provoke you, just think about the competition, you have to win at any cost, I will zip their mouths once you win. Shiva says you promise to give me my wish after I win every year right? Akka Bai says yes I promise you a wish every year but you never ask for anything. What do you want this time? Just tell me. Shiva says I want a promise that I will get my wish granted this time after I win. Akka Bai says I promise you in front of everyone and I don't back off from my promises. Just win the competition and I will give you everything you want. Shiva nods and thinks I have bought Soni's happiness, I win every year for Akka Bai but I will win for my Soni this time. Sarkar comes there and says you beat Narpat's man? It's fun. He hugs him. Sidhi comes there and sees it. She thinks what is he doing? How could he help me when he is hugging Shiva? How would I save Soni from Sarkar? I can't let Sarkar win at any cost.
Sidhi comes to Soni's room and sees her crying. Soni asks Sidhi if everything is fine? Sidhi says yes. She hugs her and cries.
At night time, Shiva comes home sadly. Vijiya is waiting for him. He tries to eat but Vijiya says I heard you accepted Sarkar's proposal? Mangala comes there and says I don't want any trouble now, I just want Soni and Sarkar to be married. She asks Shiva to give her money for wedding preparations. Shiva gives her money, she smiles and leaves. Shiva pleads to Vijiya to trust him, I won't do anything which is wrong for Soni. Vijiya says what is going on in your mind? Shiva says just trust me, I would die before I let my sister marry that cheap man.
Sidhi makes Soni sleep. Shiva comes there. Sidhi thinks how could he hug a man like Sarkar? Shiva thinks I know you are hating me, I can see my sister's pain and I will protect her, just trust me. Sidhi thinks how can I trust him? Shiva thinks I feel alone without her trust. Sidhi wipes her tears and goes from there. Shiva looks at Soni sleeping and says I won't let anything wrong happen with you.
Scene 2
In the morning, Jalwa is doing preparations for the swimming competition. Sagar comes there and tells him to do his best preparations. Sarkar and Soni will get married and you will do the preparations. Jalwa asks him to shut up, Shiva won't spare you. Sagar grabs him and says you and Shiva can't open your mouth in front of Akka Bai, after Sarkar's marriage with Sonal then Shiva will bow down to Sarkar also. He pushes Jalwa. Shiva comes there and holds Jalwa before can fall. Shiva glares at Sagar.
Sidhi sees Narpat calling her and recalls his words that they should make Shiva lose the competition. She cut his call. Narpat calls the landline, Vailash takes the call. Narpat says I want to talk to Sidhi. Vailash gives the phone to Sidhi. Narpat tells Sidhi that your brother's life is in danger, come to the mandir fast. Sidhi goes from there.
The men tell Shiva that Sagar has been teasing us about Soni and Sarkar's marriage. Shiva slaps Sagar and he falls down. Jalwa asks Shiva to calm down. We have to focus on the competition, Shiva angrily goes from there. Sidhi comes there and sees Sagar on the ground and a wound on his arm. She rushes to him and asks what happened? Sagar says your husband is going to be Sarkar's brother in law so he is showing off his power now. Narpat brings a doctor for him and tells Sidhi that Shiva wins the competition every time for Akka Bai and they gain more power. my doors are open for you to change everything. Sidhi doesn't answer him and leaves.
Sonal comes to the lounge and finds a parcel at the door. She opens it to find a wedding card. She is stunned to see it's her and Sarkar's wedding card. She gets a call from Sarkar.
Sidhi is going back home. Vijiya comes there. Sidhi asks if she talked to Shiva? Is he doing something to stop this wedding? Vijiya recalls how Shiva asked her to not tell anyone that he is going to stop the wedding. Vijiya tells Sidhi that Shiva didn't say anything to me, she goes from there. Sidhi keeps recalling Narpat's words.
Sarkar calls Soni and says I have sent wedding cards so choose which one you would like. Soni tries to cut the call but he says I know you are alone in the house so don't try to cut the call. Sidhi comes there and cuts the call. Soni says you told me you would do anything to save me, do you remember your promise? Sidhi tears the wedding cards and hugs Soni. She tells her that my promise still remains.
Narpat gives money to the competition umpire and says I would tell you what to do. You wouldn't search my participant tomorrow, you don't care what he takes to the competition. The umpire nods and leaves. Narpat tells his man that I know Sidhi would become part of our plan. He turns to see Sidhi coming there.
<strongThe episode ends.
Update Credit to: Atiba
The post Bawara Dil 28th July 2021 Written Episode Update: Sidhi doubts Shiva's intentions appeared first on Telly Updates.