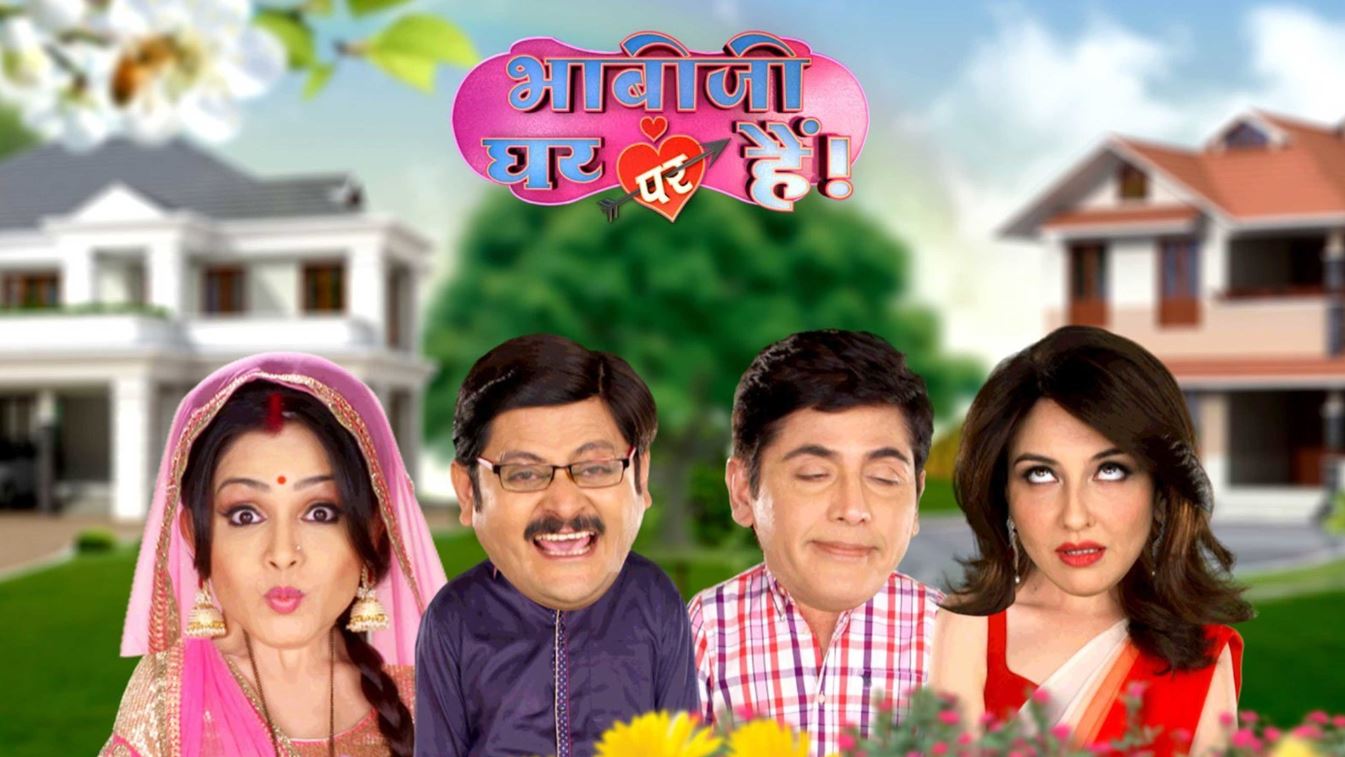 Bhabhi Ji Ghar Par Hai 29th July 2021 Written Episode, Written Update on TellyUpdates.com
Anu dressed as airhostess. Tiwari dressed as pilot and they both dancing and singing. Tiwari imagining while waiting for Anu in her hall. Anu come and says what happen Tiwari. Tiwari said I was lost I was just here nearby you, tell me how did you call me. Anu says please can you ask for job in your airline. Tiwari said Vibhu will be here and you'll be in sky then you will loose control over Vibhu and he will go wild. Anu say's you don't worry about that just get connected me to your airline I'll talk to them and I did course too for airhostess you already know that. Tiwari says I cannot tolerate you working under me, you are decent person and I'm uneducated. Anu says so how did you became pilot. Tiwari says I mean in front of you I'm uneducated so I'll leave now.
Angoori giving water to plants and singing. Vibhu come with Bhoorey in rickshaw. Angoori gets excited after seeing Bhoorey and greets him says I haven't seen you from last 2 lockdown how's you. Bhoorey said I was in lockup from last 2 lockdown my neighbour report a crime against me for eveteasing, well forget all this where is Tiwari did he went to shop. Angoori says now call him Captain Manmohan Tiwari. Bhoorey says I cannot understand what is this. Angoori says let me speak. Bhoorey mocks him. Tiwari come while saying poem. Vibhu also replies with poem to Tiwari. Tiwari mocks Vibhu for his income. Bhoorey gets shocked and says to Tiwari what am I seeing did you joined a band company. Angoori says I was trying to tell you that he is pilot now. Tiwari says I'm sisique masakali airlines pilot. Bhoorey says pilot and you and mocks him, I have never seen you riding a cycle and you'll fly plain. Tiwari says one who rides cycle cannot fly plain. Angoori says to Bhoorey you always said that Tiwari sells undergarments now he is flying an aeroplane and you dont believe me. Bhoorey says really he fly plain and start praising Tiwari. Vibhu says to Bhoorey don't fly too much. Tiwari says did you gave him money or not. Bhoorey give him money and as him to leave. Vibhu mocks Tiwari. Bhoorey says I don't sit with people who drive rickshaw now leave.
Pelu give slip to Vibhu saying don't do timepass I need 500rs by evening. Vibhu says to pelu if I'll give you 500rs what I'll eat, you also make fun of my situation. Pelu gives another slip saying that's why I say do double hardwork. Vibhu say's I'm not an animal I do have some limitations and will do work according to that and says I'm leaving.
Anu and Tiwari sitting in there Anita's house. Anu conducting online interview of Tiwari with his students. Anu asks his students to ask questions to Tiwari regarding his profession. People asks different questions over video interview. Tiwari gets scared
Vibhu giving ride to a man in rickshaw stops at his destination take money and start shouting for his location where he can take. Saxena come to Vibhu asks will go dozak. Vibhu says there is an highway between Delhi and Kanpur will drop you there and truck commute there without applying breaks so they will send you directly dozak that will be your one way ticket. Saxena says I like your plan but before going to dozak I need to complete one of my drama, this is written by me and its psychological thriller, in this drama a mad pilot high jack his pilot. Vibhu says that pilot will be you correct. Saxena says yes but where is Tiwari. Vibhu says Tiwari is now a pilot so you need tips from him. Saxena says what pilot he is uneducated what he will give me tips he doesn't how to drive bullock cart and he will give me tips, he is not pilot he took costume from me of pilot which I have for my drama he was suppose to return me today but yill now he didn't returned me back. Vibhu says you mean he is not pilot. Saxena says yes this is true. Vibhu says how much true it is. Saxena says same like you are unemployed. Vibhu slaps him. Saxena leave. Vibhu talks to himself so Tiwari is not pilot and leaves.
Tiwari come to Anita's house and asks what happen to you. Anu says I'm having headache it happens when I take stress. Tiwari guve promo and leaves.
TMT and Tiwari sitting near pani puri stall having panipuri. Teeka says we gave you shev puri now say yes. Tiwari says I cannot do. TMT start begging to Tiwari. Tiwari mocks TMT. Malkhan says to Tiwari I give you Angooris swear you have to take Rosa's interview. Teeka says I gave you osth of person you love most in this world. Tiwari says they gave me oath of Anu and Angoori unknowingly and says to TMT tell me where is your Rosa. Rosa come and greets everybody. Tiwari says they were saying that I have to take interview. Rosa says yes where you want to take interview here or somewhere else. TMT shouts here only. Rosa says if I passed this interview so my job as airhostess will be sure. Tiwari says according to sisique masakali airlines rules and regulations I have take a rapid fire round for questions if you give all the answers correct then management will think about giving you job. Rusa says I'm little nervous please ask easy questions. Tiwari says ok lets start and start asking questions and say's you give all the answers correct. Rusa says I'm so excited my job as airhostess confirmed. Tiwari says now we will talk to HR department and management. Rusa says I'm so happy now I'll tell this good news to my sister and her husband. Tiwari and Rusa leaves. TMT also leaving panipuri stall person says where are you going give me my money. Tillu says don't shout let Rusa get job we will buy your stall and keep you on job and TMT leaves.
PreCap
Tiwari and Angoori singing and dancing
Gupta says Anu is suffering from Alzheimer. Vibhu says you work in international airlines please take Anu in your plain. Anu says to Tiwari please help me. Tiwari shouts in pain.
Update Credit to: Tanaya
The post Bhabhi Ji Ghar Par Hai 29th July 2021 Written Episode Update : Vibhu learns about Tiwari's uniform from Saxena appeared first on Telly Updates.