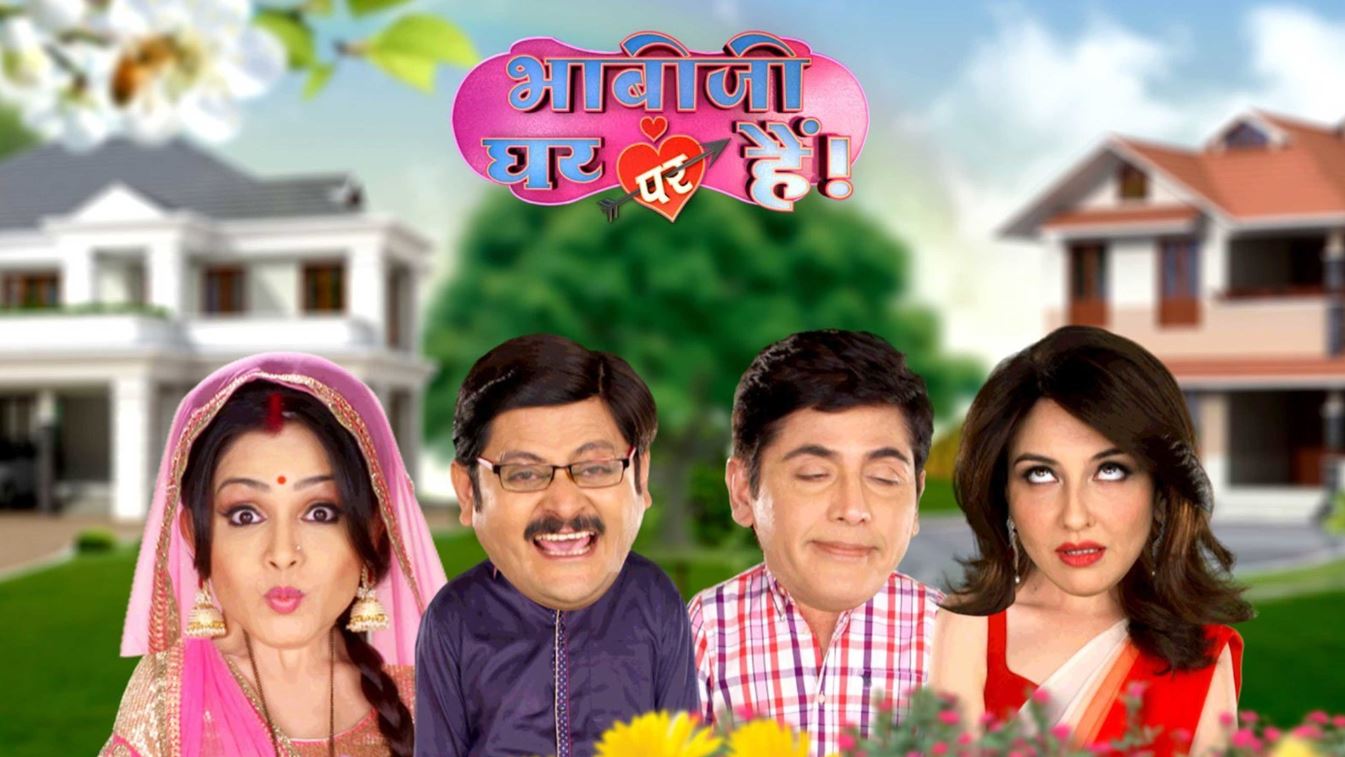 Bhabhi Ji Ghar Par Hai 30th July 2021 Written Episode, Written Update on TellyUpdates.com
Angoori and Tiwari in bedroom and Ammaji on phone. Angoori and Ammaji scolding Tiwari for not taking them to plane. Tiwari says its not about household work its international I cannot take you to fly in plane and route is full of bumps. Angoori says do you think I'm fool. Ammaji says and everything you took in air to make road, Tiwari do you think me and Angoori are fool. Angoori says I never saw road up there did you see Ammaji. Ammaji says don't concentrate on him and Tiwari take her for plane ride and if you didn't took me and Angoori for plane ride I'll hang on tyre to ride on plane. Angoori hungs up phone. Tiwari try to convince her. Angoori says I want to go in plane.
Angoori in hall calls Tiwari. Angoori says you are taking me on plane ride so I'm all ready to go. Tiwari says I'm also ready to take you. Angoori says I heard its cold up there so I packed some warm clothes with me. Tiwari says first lets practice because I don't want that you get insulted. Angoori asks so what I need to do. Tiwari says think this is my cockpit and you are sitting near me, Tiwari and Angoori start singing. Anu come and greets them saying my favourite love birds, I'm so sorry to disturb you so I'm hosting a dinner for Tiwari for becoming pilot tonight and leaves. Tiwari says to Angoori come sit beside me. Angoori says no, now I'll go and sit in plane not in sofa.
Vibhu, Anu, TMT, Masterji, Prem and Gupta in Vibhu's house. Gupta checking pulse of Anu and asks what happen. Vibhu says I was making pumpkin kofta because she likes it and everyone start talking about food. Anu says I'm not feeling good and you all are talking about recipes. Angoori and Tiwari come. Angoori asks Anu what happen aren't you feeling well. Anu says I was in kitchen and all of sudden I fainted. Tiwari says to Vibhu its all because of you, you must have fought with her. Vibhu say's I didn't fight with her, and if I do so she is my beloved wife. Angoori says to Vibhu you must not fight with her like this. Vibhu and Anu says no we did not fight. Gupta says she is suffering from Alzheimer she will forget us all in few days. Tiwari shouts and start is mellow drama. Angoori says to Gupta will she recover or not. Gupta says yes she will be all fine there is a doctor in London known as Louis Pilgaunkar, now you all must be confused so his father was Indian and mother was British. Malkhan says that's all right but how we will go there. Tillu says Tiwari has plane we will go from that. Vibhu start crying says to Tiwari you ride international plane can you please take Anu to London I'm beginning you for my wife. Anu start crying and says please help me. Prem says to Tiwari show some respect for your neighbour and help them. Tiwari says I'll book a ticket for you in different plain. Anu says no flights are available in different airline I asked my friend Minal. Angoori says book for other month. Gupta says this is not possible she is like time bomb she can go into coma if not treated early. Vibhu start his mellow drama. Anu says please help me Tiwari. Tiwari says I'm so ashamed. Prem says she is asking you for help and you are saying I'm ashamed. Angoori says to Tiwari I thought you were helpful but you're not at all. Tiwari says to Anu I'm sorry I'm not pilot I was just acting. Tillu says to Tiwari nobody is bigger fraud then you, you are making everybody fool by becoming pilot. Vibhu and Anu says why did you do like this. Tiwari says to Anu I'm sorry but that day when you were talking to your friend Rohan pilot on phone so I learn that you like pilot so for your small happiness I became pilot. Vibhu says to Tiwari you don't know how to ride a bullock cart and were trying to fly this all was drama to expose you. Tiwari says but I was also helping Anu psychologically. Anu says how you helped me after doing this drama I'm missing my friend Rohan more. Angoori says after doing this drama you hurt me and Anita, and Angoori leves.
Angoori in her bedroom folding clothes and talking to herself, Tiwari ditched us all I thought he is driver of aeroplane but he hurt me. Tiwari come to Angoori. Angoori says go from here I don't want to talk to you, you are fraud. Tiwari says please try to understand I did all this for Anu and I don't want to hurt her. Angoori says what about me I thought that I'll sit in plane beside you and travelling internationally. Tiwari says but still I can take you to travel internationally. Angoori says really you will take me on World tour. Tiwari says yes and ask her to close her eyes, I'll take you on world tour. Tiwari takes her on imaginary world tour snd they both singing and dancing. Angoori fell and sees Tiwari is sleeping and shouts on Tiwari good night. Tiwari asks what happen.
Vibhu and Anu in bedroom. Anu asks Vibhu to stop being angry from her. Vibhu says you like to hurt people, you insulated me you put me down. Anu says you know what is your problem you pull things so much and try to change topic. Vibhu says you are changing topic and I'm still hurt. Anu says ok I'll double you pocket money but you have to return Pelu's rickshaw. Vibhu act cute and says ro my pocket money thrice. Anu says no pocket money for you. Vibhu says double is ok don't do that.
TMT sitting near tea stall. Tillu says my head is paining how I'll show my face to Rusa. Teeka says we all will feel insulted in front of her. Malkhan says think what we will say to her. Tillu says we have take support of lie. Malkhan says there is one thing you cannot say lie to person who you love. Rusa come and greets her and ask what about my jon. Tillu says nothing happened about your job. Rusa says my interview went well that pilot must also be spinning after my interview. Tillu says that person was not pilot. Rusa asks did you three knew that. Malkhan says no Rusa we didn't have idea for that, we have been cheated on. Rusa says and you three cheated on me I'll ask my sister's husband to lovk you up in jail. TMT start singing for her. Rusa leaves.
PreCap
Vibhu, Tiwari, Anu and Gupta in Tiwari's bedroom. Gupta says he is sick because gas hit his head. Anu asks Gupta wht is the fees. Gupta says 500rs. Vibhu slaps him saying I'm not able to control my hand.
Vibhu giving flying kiss to Angoori. Angoori asks why are you giving flying kiss to me. Vibhu says its happening by own I'm not doing
Update Credit to: Tanaya
The post Bhabhi Ji Ghar Par Hai 30th July 2021 Written Episode Update : Tiwari's secret comes to light appeared first on Telly Updates.