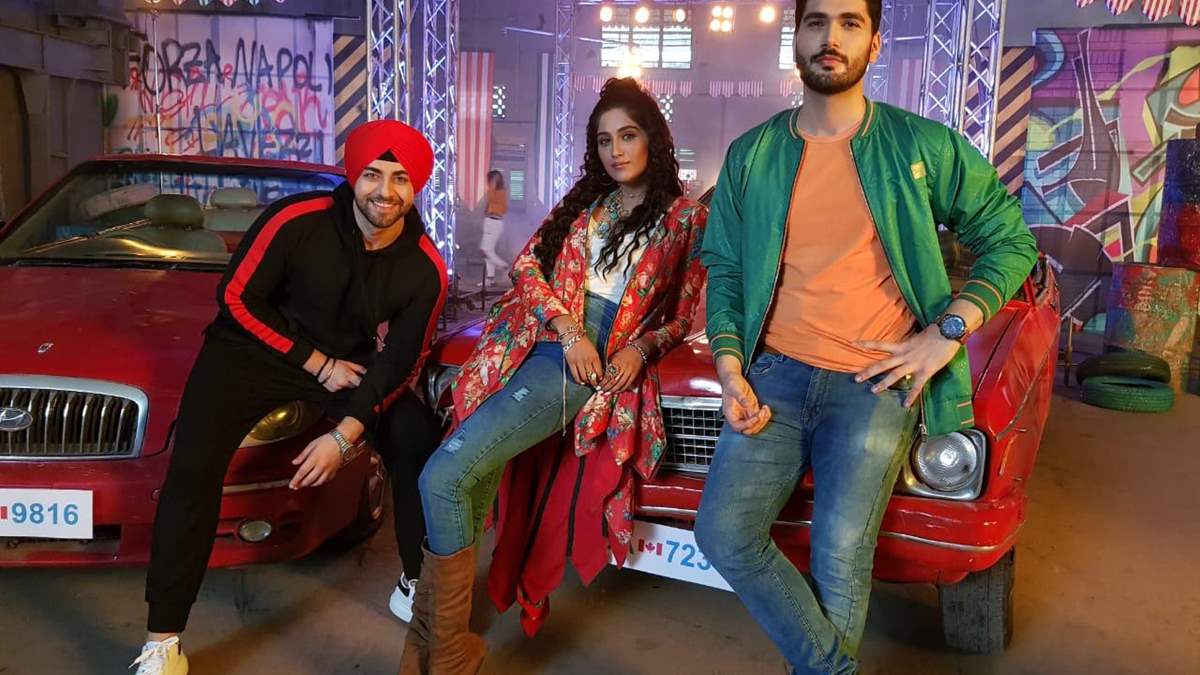 Choti Sardarni 27th July 2021 Written Episode, Written Update on TellyUpdates.com
Scene 1
Seher comes to the temple. A guy is there. He prays. There's a kid. He goes towards the people showing sword fighting skills. The guy runs and stops him. He picks the kid. He gives the kid back to his parents. Seher comes in. Seher says my anxiety is increasing. Are you making any plan to reduce my stress? The guy comes behind her. The guy looks at Seher. She goes out from the other side of the grill. Seher's S pendant gets stuck in his clothes.
The guy collides with another guy. He says you kid.. be careful. They hug each other and laugh. His friend (Nikhil) asks did you as for a bhabhi for me? Rajveer says shut up. Nikhil says everyone has to God for a girl. He says when she comes in front of my heart would say she's the one. He asks whose chain is it? He says it got stuck in clothes. Nikhil says I hope it's of a girl like Simran, Seher but what if it's a Sandeep? They laugh. Rajveer looks at it.
Scene 2
Seher gets a call. Her friend JJ says our classes are going on. But you have to pay extra. Seher takes the phone and says stop lying to the clients. We should earn what we deserve. She says to clients don't pay extra. He says your brother are such millionaires and you earn with dance classes? She says I want to go back to India and serve the kids. He says you have many dreams. Seher says I don't want anyone to go through what Tikky did.
Scene 3
Karan gives a tablet to Tikky. He says badi bi you shouldn't have called seher. Param says I am glad you did. He would have finalized that bad guy for Seher. Karan says stop blaming me. Badi bi says you keep fighting. My body is mine but my eyes are Seher's.
Scene 4
Rajveer meets his friends. It's his friend's sister's wedding. Nikhil says I will do a grand sangeet for her and post in on my channel. Rajveer says your followers would double. Minty's brother says that the dance girl is very naughty. We all have to go to dance practice. Rajveer says we will go there and see who she is.
They come to the wedding venue. Raj says we are Punjabis. We don't need to learn to dance. Seher comes downstairs. She starts dancing. Rajveer looks at her. Seher does bhangra and laughs. Rajveer laughs. he takes the rod from her. Seher says let's see how much dance is in your DNA. You can't stand in Seher Kaur Gill's studio, dance now. Rajveer says Seher. Seher dances. He says she looks like a princess.
Nikhil sends her photo to someone. The woman sees her photo. Nikhil calls her and says Rajveer is falling for her. She says I need to report who she is. Nikhil says I can't keep spying on him. She says I want to keep him safe. She's Rajveer's sister. Seher says you theif. How do you have my locket? He says it fell on me in the temple. They didn't take it. Seher says it's mine. He gives it to her. Seher teaches them to dance. Rajveer says to Nikhil she has escalated my heartbeat. I don't know what she has done. Nikhil says is she the one? Seher leaves.
Scene 4
Param says it's 9. He leaves his meeting. Karan leaves his friends too. They all get on a video call. They tell each other about their day. Param and Karan fight again. Seher says stop it. You both keep fighting. If you both love, be together.
Rajveer thinks about Seher and dances. He watches her videos. He says we have to change everything as per her liking. Nikhil sees Seher's video. He says okay this is changing you. Let me subscribe to her channel. Rajveer says no. his sister calls him. He says how are you? She says what's going on? How is the wedding going on? Rajveer says I am happy. Everything is going fine. She says to the driver move the car. He says but can't get late. It's your press conference. You're the CM. She says I can do anything for my brother's happiness.
Episode ends.
Precap-The bride says I am trying to flee. I love someone else. Seher speaks to her dad. He says please we can't stop this wedding now. Seher asks Rajveer to help her.
Update Credit to: Atiba
The post Choti Sardarni 27th July 2021 Written Episode Update: Seher and Rajveer meet appeared first on Telly Updates.