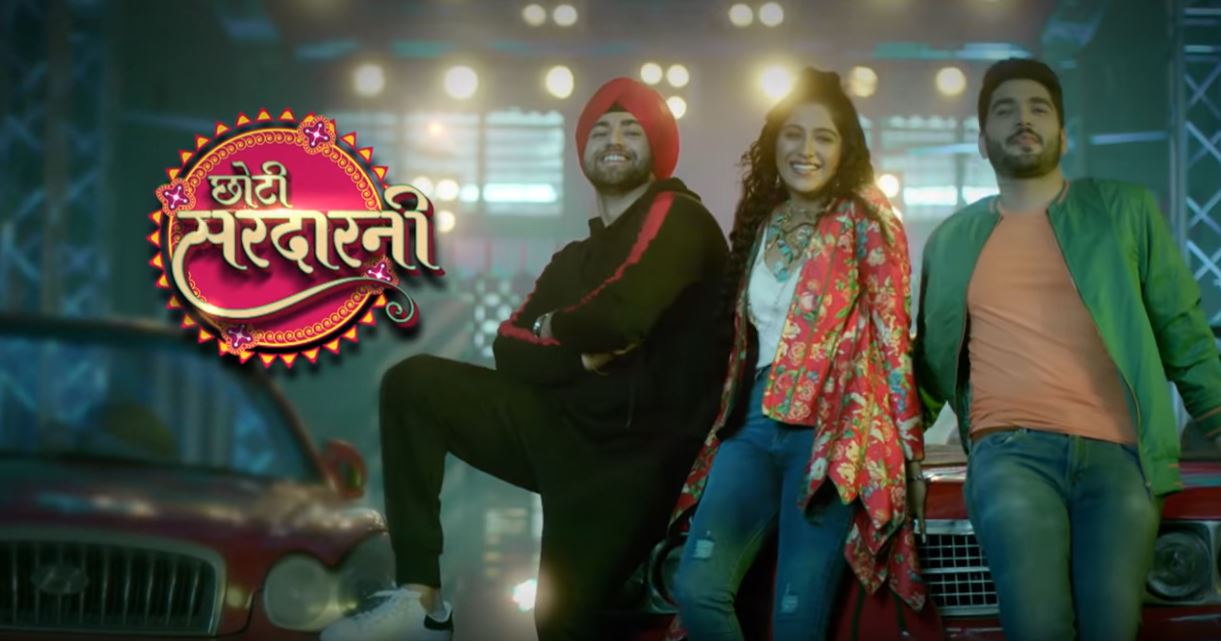 Choti Sardarni 28th July 2021 Written Episode, Written Update on TellyUpdates.com
Scene 1
Rajveer's sister gets back home. She takes out a brooch and says this should be in Rajveer's hand tomorrow. He says airlines are delaying things. She says get a private jet. He says it would be so expensive. She says I chose my brother over my wedding. What does this broth hold? If my brother likes anything I get him that at any cost.
Scene 2
Rajveer comes to the wedding event. He sees Meher dancing and smiles. Minty's dad says Minty's brother Rajveer is here. Seher comes to the house seeing Minty trying to run. Meher stops her. Meher asks what happened? She says please go. I don't want to marry this guy. I love some other guy. Sahil. I told everyone but my family didn't agree because Sahil isn't rich. They want to get me married to Gurtij because he is rich. He's characterless but no one cares. He always had a bad eye on me. Her mom comes. Seher leaves.
Nikhil video calls dida and gives the broth to Rajveer. He says how did you do this? She says surprise. She says I can give you whatever you want. He says I wish for the day I can give you what want. She says join politics then. He says it's for dead people. she says so am I a zombie? Rajveer sees Seher. Nikhil says go to her.
Seher says to Jeejay please do something. We have to stop her life from being ruined. Nikhil says to Dida Rajveer is in love with her. She says to keep an eye on him and I will get Seher's investigation done. She says to make sure his heart isn't hurt. His happiness is everything. Nikhil says don't worry. Rajveer and you are my life. You changed my life, I was on the roads. I will take care of him and keep an eye on Seher.
Scene 2
Seher comes to Minty's dad and says minty doesn't love this guy. You know who she loves. Why are you forcing her? You love her as her dad but not all decisions you take for her can be right. Sartaj says mind your own business. Her dad says it's a family matter. We can handle it. You enjoy the food and leave. Seher says but it's about her whole life. He says so should I get her married to a beggar? Sartaj says his entire salary is less than her one makeup product. Seher says if she doesn't love him who will she do it for? Her dad says leave it. It's not your problem.
Seher collides with Rajveer. She recalls he is like a brother to Minty. She says I need your help. you must be thinking I am so weird asking you for help. He says no it's cute. Emotions matter. Seher asks have you ever loved someone? he says I fell in love yesterday. She says what will you do if someone takes your love? He says I will kill them. Joking. Why would anyone? She says the same is happening at this wedding. Minty's love is being taken away from her. she's forced into this wedding. Uncle ji said everyone is happy about it. I am asking you for help so you must be happy right? He says Minty isn't happy? She loves someone else? Why didn't she tell me? She says Minty must be thinking you're like her dad and brother. But I feel you are different and a good human. Minty needs you today. You have to save her. It's about her life. He leaves.
Scene 3
Sartaj jokes around with his friends. Sartaj says don't crack your stupid jokes. He asks what happened brother? He says to Minty's dad why didn't you tell me Minty loves another guy? Uncle ji. Sartaj takes him outside.
Seher says to jeejay time for plan B. It's about someone's life. Sartaj says what are you doing? Keep our respect. The groom's family must be coming. Think about our respect. He says I am. Minty is my sister too. Sartaj says that the dancer must have told you. She doesn't know our family. She can't understand. Rajveer says I know you are worried how will you answer people. But if we think about people our sister's life would be ruined. Get her married to the guy she loves. Sartaj says he's a loser. He makes less money than our servants. Rajveer says his time can change. He isn't a bad giy. Sarataj says he's poor. It's over. Rajveer says it just started. Sarataj says just eat and leave. And that stupid dancer.. Rajveer shouts Sartaj.. Her name is Seher and you call her Seher ji. Don't dare to say a word about her. Nikhil tries to stop them. Rajveer says I am showing you the right path. Sartaj says don't show off your sister's power to me. His dad takes him from there.
Nikhil says if dida finds out she will.. Rajveer says stop it. I don't like using my power. Nikhil says but the world runs that way. Sartaj is speaking because his to-be brother-in-law is the son of a minister.
Scene 4
The baraat comes. There are guards outside Minty's room. Seher says to the guards no outsider should get into her room. she goes in. They think she's family. Seher says to Minty I have plan B ready. Don't cry. Rajveer is talking to them. Rajveer comes in. He says Sartaj didn't agree but I won't let her life be ruined. Seher says Minty it's now or never. Minty's mom comes in. She says let's go Minty. The groom is here. Seher and Rajveer pray for Minty.
Episode ends.
Update Credit to: Atiba
The post Choti Sardarni 28th July 2021 Written Episode Update: Seher tries to help Minty appeared first on Telly Updates.