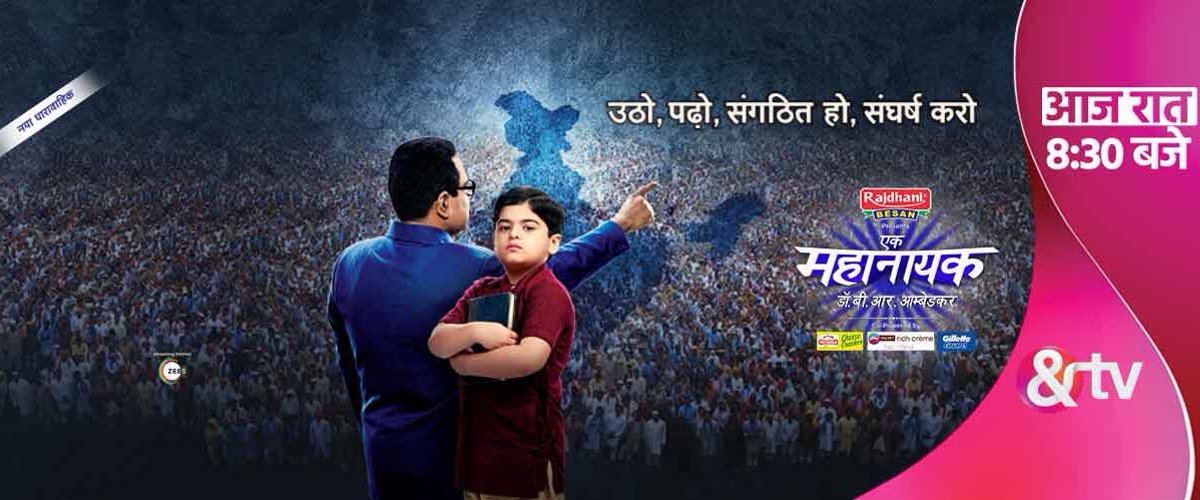 Ek Mahanayak Dr. BR Ambedkar 28th July 2021 Written Episode, Written Update on TellyUpdates.com
Ghoshi was accusing Bhim Rao of his insult in front of the invigilators, his friends comforted gave half the answer. Principal overheard their conversation and asked them to concentrate on their studies other that Bhim Rao otherwise they would actually become sweepers.
Jijabai was furious for preparing meal for Ramji and his friend. Meera inquired. Jijabai asked to oil Meera's hairs.
Annand asked Puranjan about Bala. Puranjan didn't know much about him, last he knew he was working in a company a year ago. Jijabai complaint for Bala not being responsible for his family as being the elder brother. Jijabai's words were increasing Meera's headache. A woman came calling for Rama, her relatives have sent message to call her siblings over. Jijabai refused. Ramji said that parenting her siblings was a clause in the wedding. Jijabai vehemently refused to accept Rama's siblings. Rama left the room. Jijabai was determined on her decision.
Rama was worried about her siblings. They had no one other than her. They must be called over soon, otherwise her aunt and uncle would mistreat them. They would starve them like they used to starve her. Bhim Rao promised to convince Jijabai. He consoled her; he would talk to Ramji.
Ramji and Jijabai argued that they accepted to bring Rama's siblings after her wedding. Jijabai was determine on her stance, she argued that they cannot afford to take responsibility of every orphan in this world. She put Anand's wife forward, she backed Jijabai's stance. Jijabai said that they she wouldn't have any problem if Bhim Rao was earning.
Anand asked Bhim Rao to calm down, Ramji was talking to Jijabai. Meera couldn't understand Jijabai's years old effort to create conflicts between father and son. Jijabai came and said that final decision would be of Ramji. Her effort doesn't matter.
Anand said that they can afford their responsibility, Puranjan wanted to help them as well. Ramji announced that the siblings won't come in this house, they would find a solution for them. Will take full responsibility of them but won't have them in this house. He owed it to Jijabai being her husband. Rama started crying. Ramji was determined on his decision, he asked everyone to sleep.
He gave Puranjan a quilt and place beside his bed to sleep. Puranjan was grateful. They slept.
One of the neighbor were celebrating their wedding anniversary by distributing tea amongst everyone. Meera and Jijabai came. They sked for Bhim Rao. Puranjan wanted to find him, Jijabai said that he must have went somewhere to protest. Meanwhile Rama's siblings came. Bhim Rao brought them. They hugged Rama; she took them inside.
Jijabai went inside, she told Rama that they cannot stay here. Bhim Rao said that they will, he handed Rama their luggage. Ramji questioned Bhim Rao for not accepting his decision. Bhim Rao said that he was fulfilling his responsibility as a husband just like Ramji. He has lived his entire life without a mother, knowing the urge for love he asked to have the children in this house. Jijabai asked him to leave this house. Bhim Rao said that he would if everyone would ask him for it. Jijabai questioned Ramji. He answered that they cannot throw them out of this house now, it wasn't ethical. Ramji and Puranjan left for work.
A man having makeup on his face was scaring the children. Daliya amma was about to beat him, he his behind Ramji. Daliya amma was angry at his unreasonable job. He asked Ramji o support him, as being an actor was a sport. The shoe maker asked Daliya Amma to be grateful, he was at least earning something, wasn't like Bhim Rao.
Precap: Bhim Rao said that the siblings were his and Rama's responsibility, they would do whatever it takes to fulfill. Rama asked her not to let go of his education. Jijabai told Bhim Rao that they would not cook extra roti in this house for these children.
Update Credit to: Sona
The post Ek Mahanayak Dr. BR Ambedkar 28th July 2021 Written Episode Update appeared first on Telly Updates.