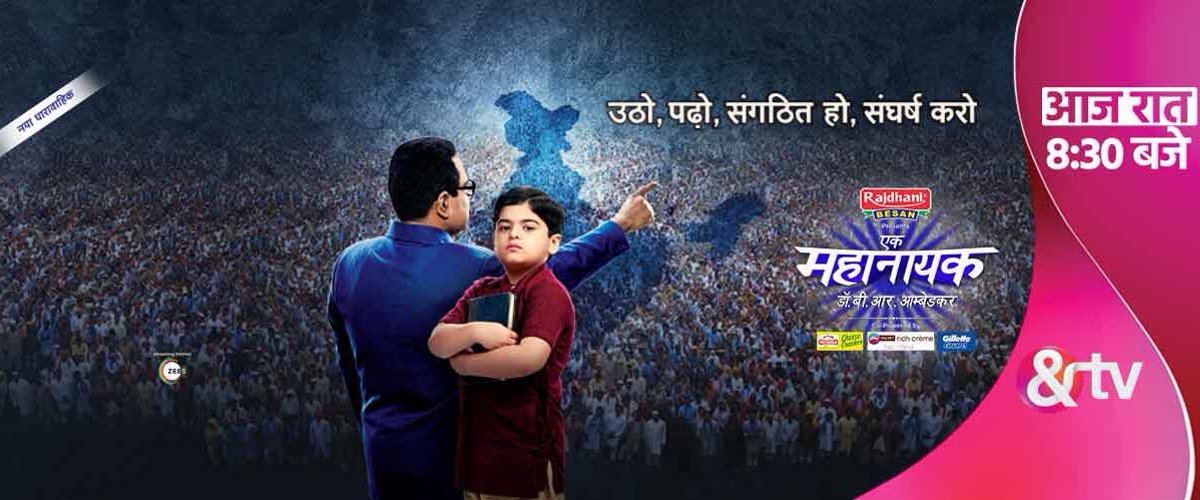 Ek Mahanayak Dr. BR Ambedkar 29th July 2021 Written Episode, Written Update on TellyUpdates.com
The shoemaker said to Dailya amma that her son was the only support after her husband passed away. Ramji replied that his doesn't realize who much he hurts others. Ramji asked Daliya amma to let her son do what he pleases, he asked children not to be afraid of him, he was only acting.
Lakshmi told Jijabai that she worries about her unborn child, she worries becoming like Jijabai that her husband only cares about Bhim Rao. He has brought Rama's siblings here, distributing responsibilities without realizing about Lakshmi and her child. She wishes to go to her mother's so that Anand may notice her importance. Jijabai promised that she would not let her undergo this stress.
Jijabai went to Bhim Rao. Told him that she will not cook extra for Rama's siblings. This time Lakshmi would leave the house and him Rao wouldn't want Anand's wife to go while expecting a child. Lakshmi agreed, she asked Bhim Rao to let go of his education and find a job. Rama said that they agree on everything, but Bhim Rao would not let go of his education.
The children were playing outside, Bhim Rao went to see them. he called Rama, told her that these children were their responsibilities, and they would do whatever it takes to ful fil them. Rama asked her not to leave his education, she doesn't what he would get out of it, yet it makes him happy thus there would be solution and something vice in it for them. Bhim Rao held Rama's hand and thanked her for changing her life after marriage, Rama didn't know the meaning of thank you.
The children were sent inside to have lunch, they hurried inside calling Rama for food. Jijabai called them, told them it wasn't their parents house. the children replied that their parent's dies years ago, their father didn't have a house. they knew that they were at their brother in – laws house. Meera came in agreeing to the children. She called Rama; her siblings told her that they were hungry. Rama recalled that Jijabai refused to cook meal for them . she asked them to go inside.
Puranjan didn't think that Jijabai would let the children be at peace, he told Ramji. Ramji wanted Bhim Rao to complete his education and then sent him off to live separately. He wanted him to be independent, he was waiting for the right time. Puranjan said that God didn't do justice to him, if Bhimabai was alive she would have solved half of his problems.
Rama dished out food for her siblings. Jijabai took the rotis out, left it only for Rama and Bhim Rao. She asked her not some to the kitchen before night. Lakshmi took out some vegetables saying that they were too much. Rama left. Lakshmi didn't feel good with her actions, but she wanted Bhim Rao to leave his education and start working. Jijabai said that they were doing it for the good.
Rama's siblings didn't like Jijabai, they told Bhim Rao. They said to each other that stepmothers can't be same as real mother. Bhim Rao asked them not to misbehave at any cost. Rama holding the tray asked her siblings not to say anything to Jijabai, she sent them to wash their hands. Rama told Bhim Rao that Jijabai gave only three rotis, Bhim Rao should have one she would share the other two with her siblings. Bhim Rao asked them to eat it all, he will eat something in the college. He was leaving. Rama said that she would eat something after everyone would sleep. Bhim Rao said that he knows that Rama can't steal. She refused to eat anything without Bhim Rao. Bhim Rao distrusted his roti into half because he knew Rama would sacrifice her roti and won't eat anything.
Lakshmi praised Jijabai's vegetables. Meera said that Jijabai cooks well when in mood. Jijabai couldn't understand in 11 years that when Meera praised her or insulted her.
Bhim Rao ate his half, siblings came inside asking for food. He asked Rama to eat as well.
Bhim Rao was leaving. Jijabai wanted to see how Rama would survive her hunger. Bhim Rao wished to have Bhimabai here, she wouldn't have allowed anyone to starve in her presence.
Rama fed her siblings their rotis, they were still hungry. She fed them her half of the roti as well. Jijabai asked her to clean the house.
The professor was lecturing about the societal structure of the underprivileged. They were unable to afford food, have education and the basic necessities. Bhim Rao was hungry
Rama's stomach was aching as she swept the floor. She wanted to eat, but she couldn't because of Jijabai. She fainted while sweeping the floor. The neighbors went to check on her.
Precap: Bhim Rao said that the poor must be prepared for every difficulty but when he is hungry he must ask for food. he must tell that he is hungry. Amma asks Rama if she is hungry, she refuses.
Update Credit to: Sona
The post Ek Mahanayak Dr. BR Ambedkar 29th July 2021 Written Episode Update: Ramabai faints due to hunger. appeared first on Telly Updates.