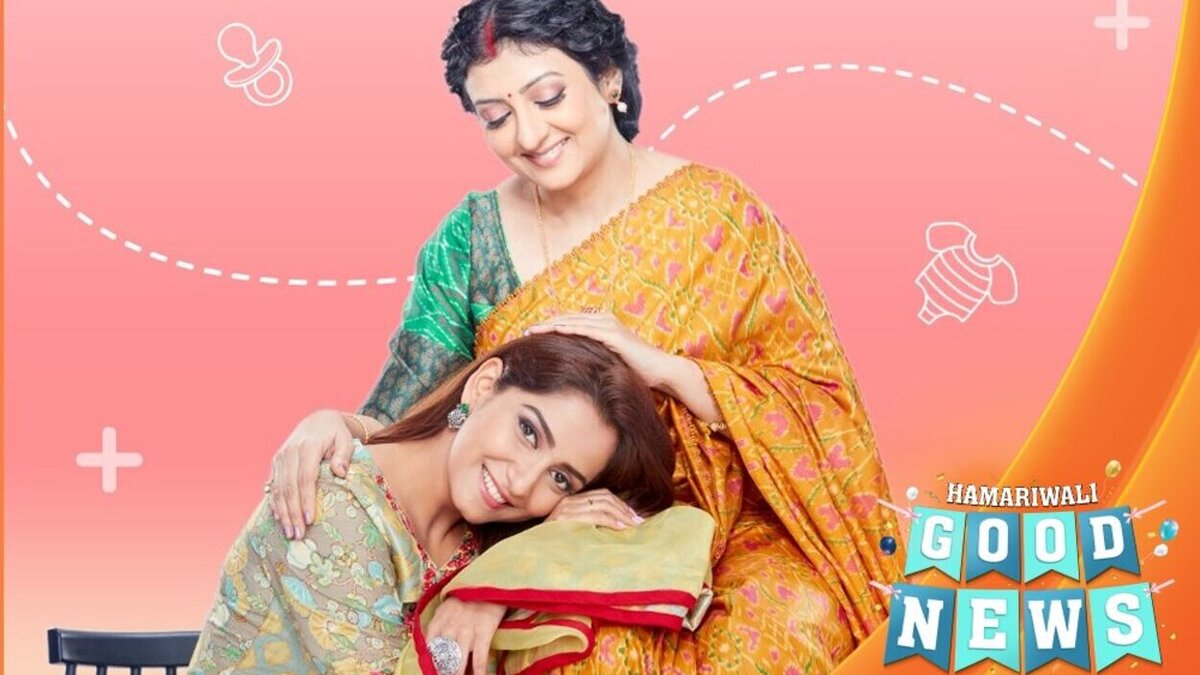 Hamariwali Good News 28th July 2021 Written Episode, Written Update on TellyUpdates.com
The Episode starts with Ritvik saying Navya is upset with me, I m making fruit chaat for her to make her mood good, she is making me mad by her cravings. Akki laughs. He says you go to your room and relax, I will send it for you. Adi says fruit chaat and chilled milkshake is a deadly combo. Akki asks him to make the milkshake. She goes. Adi says I will make two glasses for both the pregnant ladies, Navya likes banana milkshake. Ritvik says she doesn't like milkshake, she moved on, she doesn't like the old things now. Adi says you are jealous, you don't want me to make the milkshake. They argue. Mukund comes and says I m making hot coffee, if you want to please your wife, then make hot coffee for her.
Ritvik says I know you are doing this to please Meera. Adi asks how is Meera now. Mukund says she will be fine now. He sees some shadow and says come and have coffee. Mukund asks what happened. He gets shocked and says who was there if you are here. She says Renuka has come back, she is alive. He says no, promise me, you won't go out alone and take any wrong step until I find out. She promises. He hugs her. He asks her to have coffee. She says I will make food for you, trust me. She goes. He thinks she will be busy now, its good, who was there. Meera sees some curtains moving.
She asks Renuka why are you hiding from me, I told Mukund about you. She gets a call. Renuka says don't do anything foolish, keep Mukund away from this. Meera asks her not to say that. Mukund and Ritvik discuss work. Mukund asks about Meera. Ritvik says Meera was always fun loving. Mukund says Meera is making good for us. Ritvik laughs and says I will place an order. Mukund asks how is Navya. Ritvik says she was upset knowing about Renuka. Renuka says I wanted to see Adi and Bharat, I have to go back now, you should have not told anything to Mukund. Lights flicker. Mukund says I got the lights fixed yesterday, how did it get spoiled now. Renuka says I will go back to my world and never come back if you tell anyone. Meera asks how can't I tell them that you are alive, Mukund will be so happy. Renuka says I will meet you once, but you have to meet me alone. She goes. Meera asks Renuka to speak. Mukund comes and looks on. He asks whom were you talking. Meera says nothing, I was finding a recipe on phone, tell me, shall I make south indian. He says you didn't even cut the vegs till now, when will you cook. Meera says I will make it now. Akki comes and asks shall I help.
Meera says no. Akki says its good Ritvik ordered food today. Meera asks why. Mukund says you can make food later, we will have food prepared by you later, we will have the food now, I m feeling hungry. Akki asks Meera to come. Meera says fine, I m also feeling hungry, I will come. Meera goes to sleep. She stays restless and thinks of Renuka. She leaves from the room. Mukund looks for her in the morning and thinks where did she go. Navya feels nausea. Adi asks what happened. He asks her to smell the soap, it will relieve her nausea. Ritvik looks on. Adi asks her to inhale and exhale, feeling better. She says yes, thanks Adi. He says you are welcome. She goes. Mukund calls out Meera. Adi asks what happened. Mukund asks did Meera come here. Adi says no. Mukund says she isn't in the room, where can she go. He thinks she went out, but why.

No Precap
Update Credit to: Amena
The post Hamariwali Good News 28th July 2021 Written Episode Update: Renuka contacts Meera appeared first on Telly Updates.