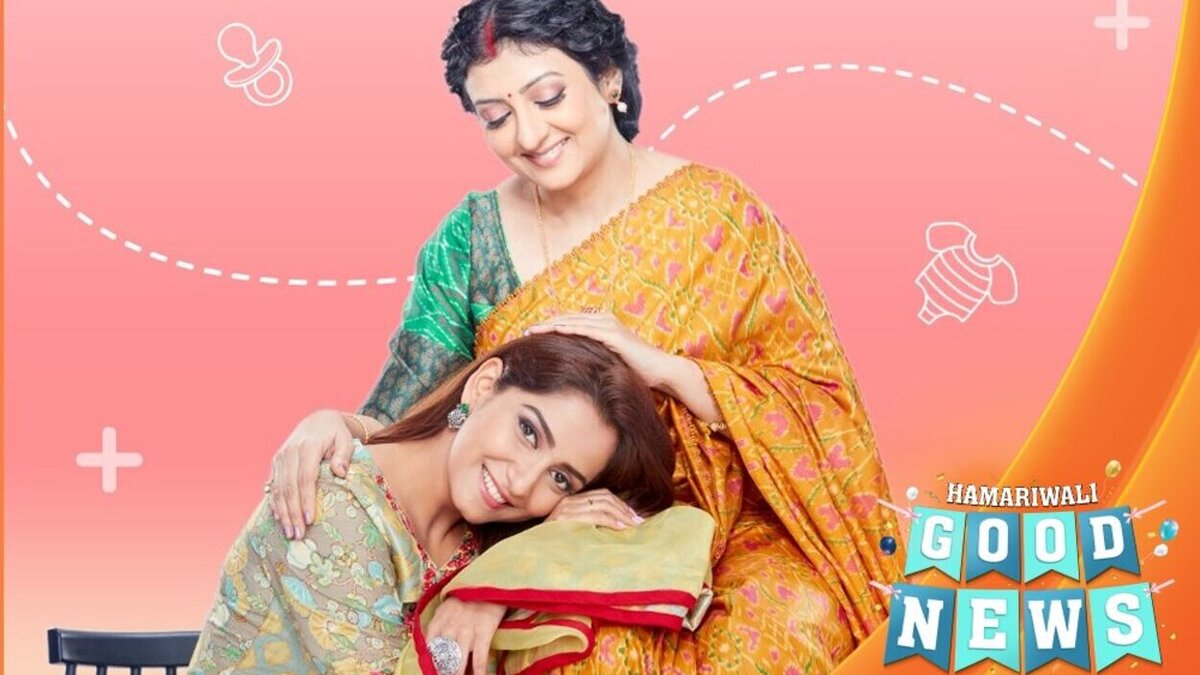 Hamariwali Good News 29th July 2021 Written Episode, Written Update on TellyUpdates.com
The Episode starts with Mukund looking for Meera. Meera goes to meet Renuka. Renuka says you got scared seeing my face, you want me to come in front of Mukund with this face. Meera shouts to Mukund. Renuka stops her. Meera says you have to come in front of Mukund. Renuka says leave my hand, I can't meet him. He gets shocked seeing Sumitra. He says how can this happen. Sumitra sees him and runs. Meera says he has seen us. Renuka says no, he loves you now, let me go, my face is with you now. Meera says you know him less, he will always love you, with this face also. Renuka says its a lie, I don't want to come back in anyone's life. Meera says you are mistaken. Renuka says he married you, he isn't mine now, I have nothing left in my life. Renuka runs. Meera asks her to stop. Mukund stops Sumitra.
He asks what are you doing here, are you doing this with Meera, you know to play with people's mind. She says I don't know anything. He says you are with Meera at the same time, did you come to kill Meera or Bharat. She steps on his foot and pushes him. A biker hits him. Mukund gets hurt. Sumitra goes. Akki helps Ritvik in taking care of Bharat. A man sees Mukund injured. He gets his phone and calls Ritvik. Ritvik asks who are you.
The man says he met with an accident. Ritvik asks is he fine, send me location, I m coming. Adi asks whose accident. Ritvik says Mukund's. Adi worries and says you be here with Navya and Akki, I will go to dad, Bharat is crying since long, Navya needs you, she shouldn't know about dad's accident, she will get stressed, I will manage everything. Ritvik asks sure. Adi says sure, I will call you if I need help. He leaves. Akki says Mukund went to find Meera, don't know if they are together. Ritvik and Akki call Meera. Renuka gets a call and says I m stuck here. Meera answers Ritvik's call. He asks are you okay. She says yes, I will come home and talk. He says Mukund met with an accident. She asks what, he was just here.
Meera asks Renuka to listen, Mukund met with an accident, come out. Akki and Ritvik ask are you fine. Meera cries. Some men see her and call her mad. Meera leaves. Renuka says she left from here, I m coming. Meera sees Mukund and cries. She says I m sorry. Adi says dad is fine, he just needs rest, I will inform everyone at home that he is fine. He goes. Mukund gets conscious and says Meera, I have seen her myself. Adi comes and says dad got conscious. Meera thinks it means he has seen Renuka. She asks Adi to call home. Adi goes. Mukund says not this time, I will go and settle scores with her. She asks him not to worry. Mukund gets restless. Adi asks him to keep lying down. Mukund says no, I have to go. She says calm down, please. Doctor checks Mukund and says I have given injection, don't talk anything of stress, let him rest. Meera looks at Mukund.
No Precap
Update Credit to: Amena
The post Hamariwali Good News 29th July 2021 Written Episode Update: Mukund confronts Sumitra appeared first on Telly Updates.