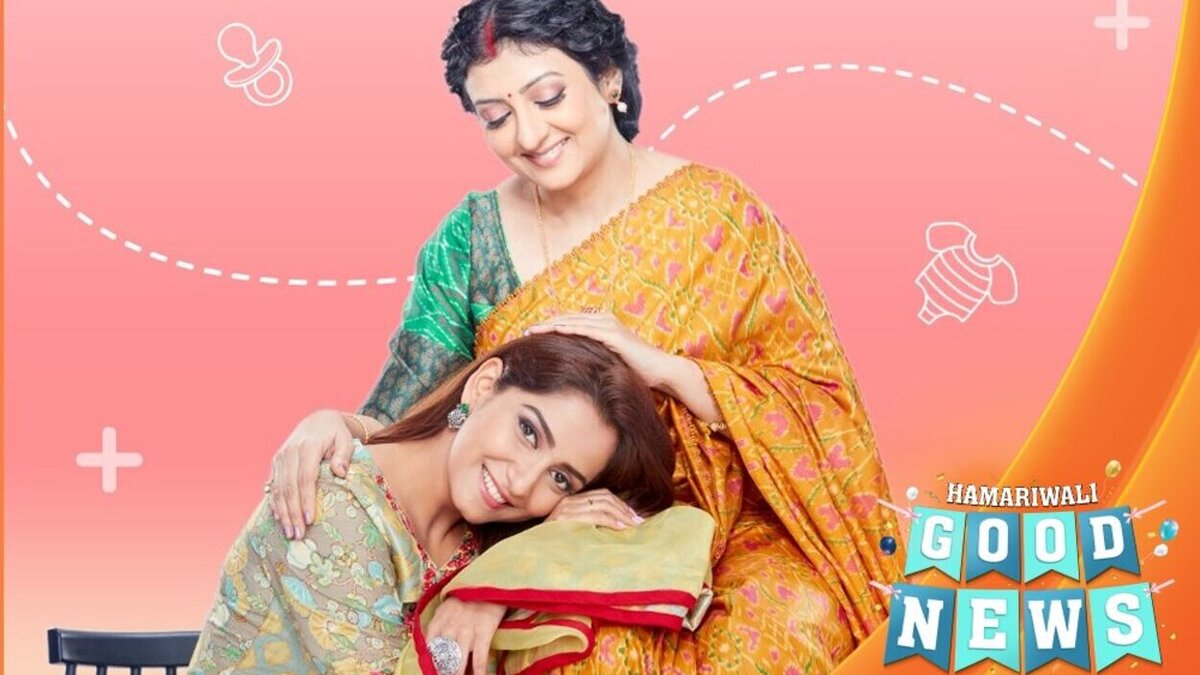 Hamariwali Good News 31st July 2021 Written Episode, Written Update on TellyUpdates.com
The Episode starts with Renuka saying I won't go there as Renuka, no one shall know my truth. Meera says I promise, I will not tell anyone your truth, not even to Mukund. She thinks you will know that Renuka didn't die, you are still alive in your family's heart. Ritvik says once Mukund comes home, we will take him for Bharat's shopping. Navya likes the idea. Adi says sorry Navya for overreacting, I promise, this won't happen again. Navya says its okay. Ritvik asks Adi to stay back, he will go and check Mukund. He leaves. Adi gives sugar to Navya for the tea. Akki gets angry and puts the hot tea on her hand by mistake. Adi asks Akki to put her hand in the water jug, how can she be so careless. She goes. Adi goes after her. He asks what happened, show me your hand, did it burn a lot. Akki says you still have feelings for Navya, right.
Adi asks what are you saying. She says don't lie, I have seen you always care for her. He says its not like that, I can't forget your sacrifices, your support and care, when I was handicapped, you went against your mum, I can't forget that. He calms her down. Ritvik brings Mukund home. Navya gives him water. Ritvik says he is fine, he is just feeling drowsy because of medicines, Meera went for some urgent work, she will come, don't worry. Navya does all the work. Akki says I will help you. Navya asks her to take rest and go. Meera comes and says you both don't need to work, I will handle this, I got someone with me to do this work. She calls Renuka. She says she came to the NGO, she has no one in her family, she will stay here with us, she will help us, we can help her. They nod. Meera says she is from village, she will take time to understand the work. She introduces Navya and Akki to Renuka. She says take care of them just as your daughters.
Meera says I will keep your room ready, come. Navya says I m not able to make the laddoos, maybe mum used to add coconut in it. Renuka stops. Navya asks what shall I do to bind them. Renuka applies ghee on the hands and binds the laddoos. Navya says mum also used to do this, you reminded me of her, its perfect round laddoos, thanks. Navya makes the laddoo. She says you didn't tell your name. Meera says Ganga, you both go and rest, Ganga will make the laddoos. Navya and Akki leave. Meera sees Mukund sleeping. She cries and thinks he isn't written in my fate, I will ask Renuka to make juice for him. She goes. He wakes up. He feels unwell. Ritvik and Adi come to him. Ritvik says I kept this bell for you. Adi says you don't walk right now.
Mukund says I have to tell something very imp to you both, I had seen Sumitra here in this city, I tried to catch her, she pushed me and ran away, so my accident happened, we have to stay alert, she is playing a big game against us, I know whatever is happening with Meera, Sumitra is behind it, she knows how to play with people's mind and heart. Ritvik says I will inform the police. Mukund says no, she is clever, Meera will be hurt, we have to keep an eye on Meera and save her, I heard her talking about some ghunghatwali and Renuka. Adi says ghunghatwali, I heard this name, I was talking to Akki, she said Meera got a woman from NGO, she is also in ghunghat.
Mukund asks where, in this house. He goes to Meera. Meera asks what happened. Mukund says I heard you kept some maid, I want to see her, call her. Meera says her name is Ganga, she was worried when she came to NGO, I told her that she will get help. He says call her, I want to meet her. She asks why, what's the need, take rest. He says I won't go anywhere, a ghunghatwali was following you, now you got a ghunghatwali home, I want to see her face, call her. She says you think I m a fool to get a wrong person home. He says you are innocent, you don't know things, call her, we will meet her. She says you go to your room and rest, I will get tea. Mukund says fine, don't call her, Adi, Ritvik get her out.
Meera asks what's the problem. Mukund says its Sumitra's plan, I met her today, Sumitra is behind everything. Mukund coughs. Adi goes to get water. Everyone worries for Mukund. Mukund drinks water. Renuka says I knew it will happen, what shall I do now, Mukund can't tolerate anger and lie, I should have not listened to Meera, how will I show my face to everyone. Meera says you are mistaken, she isn't with Sumitra. Ritvik asks what's the problem, call her. Meera says she is already scared, let her settle, she will get more scared. Mukund asks Ganga to come out. Renuka tries to run away. Navya asks her to come, Mukund is calling for a talk. They take Renuka to Mukund. Meera says I have got her here to help her, to give her shelter, she didn't wish to come, I promised her that I will protect her, its not right. Mukund says remove your ghunghat. Renuka signs no.

No Precap
Update Credit to: Amena
The post Hamariwali Good News 31st July 2021 Written Episode Update: Mukund suspects Renuka's disguise appeared first on Telly Updates.