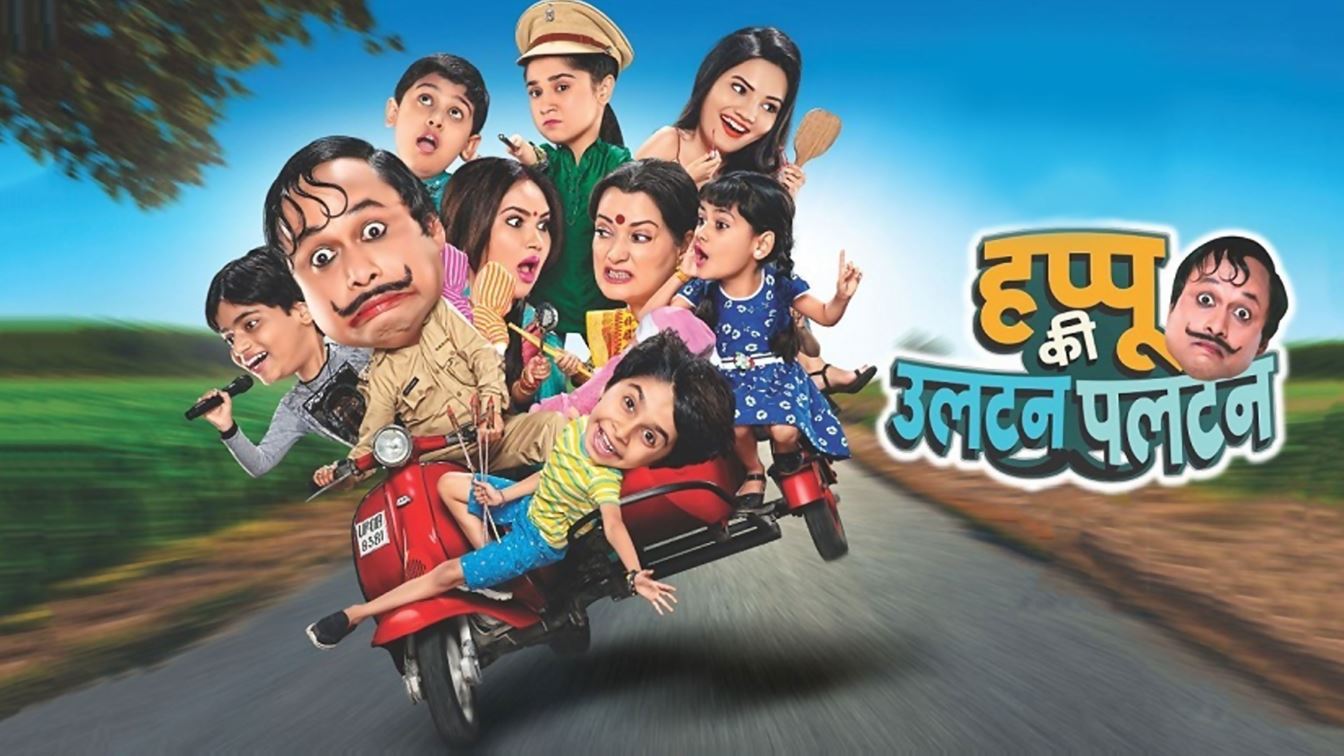 Happu Ki Ultan Paltan 28th July 2021 Written Episode, Written Update on TellyUpdates.com
The Episode starts with Happu coming to the PS. He wakes up Manohar. Manohar shouts and says you came at the wrong time. He says I have seen that my hair are grown till my shoulder and some beautiful girls are playing with it. Happu asks him to do a reality check and says it can become nest for birds. Manohar says your hairs are looking less. Happu says my hair are more. Manohar asks if he got his hair cut. Happu says no, got it trimmed. Resham Pal comes there and sits on the chair. He asks Happu, why did you get your hair cut? Happu checks his hair. Resham Pal says your hair shall touch your lover's face. Happu says this is my face and asks him to stop. Resham Pal asks how is his hair style? Happu says it is good. Resham Pal does poetry. Manohar appreciates it. Resham pal continues poetry.
Kamlesh asks Jaaneman to make jalebi of green color. Jaaneman asks why? Kamlesh says mosquitoes will think that it is mosquito repellent and will not sit on it. Jaaneman asks why is he sounding strangely and asks if his hair is falling. Kamlesh says yes, and tells that he got patch on his head. Jaaneman says you will not get married now. Happu comes there and asks Kamlesh if he is getting more pocket money from Sudarshan that he is having so many jalebis. Kamlesh says I had told you that about relative's death. Jaaneman says his hair is falling and that's why he worn the cap. Happu asks even yours. Kamlesh asks if your hair is also falling. Happu says yes and says your age is less than me, but then also your hair is falling. He asks him not to tell anyone that their hair is falling. Kamlesh assures. Happu asks Jaaneman to pack 2 kgs jalebis.
Amma looks at motichur laddoo and gets happy, thinks Rajjo had made it. Rajjo comes there and says wah, Amma. I don't like your habit, I had already given you two laddoos, and you are stealing to have more. Amma scolds her and says there was hair in the laddoo, so that I don't eat it. She says Naagin leaves her skin and you leave your hair. Rajjo says it is not mine, but yours. Dada ji comes there and sings song for Amma. Amma asks him to stop singing else she will pull his hair and also moustache. Dada ji asks why is she angry? Amma complains to him about Rajjo. Dada ji says it is not of Bahu's hair, but of Happu. He says I saw him when he was taking bath. Amma asks really and gets scared that Rajjo's dream might come true. She says let Happu come, I will check his hair. Happu comes home and calls Rajjo. Amma calls him to sit. Happu says what to say, I am not getting time to sit with you. Amma scolds him. He asks why did you call me. Amma pulls his hair and some of his hair comes out. Amma slaps him and asks if he is not feeling ashamed. Happu asks why to feel shame. He says Kamlesh's hair is falling. Amma says I have nothing to do with him. Hritik overhears. Happu says Rajjo is threatening to go to mayka, if my hair fall. Amma says it is a good news and says she will take out his hair, to get rid of Rajjo. Happu says if she runs to mayka, then who will make you drink tea, and who will give you sugar tablet on time. Amma says you said right, she is a big witch, but good at heart. Happu asks what to do about this hair? Amma says she will tell a remedy and his hair will give competition to Anil Kapoor. Happu asks what to do. Amma asks him to apply cow dung to hair for his growth. Hritik hears them and goes. Rajjo comes there and says she found hair outside. Happu matches it and says it is of Amma. Amma slaps him. Rajjo says she will check if it is his. Hritik calls Happu. Happu tells that he feels that he shall apply the cow dung on his head.
Ranbir and Chamchi see Kamlesh coming. Kamlesh comes there and calls Kat. Ranbir uses a bamboo stick and takes his cap. He wears it. Kamlesh calls Kat. Ranbir asks why is she shouting? Kamlesh goes to him and says I have same cap. Ranbir says your cap is on my head. He takes his pics and blackmails him to give 500 rs. Chamchi says else Kat Didi will give us 500 rs. Kamlesh stops them. Chamchi says we will tell you formula for hair growth. Ranbir asks him to mix cow dung with cow urine and apply on the head. Kamlesh gives them 500 Rs. Kat comes there and asks why are you giving them money. Kamlesh says Kat, actually…I am helping the poor people and asks them to go and have coffee. Kat asks Kamlesh to check the cream on his hair. Kamlesh asks if I am monkey that you experiment on my hair. He says he is going to 13th death anniversary of his relative. Kat says in just 3 days. Kamlesh says I want to do it fast fast. He says elephant is falling and diverts her to run away. Kat calls him.
No Precap.
Update Credit to: H Hasan
The post Happu Ki Ultan Paltan 28th July 2021 Written Episode Update: Amma shares a remedy for hair growth appeared first on Telly Updates.