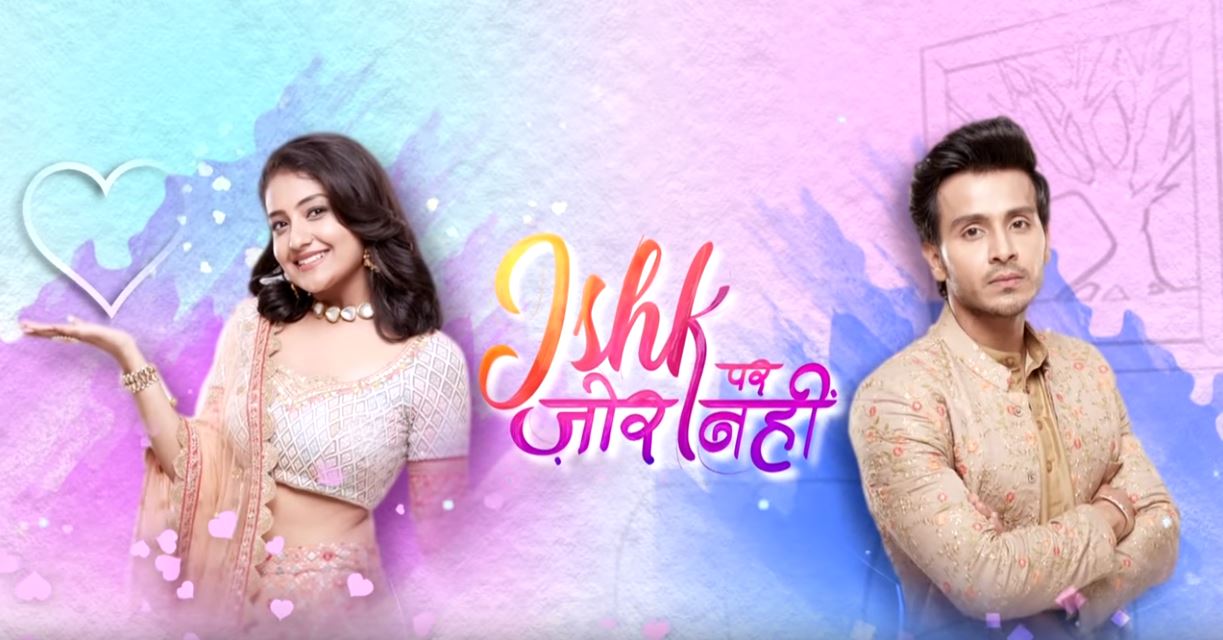 Ishk Par Zor Nahin 26th July 2021 Written Episode, Written Update on TellyUpdates.com
The Episode starts with Ahaan coming to Ishqi. Dadi says Savitri got saved again because of Ishqi, it won't be easy to catch Savitri now, if she tells everything to Ahaan then… no, she doesn't have much courage. Maasi says Ahaan you here… Ishqi worries. Dadi gets Sarla's call. Sarla asks are you ready for my kitty party, come soon. Dadi says yes, I will come. She says this woman's drama never ends, I shall tolerate her or deal with Savitri.
Ahaan asks why didn't you tell me if you were not well. Maasi says she is fine now. He asks why didn't you call me, its good I got to know you are here, what happened, what did doctor say. Ishqi asks how did you know I m here. He says I had installed tracking app in your phone, if you get unwell, then I can reach you. She asks were you spying on me. He says no, I m worried for you. Maasi says he loves you a lot. Ishqi thinks doctor will take Savitri's name. She says thanks, I will take the medicines. She confuses the doctor. Ahaan asks will she be okay. Doctor says yes. Ishqi says don't panic, you have turned into a spy. Doctor says patient needs rest for 12 hours. Ahaan asks for sugar level. Doctor asks is the patient diabetic. Ahaan asks don't you know it, why are you treating her. Doctor says I just know that she is in stress. Ahaan asks Ishqi are you in stress. Ishqi says we all are in stress. Maasi says Ahaan, you take Ishqi. Doctor says yes, she can go. Ahaan says you said she needs 12 hours rest. Doctor says yes. Ahaan asks what are you saying. Maasi says don't worry, I m with the patient. Doctor says fine, call me if there is any problem. Ishqi says take me home, I will do as you say. They go.
Ahaan brings Ishqi home. He says you should have told me that you are not well, you told Maasi. Ishqi asks why do you have a problem, that I didn't tell you or that I went with Maasi. He says both. She says aw, when you scold me, you look hot than those hot samosas, I love you when you care for me. He says I m really upset, you just fight with me all the time. She asks do I fight. He asks then do I fight. They argue.
He asks her to rest, where is she going. She says you have the tracker, track and see. She thinks sorry, I know you love me a lot, you care for me, but I have to fake this fight to hide my lie. Dadi is with Sarla in the kitty party. Sarla and Ginni boast of the party. Dadi thinks I would have slapped Sarla if she wasn't Sonu's Saas. Riya comes and greets them. Sarla says its not Riya's mistake, what will she do if a guy dumps her for a poor girl's sake. Suraj says Dadi stooped so low, I would have not let Savitri go alone. Maasi says Savitri showed courage and escaped. He says just because of Ishqi. Dadi says its old matter now. Sarla says you are gold, that you have accepted Ishqi, you are meeting these people well, but they are criminals. Riya gets angry and says Dadi has a big heart, that's why she accepted Ishqi, how is she now. Dadi asks how do you know that she is unwell. Riya says I had seen her at the hospital with her Maasi and a lady. Suraj says I have to talk to Dadi in her language, Savitri isn't alone and weak. He goes. Maasi worries. Riya says Ishqi was looking worried. She goes. Dadi thinks when did Ishqi go to the hospital, who was that woman. Ishqi waits for Ahaan. He comes and hugs her.
He asks isn't it romantic. She asks did you do this for me. He says yes, I will show you how romantic I m. He shows I love you board. They dance. Jab se hua….plays… Dadi thinks did Ahaan know this, why didn't he tell me. Sarla asks what is he doing here. Someone comes. Sarla asks Dadi to see that man is looking at her. Dadi worries. Ishqi says let me go. Ahaan says you have to say that I m very romantic, else I will prove it. She asks how. He says by kissing you. She says this isn't you. He says I m not the same after meeting you, tell me, will you kiss or accept that I m romantic. Mahiya….plays…
She says Chachi…. and runs away. He coughs and sits. She asks what happened. He catches her. He says I m saying for the last time, kiss or accept. They have a kiss. Kartik calls out Ahaan. Ahaan asks what's his problem. They go out to see. Kartik asks why aren't you answering, Dadi was calling, police arrested Dadi. They get shocked.
Precap:
Riya says I m sending my pregnancy reports to Ishqi. Ahaan and Ishqi go and see Savitri arguing with Suraj for Dadi's sake. Suraj says Dadi had added drugs in your coffee, you could have lost your life. Ishqi looks at Ahaan.

Update Credit to: Amena
The post Ishk Par Zor Nahin 26th July 2021 Written Episode Update: Ahaan's romantic surprise appeared first on Telly Updates.