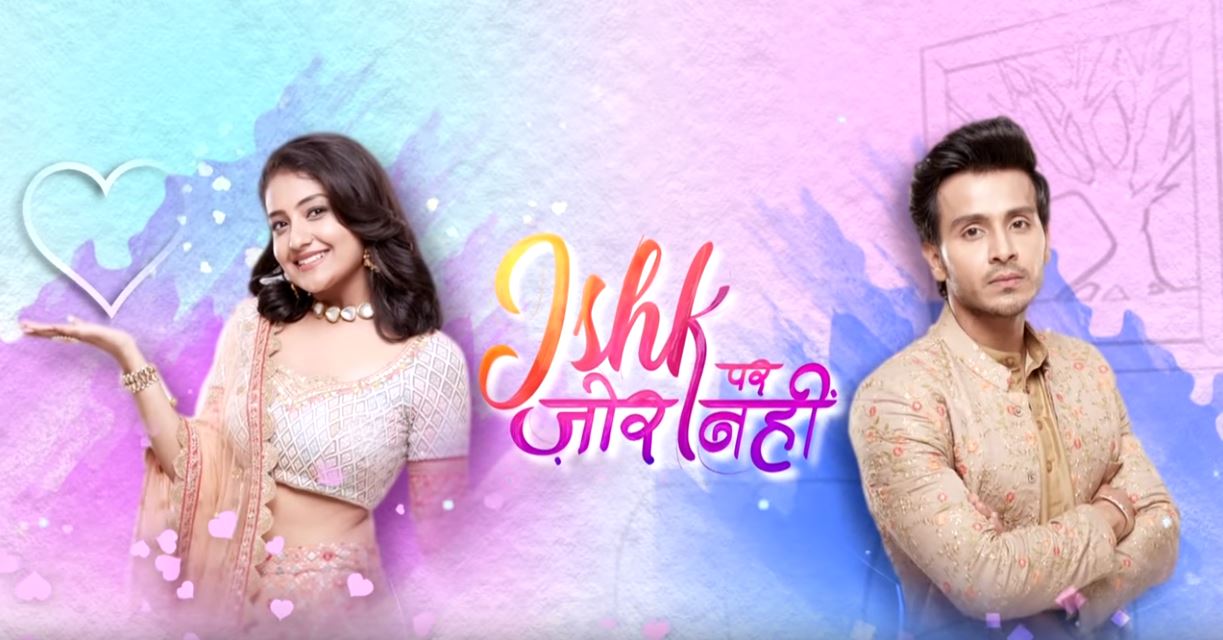 Ishk Par Zor Nahin 27th July 2021 Written Episode, Written Update on TellyUpdates.com
The Episode starts with Kartik saying police arrested Dadi, I don't know why. Ahaan gets shocked. Maasi asks Savitri to take rest. Savitri says you and Ishqi had to suffer a lot because of me. Maasi says you can do anything, I m sure, you have shown much courage. Savitri gets Ishqi's call. Ishqi says you got Dadi arrested. Savitri asks what, I didn't know, I will ask Suraj. She calls Suraj. Savitri says I will call at his home landline. Maasi says no, he went in anger. Savitri says I think he got Dadi arrested. Ahaan arranges bail. He says I can't let Dadi stay there. The man says sorry, Dadi can't get freed, she is charged about attempting to kill Savitri. Ahaan says she is a liar, she is pressurizing me and Dadi. The man says Savitri has submitted her medical reports, it confirms it, we can try to get Dadi out on her age and medical grounds. Kartik says don't worry. Ahaan says until that woman is here, nothing will get fine, she just troubles us, Savitri said that Dadi had added drugs in her coffee. Kartik asks what. Ishqi looks on.
Ahaan gets busy on calls. Ishqi worries. Sarla comes home and says police arrested Dadi in front of me, I tried to stop the police, who can do this cheap thing. Raj asks Sarla not to say anything. Sonu cries. Ahaan says I won't let Savitri win. Ishqi goes and sits in Ahaan's car. He says I need to go. She says I m coming with you. He says no way, you aren't well, you go and take rest, its my mum and my matter, I want to go alone. She says how would I know where you are, I can't take risk of sending you alone. He says I m not a fool. She says you are foolish, I can't take risk. She thinks I hope it happens as I have planned. They leave.
Radhika asks Sarla why are you hiding the matter from me, don't tell me that Malhotras are dear to you. Sarla asks why do you ask about them, forget it. Radhika says problems won't end, you and Ahaan's Dadi don't like Ishqi, Riya has been wronged, you helped me before by not giving the contract to Ahaan, you can't get back, you have to make Ahaan realize that he made a big mistake by marrying Ishqi. Sarla says now marriage has happened, his mum came back, his Dadi got arrested, Ahaan left in anger, I don't know anything else. Radhika thinks to find out. Ahaan is at his office. He talks to Suraj. Ishqi gets Maasi's message. Suraj and Ahaan argue. Ahaan says Suraj is responsible for the delay, let me start the work with full focus, I m stuck with something personal, all thanks to Suraj.
Ishqi sees Ahaan coming and acts in front of him. Ahaan hears her talking on call. He asks Ishqi to come with him, they will go and free Dadi from the jail. Riya says I had a doubt that something major is happening in Ahaan's life, I didn't know that Dadi will get arrested. Radhika says Sarla told me, you just go there and fake sympathy. Riya says no need of that, I will send my pregnancy reports to Ishqi. Dadi is released. Ahaan and everyone come there. Ahaan asks did Kartik get the bail. Kartik says no. Dadi says then who did it.
Ahaan says go home, I will find out. Dadi goes with the family. Ahaan sees Savitri and Suraj. Savitri argues with Suraj. She thinks how can you get Dadi arrested, its not right. Ishqi recalls Savitri's plan to bail out Dadi. Ishqi thinks Ahaan will make his opinion on Savitri now. Suraj says Dadi gave you drugs, you could have lost your life. Savitri says its fine, I can't let my family get defamed again, try to understand. Ahaan goes home with Ishqi. Ishqi says Dadi did a lot for you and Sonu, she raised you, but she shouldn't play with Savitri's life, hatred doesn't give a license to take someone's life, Savitri thought for you and Ahaan, she isn't such as you thought. He goes. She thinks you would be thinking about your mum.

Precap:
Dadi cries and acts. Ahaan says I know what you have done, you should have not done this. Ishqi looks on.
Update Credit to: Amena
The post Ishk Par Zor Nahin 27th July 2021 Written Episode Update: Ishqi tries to change Savitri's image appeared first on Telly Updates.