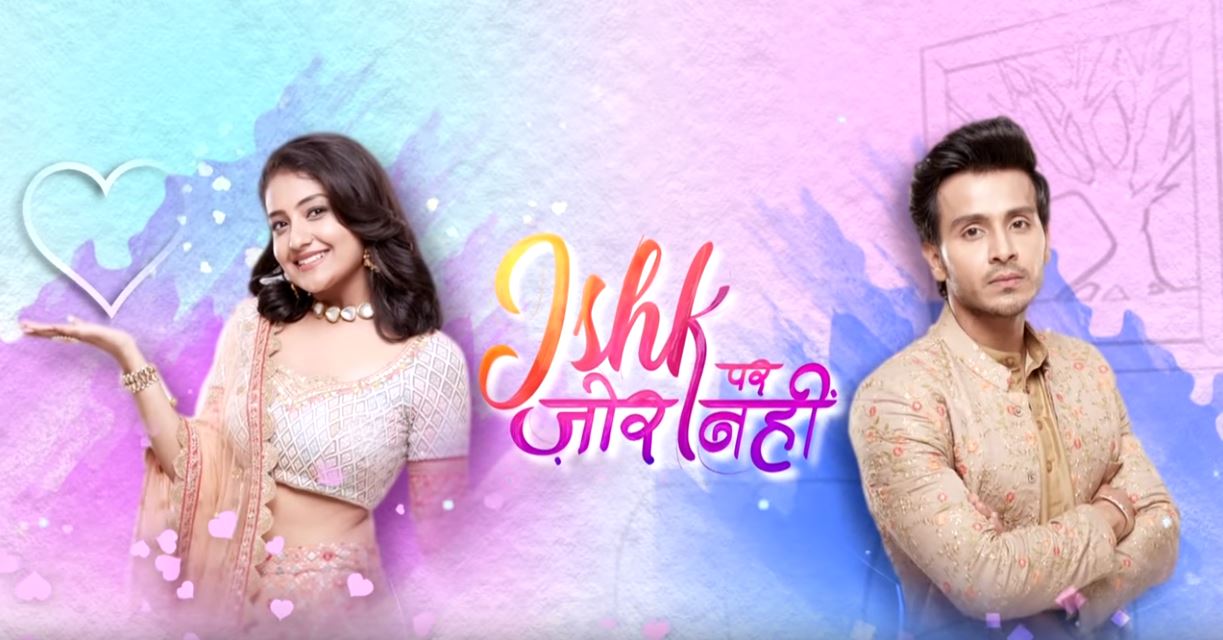 Ishk Par Zor Nahin 28th July 2021 Written Episode, Written Update on TellyUpdates.com
The Episode starts with Dadi blaming Savitri. Ahaan says I know whatever you did, you did this to protect Sonu and me, but you should have not done this. Ishqi looks on. He says don't do this again, I can handle this, I can't justify wrong, forget it and take rest. He goes. Ishqi acts dizzy and falls in Ahaan's arms. She says you didn't fight me or scold me, so bp got low. He asks what. She says don't smile, fight with me. He says thanks for helping me. She asks him to wear tie and suit when he is being so formal. He smiles and says sorry. He asks why did Savitri bail out Dadi. She says truth also needs evidence, we should follow heart, not evidence, you think your mom isn't so bad, I know the pain of being an orphan, maybe she was helpless to keep children away. She gets Maasi's call. He recalls her promise. He messages Rhea to ask how is she feeling now. He tells Ishqi about a call from office. She asks him to sleep. He thinks I will tell you Riya's truth when I get a chance.
Its morning, everyone asks Dadi to have food. Ahaan asks her to have food, else she will fall sick, what will happen of them. He asks Ishqi to get Poha. Ishqi thinks Dadi is doing emotional blackmail again. Dadi says nothing will happen to me when I have a lovely family. Ahaan gets a call. Manager says Savitri wants to meet you in your office. Ahaan says okay. He asks Dadi to have breakfast, he has to go for work. Ahaan goes out. Courier comes. Ahaan asks Bhola to check it. Bhola says its for Ishqi. Ishqi asks Bhola to keep it there. She goes to talk to Savitri. She say our plan is working well. Savitri thanks her for help. Ishqi asks her to be strong and talk confidently, everything will be fine. Savitri smiles and ends call.
Ahaan meets Savitri and taunts her. He shows the layouts. He explains the plan. He says I think you aren't focussing, it will be your loss. She says sorry, my health… He says I m grateful that you helped Dadi, but I m not your son, we just have a professional relation, don't you dare call me your son. Ishqi stops Dadi and says this is for me. She takes the courier. Savitri leaves. Ahaan says how unprofessional she is. Savitri feels unwell. She goes and takes tablets. She says everything will be fine. She comes back to Ahaan. He says you hired me, you didn't buy me, next time you schedule the meeting when you have time. She says I have seen the presentation, I don't want any delay, we won't delay it from my side. He thinks she is not the same Savitri I met yesterday. She goes. Kartik comes and asks Ahaan what's these reports, Riya is pregnant. Ahaan asks how did you get these reports. Kartik says so its true. Ahaan asks how did you get this. Kartik asks when did this happen. Ahaan says talk slowly, listen to me once. Savitri smiles seeing Kartik. Kartik asks when did this happen, I didn't expect this from you, you always lecture us on values. Ahaan asks him to shut up, everyone will know about it, its not like it appears. He says I didn't know it. Kartik says your mistake will come in front of everyone, what will you do, will you say that its not your child.
Savitri gets dizzy. She thinks why isn't my medicines affecting me today. Kartik says that's why you went to meet Riya, I had kept an eye on her. Ahaan says I didn't wish to send you to Riya, I had no option, I m responsible for Riya's condition. Kartik asks does Ishqi know. Ahaan signs no, whatever happened was before my marriage, its a huge mistake, I got to know this later, I would have told Ishqi and let her decide. Kartik says you didn't tell her, you are still cheating on her. Ahaan says its not easy to tell her, I m not cheating her, I m not like my mum. Kartik asks what will you do now.

Precap:
Dadi gets shocked seeing the reports. Savitri falls down. Ahaan lifts Savitri and takes her. Ishqi looks on. He takes her in the car.
Update Credit to: Amena
The post Ishk Par Zor Nahin 28th July 2021 Written Episode Update: Kartik confronts Ahaan appeared first on Telly Updates.