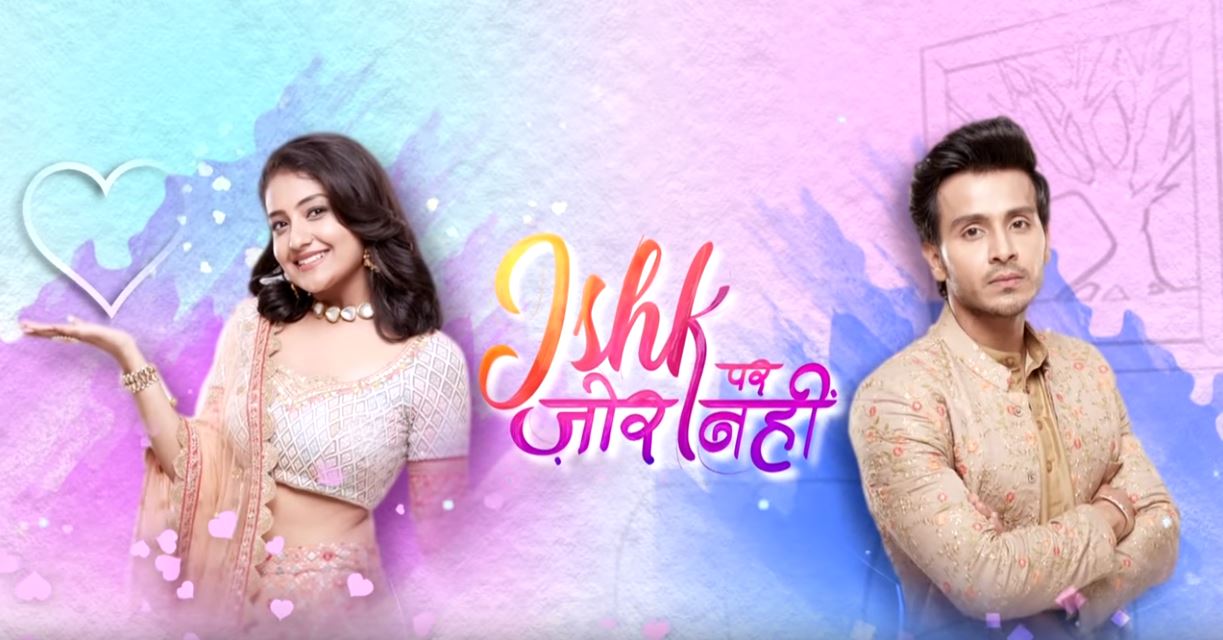 Ishk Par Zor Nahin 29th July 2021 Written Episode, Written Update on TellyUpdates.com
The Episode starts with Ahaan saying so much happened, I couldn't tell Ishqi, I couldn't keep her happy. Kartik says I m sure Riya has sent this to inform Ishqi, its better that you tell Ishqi. Ahaan says you are right, I will tell her everything, give me some time, you don't tell anyone, you keep these reports with you, I will tell her tonight. Kartik says you didn't tell this to me, you don't trust me. Ahaan says its not like that. Kartik says you still think I m just a kid, share things with me, I want to help you. Ahaan says I promise you, I will tell you everything, I m sorry. Kartik hugs him. Ahaan thanks him.
Ishqi finishes all the kitchen work. Dadi looks on. Ishqi says I will go for an interview. Dadi stops her and says make kada for me. She thinks I will make you miss the interview. Chachi says I will make kada, let her go. Dadi creates a scene. Ishqi says fine Dadi, I will make the kada first. Dadi says she agreed.
Ahaan and Savitri speak to the staff. She finds Ahaan lost. She asks why are you worried, is everything fine. He says this is office, you are my client, shall we focus on work, don't even try to discuss family matters. The staff leaves. She feels uneasy. She is dizzy. The man asks are you fine, shall I call Ahaan. She says no, he is already worried, I don't want him to worry more. She goes.
Ishqi says thanks for taking interview on call. The man says I know there would be some imp work that you couldn't come, you are talented, you will get the job back. She talks on the call. Chachi says Ishqi is so sensible, she handles everything well, Ishqi is the best for Ahaan. Ishqi says thanks Sir, bye.
Kartik comes. Chachi asks what happened. Kartik makes an excuse and hides reports. He goes. Ishqi gets the kada and asks can I go now. Chachi says go, I will manage. Ishqi goes. Chachi says tell me if you want anything. Dadi nods. Radhika says maybe someone else got the courier and hidden it, you should have sent it to Dadi's name. Riya says right. Kartik says Riya is using her pregnancy to separate Ahaan and Ishqi. He goes to washroom. Dadi enters the room. She thinks what was Kartik hiding from Ishqi. His phone rings. He comes to check. She hides. He goes back to the washroom. She looks around and gets the reports. She gets shocked checking it.
Ahaan says go and call Savitri. The man says she left, she was feeling dizzy. Ahaan recalls her words. He thinks I hope she is fine, don't call her my mom, if she delays, then it will be a loss for her company. Ishqi talks to Mitali about the job. Dadi comes in the room and keeps the reports there. Ishqi thinks I felt that someone was here, what's the envelope doing here. Ahaan thinks thank God Kartik got it, not Ishqi, else she would have broken down. Savitri comes and says I m sorry. Ahaan asks what's going on, I need your approval, you disappeared, what's this behavior, so unprofessional. She faints down. Ahaan gets shocked and runs to her. He asks her to get up. Ishqi says sender didn't write the name. Ahaan calls Ishqi. She answers and leaves the reports there. He says I m in my office, Savitri had come here, she fainted. She asks what, I m coming. Ahaan lifts Savitri and takes her. Ishqi hides and looks on.
Ahaan takes Savitri in the car. He scolds the manager. Manager says she asked me not to tell you, you were already worried. Ahaan thinks she thought for me in that state. Ishqi calls him and says you take her home, I will reach there, I m stuck in traffic. He says okay. She thinks Ahaan is taking care of her, it means he worries for her. Ahaan calls a doctor and asks him to reach at the address, its an emergency. Doctor says sorry, I m busy in a family function. Ahaan asks what do you mean, its for my mother, no function can't be imp than anyone's life, please get there. He leaves. Ishqi smiles. Dadi comes in Ishqi's room. She says Ishqi went without crying, no, she always does a drama. Ahaan and Ishqi get Savitri home. Doctor comes and checks her. He says its some side effect of the medicines. Ahaan thinks its the effect of the drugs. Ishqi says she fell unwell before also by taking these medicines. Ahaan asks how do you know.

Precap:
Ishqi thinks Ahaan is taking care of Savitri. Ahaan and Ishqi come home. Riya says I m pregnant.
Update Credit to: Amena
The post Ishk Par Zor Nahin 29th July 2021 Written Episode Update: Ahaan cares for Savitri appeared first on Telly Updates.