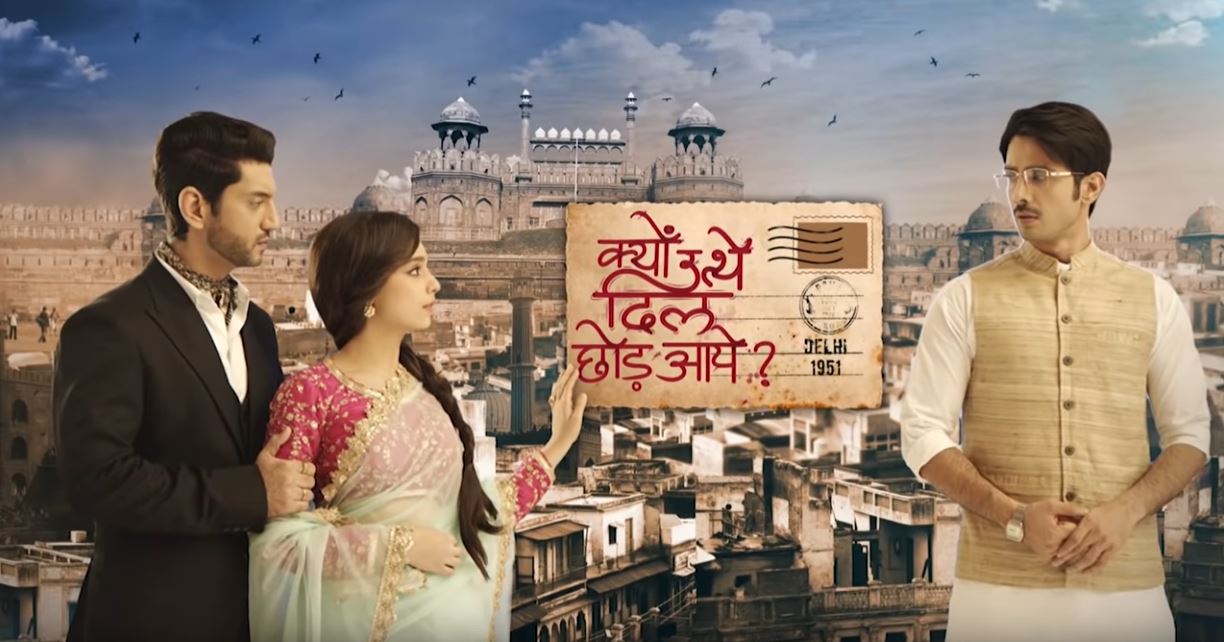 Kyun Utthe Dil Chhod Aaye 29th July 2021 Written Episode, Written Update on TellyUpdates.com
The Episode starts with Randhir says I feel some magic happened. He sings dil par hua aisa jadoo… and dances with Amrit. She smiles. She says we will be becoming parents, fear also makes a place along with happiness, like doctor said I can't conceive, I m worried for our baby, I don't know why that doctor lied. He says I m here, everything will be fine, come. They leave. Uday comes to the palace and asks for Amrit and Randhir. Servant says they didn't come. Mohan comes and asks what are you doing here. Uday says its my sister's Sasural, I can come anytime, I have to give a good news, doctors said that Vashma is getting fine, once she gets conscious, so I was finding them, she was going to tell me something. Mohan worries. Uday looks at him and asks are you fine. Mohan says yes.
Kaveri says how are you now, Randhir and Amrit went out, I feel bad for you, I think Amrit is hiding some secret. Nalini asks her to say clearly. Kaveri says they were talking about some paper, he told Amrit that she did right to hide the paper from Nalini and throw it in bin, what's the secret, you should find out, anyways you won't do this, you are ill, I will leave now. She goes and smiles. Nalini thinks why is it happening. She goes and checks the bin. She gets a letter. Kaveri comes and says you did right to come and check, what's written on the paper. Nalini says its Veer's letter. She reads… I tried to tell you since a long time, Randhir is giving me some drugs, my anger gets high and I behave strangely, I m glad to meet my brother, but I regret that he is greedy for the throne, I want to meet you in private, keep this matter to yourself. She cries and recalls Veer. Vijender comes. She gives him the letter. He reads it. He asks what, how can Randhir do this, what was Veer going to tell you.
Randhir and Amrit meet the lady doctor. He says you had told us that Amrit can never conceive. Doctor says yes, she had internal injuries. He says she is pregnant, congrats. Doctor says congrats, I will just come. Amrit asks why did you lie to us, tell us the truth. Doctor says I told that myself after the checkup, sometimes doctor also makes a mistake. Randhir says you didn't ask us to take a second opinion, I know you lied that time and even now you are lying, I will print this news in the newspaper tomorrow, I will request the medical association to snatch your license, we will go out and tell everyone.
Doctor says stop, someone from your family told me to do all this. They ask who, Kaveri. Doctor says yes. Randhir asks her not to say this to anyone. She says sure. Kaveri says Veer died in that Jashan. Vijender asks is that thing true, whatever the thief told us. Kaveri says yes, a stranger came and became PA here, his lover was staying here as your Bahu, they met and then she proves that PA was your lost son, then they made Veer ill by drugging him, then the fire incident in the Jashan, I hope I m thinking wrong. Nalini cries. She says I want to investigate the matter. He says I know what to do.
Amrit says I think Kaveri doesn't want you to stay with Nalini, she has some big motive. Randhir says enough, I want to bring out the truth in front of Nalini, I don't want Kaveri to get time and hurt her more. He asks doctor to come with them and tell their mum about Kaveri. He says our happiness is incomplete without our mum, please, say truth, a broken family will join again. Doctor apologizes. She says I will fix everything, wait here, I will just come. Amrit asks will we get our happiness today, will Nalini bless us. He says surely. She says then we shall take sweets for Nalini, we have to give her good news. He says sure, you said it right. They smile.

Precap:
Nalini slaps Randhir. She asks Vijender to throw out Randhir and Amrit from the palace. She says Kaveri worries for me, she gave me a proof. Amrit asks what proof. Karam comes there.
Update Credit to: Amena
The post Kyun Utthe Dil Chhod Aaye 29th July 2021 Written Episode Update: Kaveri hints Randhir as an imposter appeared first on Telly Updates.