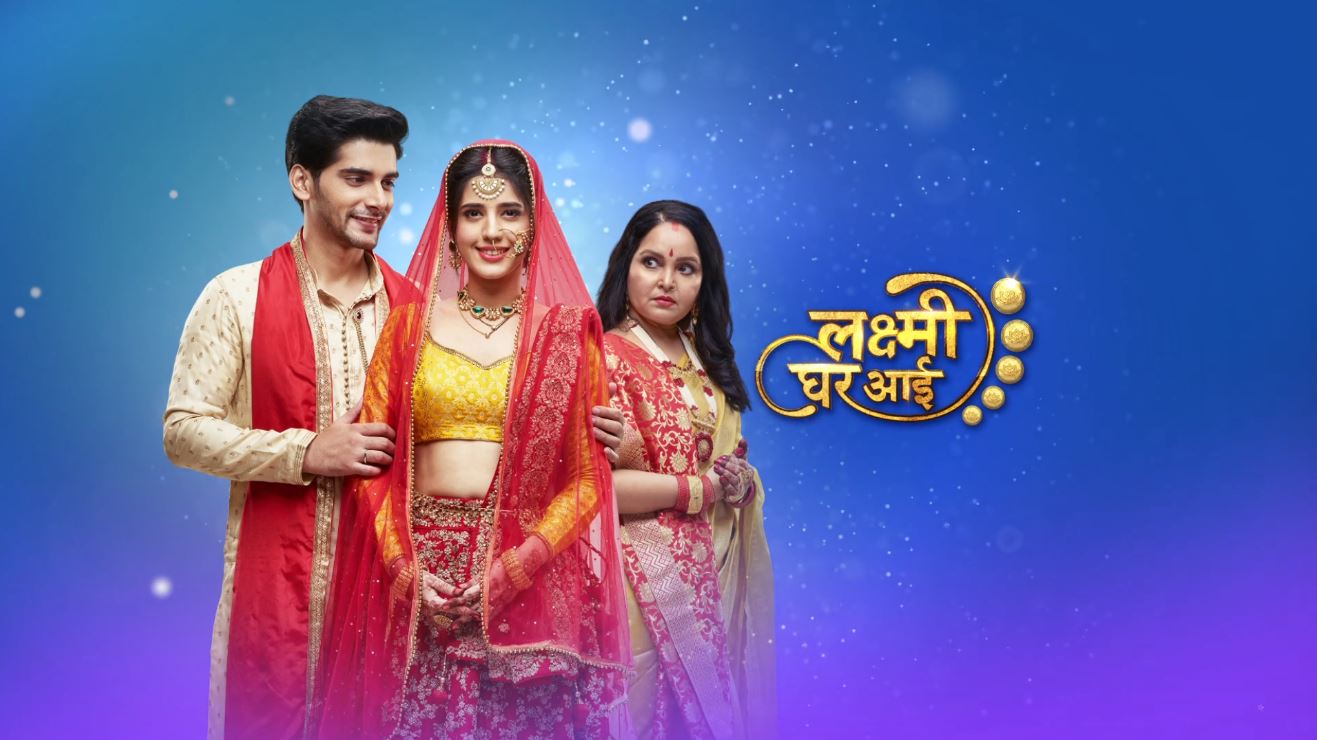 Lakshmi Ghar Aayi 26th July 2021 Written Episode, Written Update on TellyUpdates.com
Raghav with his family enters his engagement venue where Arun greets them. His parents Mangi and Jawala get mesmerized seeing the lavish decoration. Raghav and Maithili get happy seeing each other. Maithili touches Mangi and Jwala's feet. Jwala thinks she will keep Maithili under her feet always and greedily looks at her jewelry. Sadhna greets them next. Jwala gets greedy seeing her sari and jewelry and thinks soon she will have them. Sadhna says its good to see them. Jwala says they are elated. Chanchal comments they are greedy. Jwala changes topic. Sadhna asks about their guests. Chanchal comments crowd is coming. Jwala says he means they are coming among crowds. Arun informs Raghav that Maithili is gol gappa eating champion and asks them to enjoy gol gappas. Sadhna helps Bhavna gets ready and says Raghav's family has invited 20 more guests/baratis and Arun has arranged dry fruits, dress, and shagun envelope for them. Bhavana says its good that Raghav's family looks like villagers or else papa had to take loan. Sadhna says he has already taken loan and compares Maithili's wedding with Bhavana's wedding and doesn't want anything left, Maithili is his favorite. Jwala searches engagement ring room to exchange Maithili's selected simple ring with a costly diamond ring.
Raghav feeds golpappa to Maithili and continues chatting with her when Jwala passes by and seeing them together thinks of reminding Maithili that her son is under her control. She acts as limping due to a thorn pricked in her foot. Raghav kneels down to check followed by Maithili. Jwala stops them and says she is fine now as thorn is out and takes them to the ring exchange venue where both families dance on Wah Wah Ramji Jodi kya Banayi.. song. Youngsters drag them to dance floor. While family is busy dancing, Jwala searches ring room again. Mangi's hired street artists enter in a tempo and get mesmerized seeing a lavish engagement venue. Raghav asks Mangi who are they. Mangi reminisces hiring 20 beggars to act as relatives and offer him shagun money. He tells they are their village relatives and rushes to greet them in. Jawala continues searching ring room. Mangi's artists hog food while he pleads to eat slowly. Arun walks to him. Mangi introduces them as his relatives. Chanchal jokes. Arun says Mangi must have come long ago to city, has Raghav met his relatives. Mangi sasy Raghav is always busy studying. Arun says he should introduce them to Raghav and Maithili and calls them. Chanchal taunts Mangi and goes to call Raghav and Maithili. Mangi thinks of calling Jwala to handle the artists. Chanchal finds Maithili and calls her. Jwala joins them. Maithili asks what does Chanchal do. Jwala says he fixes broken things and is useless. Maithili says he is magician who fixes things with his magical touch. Chanchal thanks him.
Raghav and Maithilii get back on stage. Aarti clicks their pics and asks them to come closer and look into each other's eyes. They both get nervous. Maithili then walks towards her room when Jwala also walks towards ring room. Her eyes widen seeing ring thali and exchanges the rings. Maithili notices her.
Precap: During engagement, Maithili seeing ring informs Arun that this is not the ring which she selected and the original one is in aunty's bag.
Raghav asks Jwala what is all this. Jwala claps angrily.
Update Credit to: MA
The post Lakshmi Ghar Aayi 26th July 2021 Written Episode Update: Jwala Succeeds In Exchanging Engagement Rings appeared first on Telly Updates.