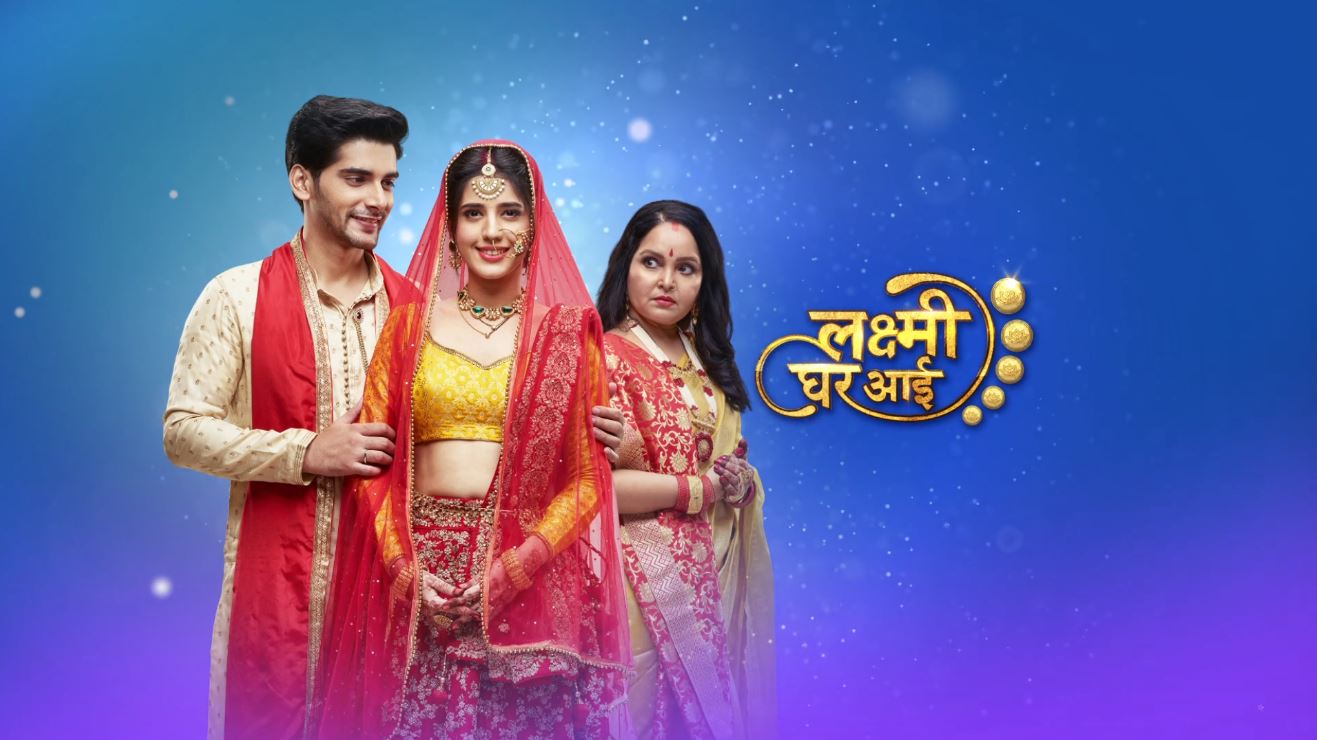 Lakshmi Ghar Aayi 27th July 2021 Written Episode, Written Update on TellyUpdates.com
Jwala is about to exchange engagement ring when Bhavana enters and asks what is she doing here. Jwala says she was having feet pain and hence came to rest here. Bhavana picks ring thali when Sadhna calls her and she leaves. Jwala hurriedly exchanges ring and walks out of room. Mithali sees Mangi's rented relatives and asks Raghav who are they. Raghav questions Mangi who says he doesn't know them as he didn't visit their village yet. Jwala's son-in-law/Rani's husband Bhanu enters and touches Jwala's feet. Jwala asks why did she come here. He says to participate in their celebration. Sadhna asks who is he. He says he is Jwala and Mangi's son-in-law. Rani takes him away in lieu of feeidng him rasgulla. He says he is not interested in rasgulla but is interest in his profit share. She says he will get only rasmalai here. Jwala walks in and asks what he needs. He says he can see her hiring rented relatives and will stay here and watch how Jwala will sacrifice her rich new relatives and needs his share. Mangi calls Jwala and she asks him to take shagun money from her rented relatives and send them away. Mangi takes his rented relatives to Arun and says they will leave now as they need to return to their village which is 7-8 hours away. Arun invites them for wedding. They stand silently. Mangi says he needs to give them shagun. Chanchal comments labor charges. Sadhna and Arun offer them shagun envelope and sweet boxes. Mangi takes gifts from them and sends them in their hired tempo.
Aarti brings engagement ring. Bhavana tells her husband that Raghav's family looks village type. Husband says once Raghav becomes first rank officer, nothing will matter. Raghav and Maitili's ring exchange ceremony starts. Raghav puts ring in Maithili's ring after his dialogue delivery. Everyone clap for them. Maithili says its beautiful. Aarti says its Raghav's turn now. Arun picks diamond ring. Bhanu gets greedy seeing that and comments they have trapped a big tiger instead of a chicken. Rani shuts his mouth. Maithili sees ring and says its not the ring she selected. Jwala asks her to finish the ritual. Maithili says she has problem with the ring and one she selected is in Jwala's bag. Everyone look at Jwala while she stands nervously and says she cannot understand what she means. Maithili says she saw her exchanging ring and reminisces the event. She says she tried to speak to her, but didn't get a chance.
Raghav asks Jwala what is all this. Jwala says she cannot understand it. Maithili says she called jewelry shop and found out that Jwala selected papa's selected ring. Jwala thinks she needs to do something or else this girl will expose her, says jewelers came and left the jewelry, its not a question of choice but parent's wish and her papa had selected a better ring. Bhanu says now the camel is under the mountain, god sends someone to tackle others. Jwala shows Maithili's selected ring and says its not better than Arun's selected ring. Arun asks Maithil why did she select simple ring. Maithili tells Jwala that she respects her feelings, but her papa is a honest officer who earns money with his hard work and she cannot let him waste his hard earned money on a ring. Raghav says he is very happy and proud that his would be wife's thinks so high and asks Jwala to return the ring. Jwala frowning gives ring to Maithili.
Precap: Maithili chats with Raghav over phone. Jwala hopes Raghav clears his exam this time. Raghav shatters seeing him failing in exam. Jwalaa asks if he came first. He nods no.
Update Credit to: MA
The post Lakshmi Ghar Aayi 27th July 2021 Written Episode Update: Maithili Fails Jwala's Plan appeared first on Telly Updates.