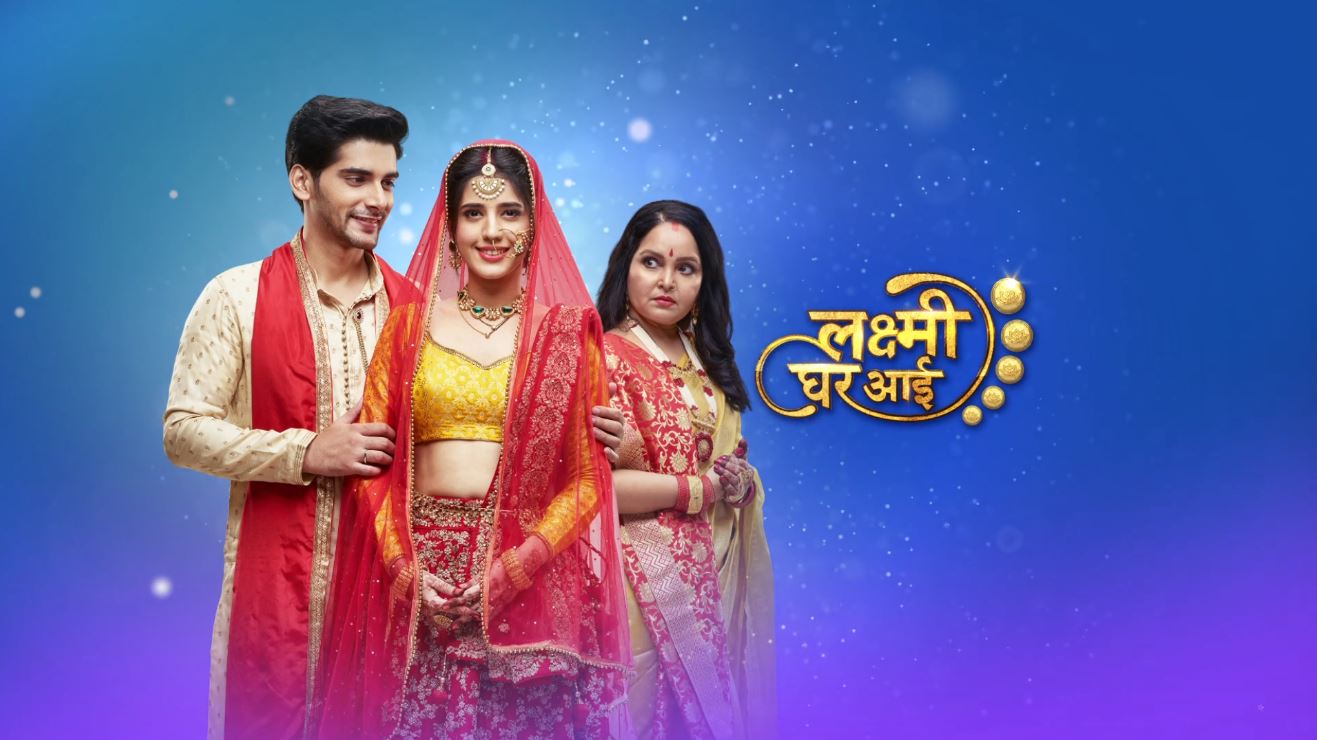 Lakshmi Ghar Aayi 29th July 2021 Written Episode, Written Update on TellyUpdates.com
Radha shatters seeing his name not in the Exam passing list. Jwala knocks door and says she knows he passed. Mangi says he is tensed as Raghav is not replying or typing on a keyboard. Raghav walks out senselessly. Jwala says she knows he passed. Whole family rejoices and Mangi dances with him, but seeing Raghav's sad face they stop and ask if he came first in his exam. Raghav doesn't reply and goes back to his room. Jwala cries loudly. Maithili calls Raghav, and Raghav says he lost. She says she wants to meet him personally and congratulate him. He says he can't. She asks if he in a tension typed wrong roll number and thought he lost. He retypes roll number and seeing him passed excitedly tells her that she had typed wrong number. She says he came 2nd and congratulates him. He says he is lucky that she came in his life and asks to meet her right now. she asks him to inform his family first and then meet her. He informs his family. Family dances in happiness and celebrates. Jawala then emotionally performs Raghav's aarti and hugging her prays for his long life. Mangi also blesses him. Raghav says he passed because of their blessings and struggles, they encouraged him to study and he is thankful for that. Mangi says he is feeling proud because of himself now that a peon's son became a high ranked officer. Raghav says he wants to meet Maithili. Jwala says now its important to speak to her. He asks what. She says Maithili is part of their family now, so she can meet her. He rushes out. She thinks its time to teach her a lesosn.
Maithili rushes towards meeting venue. Raghav reaches there and asks why is she running. She says she couldn't hold her happiness. On the other side, Arun speaks to his friend over phone and says now he has 2 officers at the same house. Bhavana writes a gift message for Jwala and Mangi Lal. Arun tells Sadhna that Raghav came 2nd in whole state, so he wants to gift him something. Sadhna taunts to gift a bungalow. Arun says she is right, but its costly.
Raghav jokes with Maithili that he is rethinking to marry her as he won't be able to handle a girl who runs so fast. She says when he can handle the whole district, he can handle a beautiful wife. He says she is right, he will be the best officer in history. She gifts him her papa's favorite pen and says it will remind him of his duties. He says this is the best gift of his life. She jokes again.
Rani and Buchi get happy seeing Ragha getting multiple gifts and bouquet. Reporters question Jwala how does she feel seeing her son becoming an officer. She gives credit to herself. They asks how did her son study in such a small house. Mangi asks Chanchal to show how Raghav studied here. Chanchal jokes he will show them where Raghav performed his activities of daily living.
Back to Raghav and Maithili, he gives credit of his success to her and holds her hand. She shingly says she needs to go. He says he doesn't want to leave her hand. She says she will apply his named mehandi on her hands tonight. He says he is waiting for the moment and gets romantic. A romantic song plays in the background. On the other side, Jwala and Mangi plan how to loot Arun with their huge dowry demand and think Raghav shouldn't be around when they dmeand dowry and they should beware of Maithili who ruined their plan during engagement.
Precap: Raghav informs Maithili that he cannot attend mehandi ceremony. He then informs family that he got a training call and need to leave tomorrow.
Jwala thinks Raghav will go, she can easily execute her plan. Romantic Raghav insists Maithili to say I love you.
Update Credit to: MA
The post Lakshmi Ghar Aayi 29th July 2021 Written Episode Update: A Good News For Raghav appeared first on Telly Updates.