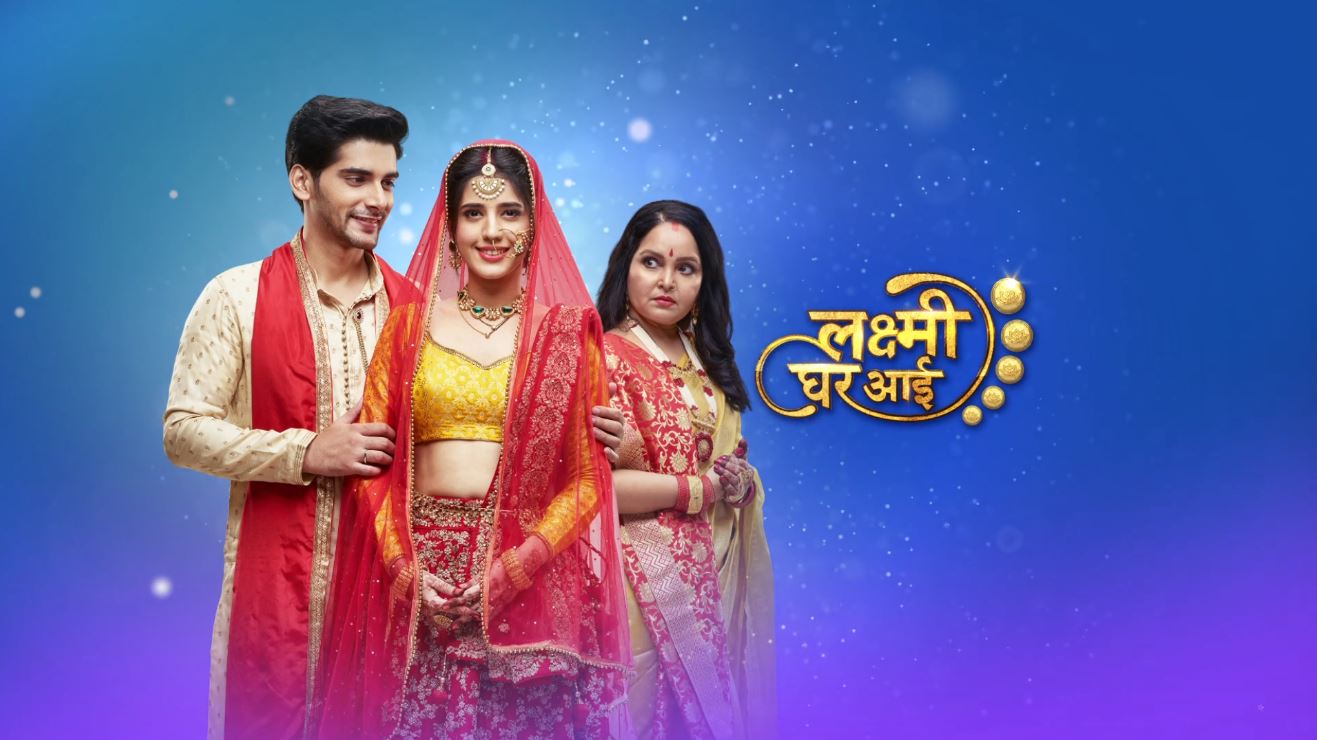 Lakshmi Ghar Aayi 30th July 2021 Written Episode, Written Update on TellyUpdates.com
Raghav gets a call that he needs to visit the administrative office in Lucknow on 11th and should bring his certificates. Raghav gets happy, but then gets tensed thinking its his and Maithili's mehandi and don't know how will she react when she finds out that he won't be present in mehandi ceremony.
Mangi and his daughters treat Jwala like a queen. Jwala scolds Chanchal and asks to join them. He says he is recording her video to let their future generation know about her. She stops him and says she doesn't want their family's secrets to go out. Raghav rushes in and hugging her happily informs that he needs to visit Lucknow for training and won't be present for mehandi. Chanchal jokes like a junior officer, he may have to perform all the rituals. Raghav asks him to stop joking. Jwala asks him not to bother about rituals and attend his training. Once Raghav leaves, she asks Mangi to get ready to execute their plan and grab dowry from Maithili's parents and hopes Maithili doesn't create problem again.
Raghav calls Maithili and informs her about him missing mehandi function due to his training visit to Lucknow. She says he should pursue his dreams and not bother about the rituals. He says she reads his mind, he was tensed thinking how she will react, but she is very mature. She warns him to be honest to her and his job or else she will take his class. He smiles and insists to meet him. She says they can't meet 2 days before wedding. He insists to tell the magical words. She says I love and disconnects call.
Arun signs official documents to take leave for Maithili's wedding. His assistant informs him that a senior officer is transferred and his bungalow is allotted to Raghav, Raghav is very lucky as usually bungalows are not vacant easily. Arun rejoices and reaches Raghav's house to give the good news to his family. Family rejoices. Jwala gets into her room and dances. Chanchal noticing her thinks an old mother wants to enjoy in son's bungalow. Arun offers to show them bungalow and take them there. They get mesmerized with its lavishness.
Raghav reaches Maithili's room disguised as a village florist. She asks him to go out, but he insists. She notices his fake moustache and panics identifying him. He gets romantic. Sadhna asks if he decorated flowers and walks into room. Raghav hides in cupboard. Maithili nervously tries to send Sadhna out. Sadhna notices something and walks towards kitchen. Arun shows bungalow in detail. Assistant says they can fix a 68 inch TV in living room. Family gets greedy. Jwala tells Arun that she liked his kind gesture of showing the banglow, but they will not stay in this bungalow. Mangi thinks Jwala is up to something.
PRecap: Raghav calls family and informs that his family is not picking call. Jwala burns house saying nobody will attend mehandi ritual. Arun visits their burnt house and asks how did it happen. Mangi says short circuit. Maithili notices something is wrong. Raghav dances with Maithili during sangeet. Maithili confronts Jwala. Arun asks her to apologize her MIL.
Update Credit to: MA
The post Lakshmi Ghar Aayi 30th July 2021 Written Episode Update: Raghav Gets An Official Bungalow appeared first on Telly Updates.