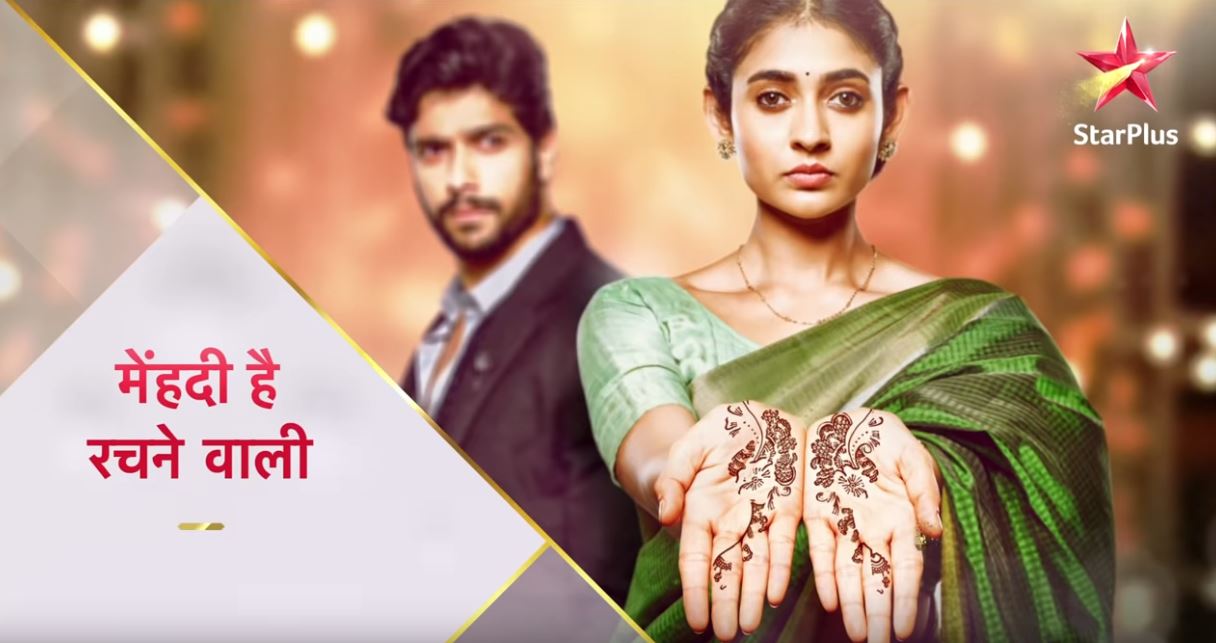 Mehndi Hai Rachne Wali 27th July 2021 Written Episode, Written Update on TellyUpdates.com
Jaya hears a voice, Mandar walks in forcefully and asks Raghav to come down, Jaya asks why do you want Raghav, Pallavi walks to Mandar with Raghav, Mandar says Raghav here is DNA report and I am Mandar Deshmukh and now I will take my wife Pallavi Mandar Deshmukh with me, she will stay with her husband and not a stranger, Raghav sees the report, Raghav says you are right Pallavi will stay with her husband, and its me you are her ex-husband, Mandar says Pallavi married me first and didn't divorce so this is valid, Raghav says too intelligent for a memory loss, and your death certificate was prepared and even if her first husband returns second marriage is valid.
Mandar asks Pallavi, don't I matter to you, Pallavi says relations are not made on paper, you left me first night and then we found a body and told it was yours and so I have moved on and married Raghav in a weird situation but for me Raghav is my husband, I can understand your situation but we are in a fix too, Mandar says I was unaware past 2 years, but finding my existence by name Pallavi, I don't remember anything from past, but if I remember only you it must be we had strong relation, Raghav says you had but I have it, it was important for you but is important for me, Pallavi has made clear that she wants to be with me, and so don't dig past and we gave you your family now its your problem we can't help you, Jaya says Raghav he is already in pain don't do this, Raghav says I am just telling facts, Mandar says Raghav is right they did great favor by helping me with my family and shouldn't bother them, sorry.
Mandar picks his report and leaves.
Jaya prays to God asks from where did Storm come in perfect relation.
Pallavi talks to Raghav says you were very rude to Mandar, Raghav says this is how I react, when someone is wrong, Pallavi says now it is not abount right or wrong, DNA report has proved he is Mandar and it is very difficult for him to adjust, just imagine yourself in that situation, and we are together and Mandar is alone, and he is not understanding what is happening, Raghav asks do you love me, Pallavi says yes I do but we can't ignore Mandar's problem, Raghav says I don't find that man good, Pallavi asks why so much doubt, Raghav says I don't know but I have strong gut feeling there is something wrong with him.
Mandar walks in Deshmukh house, Vijay asks what happened what is the report, Mandar says I am Mandar Deshmukh, Vijay hugs him and says I know you are my Mandar, Vishnu asks what took you so long, Mandar says I went to see Pallavi, Vijay asks why did you do that, Mandar says I thought she will come back but she won't, Mandar leaves.
Sulochana thinks why won't she, she has to come.
Pallavi gets call from Sulochana, Sulochana says I need a favour, Vijay has arranged Satyanarayan pooja and Mandar has agreed with great difficulty and we need Sheera for same but I can't cook Sheera, and always you make, I can order but its pooja so you come, Jaya says Pallavi you go I will talk to Raghav, Pallavi says okay to Sulochana.
Sunny tells Kirti that their family won't allow them marry and he felt like slapping Raghav for his behaviour, Kirti says relax and they already are in lot of problem and busy in themselves and then we will marry and then no one can stop us.
Deshmukh's preparing for Pooja, Vijay says its for my son's mind peace, Pallavi leaving Rao Mansion keeps trying Raghav, she opens door and sees Raghav, Raghav says come with me and takes her in car, Pallavi tells him why she has to go, Raghav says I don't want to hear a word, Amma called me and told me its pooja, how will you go alone for a pooja, without your husband. Pallavi says you scared me.
Sulochana tells Vijay she has made arrangements abd called Pallavi to make Sheera, Vijay scolds her and says can't you cook, why did you call her, Raghav and Pallavi walk in, Sulochana thinks why did this Raghav come along. Raghav greets everyone and says look I got your Pallavi and says Sulochana how did you call Pallavi alone without her husband and Apologize in Pooja and say next time you will call her with her husband and go Pallavi make Sheera.
Pallavi cooks Sheera, Mandar walks in kitchen, Mandar says its smelling good, Pallavi says you liked it, Aai use to make it for you, Mandar says few relations don't change how werid.
Pre cap:Raghav says to Pallavi, I will fulfill all your demands, Pallavi says promise, Raghav says yes and runs his finger in her hair and leans to kiss her.
Mandar says to Raghav, Pallavi came to this Pooja and now in 7 days Pallavi will be against you in this house with me.

Update Credit to: Tanaya
The post Mehndi Hai Rachne Wali 27th July 2021 Written Episode Update : Pallavi takes a decision appeared first on Telly Updates.