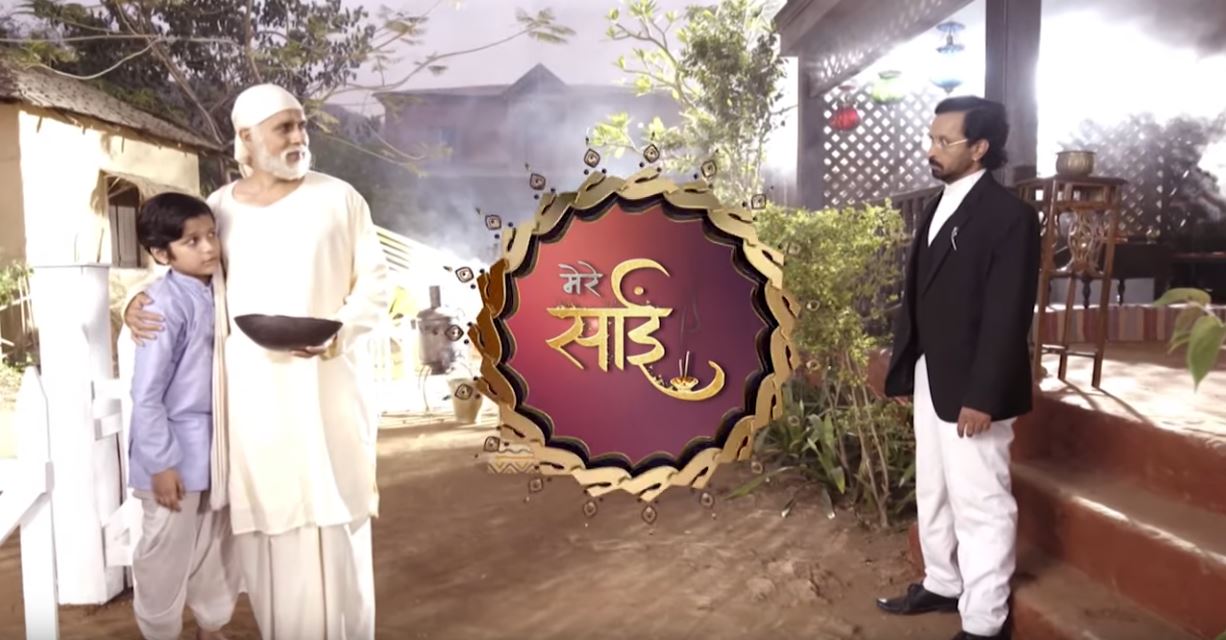 Mere Sai 26th July 2021 Written Episode, Written Update on TellyUpdates.com
Annapurna is massaging Kakasaheb Dixit's feet. He sits there with closed eyes and looks tensed. No! She asks him if he is thinking that again. He says I cannot forget that day. I dint just get hurt on my feet. My confidence and my dreams were broken. She suggests visiting a new doc but he says I should have recovered if it was supposed to improve. We have even been to London but it dint help. I am tired now as the eventual disappointment of not being able to heal hurts me a lot. Till date no doc or Vaid could tell me what's wrong with my leg. That's what really bothers me. She tells him to have faith on God. He rues that people believe that he has a solution to everything. Sadly, I cannot find a solution to my pain. What's the point then? She requests him not to fall weak. Don't let this pain burden you. It gives you physical pain throughout the day and you are mentally unhappy when you are home. You should take off for a few days. Is this election important? He says I was thinking about it too. I will have to go to different places and meet different people for that. I wont be able to hide my pain for too long. People know me because of my accomplishments till now. I don't want to know them because of my pain. I have decided to not to take part in the elections. I will tell them my decision tomorrow. What do you want? She says my happiness lies in your happiness. We have decided but will Sharda Aatya agree? You know how ambitious she is when it comes to you. She is the one who makes decisions in the house after all.
Sudarma greets Sai. Tatya asks him if the papers are ready already. You came back too soon. Keshav asks him what happened. Sai also asks Sudarma if there is a problem. Sudarma apologizes to Sai. I wont be able to give that land to you now. Tatya says you proposed it yourself. What happened today? Sudarma says I still want to give it but. Tatya asks him. Flashback shows Banta announcing in Shirdi that people need to seek permission from Sarkar before buying or selling land in Shirdi. We don't want outsiders to stay in Shirdi so this is a precautionary step that has been taken by British Government. If the answers to who and why aren't satisfactory then it wont happen. Sudarma gets tensed. Sarkar thinks I will see who will give land to Fakir now. Flashback ends. Sudarma apologizes to Sai. I cannot go against Sarkar while staying in Shirdi. Please forgive me. He leaves. Keshav decides to confront his father but Sai tells him He doesn't want a conflict to arise between him and his father. Keshav reasons that his father will never agree to the idea of Him buying a land in Shirdi. Please let me go. Sai refuses to let it happen. I don't want any conflict between anyone because of me. Tatya asks Him how they will get land then. Sai says we will find it if Ram ji wants it.
Sharda Aatya asks Annapurna about the gold nose ring. Annapurna goes to bring it. Kakasaheb Dixit asks his Aatya if she is going somewhere. She says all of us are going. I told you that Prasad's son is getting married. All of us are going there. I got this nose ring to gift in the wedding only. Kakasaheb Dixit tells everyone to go without him. I am thinking of taking off for a few days and rest at home. She reasons that he doesn't have to break stones here. You can take guidance from Prasad for the elections too. He will help you a lot. Kakasaheb Dixit tells her that he does not want to take part in the elections. Aatya says I know you did it because of your pain and your condition. Annapurna reasons that he is working non-stop. His pain has aggravated. I think he needs to rest for a few days. He can also spend some time with kids too. Aatya reprimands her. He has gained so much at such a young age. It is only because of my guidance.
Bheema, Tatya, Keshav, Srikant and Patil ji meet villagers to convince them to give land but they are afraid that Sarkar will declare them a traitor and politely refuse.
Santa and Banta tell Sarkar no one is willing to give land to Fakir. Congratulations! Sarkar remarks that it is time to show Fakir His place.
Aatya says people want to give you responsibility as they have faith in you and your judgment. You just need to walk on the right path. Overcome your shortcomings and make use of the opportunities. This isn't an age to give up. Use your talent (voice) and skills to help people. Safeguard your future and your kids' future. Gain more respect. You must take part in elections. I know why you want to avoid a family function. You don't want people to see you limping. Forget about your pain. Focus only on the elections and on seeking help from Prasad. We will go to Lonavala tomorrow. Kakasaheb Dixit thinks how to explain to her. It is easier to say these things but I am tired of hiding my pain every day. When will this end?
Patil tells Sai that they have asked literally everyone but no one is willing to go against Sarkar. Sarkar is on his way to Shirdi with his men.
Srikant asks Sai how they will get land now. Sai says we must leave our worries on Ram ji. Santa calls out to Sai. Keshav recognizes his voice. They see Sarkar with his men outside. Sai welcomes Sarkar. How are you here today? Sarkar says as Mukhiya, I will have to check on you when you will go against law. Patil says Sai hasn't done anything that's against law. Sarkar says I will decide that. He looks at Sai. I have heard that you are looking for land in Shirdi. You call yourself a saint. You say that you are above materialistic things and all other attachments so why do you need it? Sai says I need it for Ram ji. Sarkar says you can fool villagers by using Ram jij's name, not me. He has created the universe. Why would He need a small piece of land? Why will He ask you all to select a piece of land for Him? Sai says God plays strange games. If He wants me and villagers to help Him with something then no one can change it. Sarkar smiles. You are forgetting that law does not work as per your wish and imagination. It works as per rules. I am the law and rule of this village! Villagers look on helplessly.
Precap: A lady asks Kakasaheb Dixit to pick the baby and bless him. Kakasaheb Dixit takes support of a small table while trying to stand. A basket of flowers is kept above it. Sai gets tensed in Dwarkamai. He puts a leaf of a banana tree on the floor suddenly. Kakasaheb Dixit loses his balance and falls over the little baby. He uses his arms to maintain safe distance with the baby.
Update Credit to: Pooja
The post Mere Sai 26th July 2021 Written Episode Update: Sarkar announces a new law for villagers appeared first on Telly Updates.