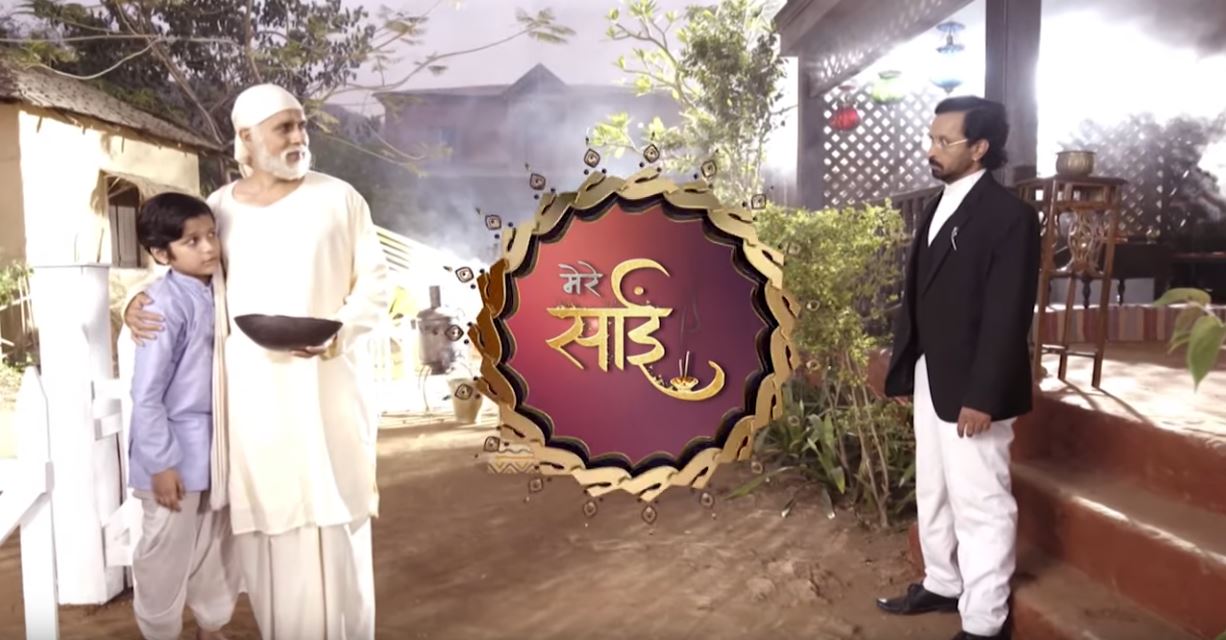 Mere Sai 27th July 2021 Written Episode, Written Update on TellyUpdates.com
Epi begins with Sarkar telling Sai that I am the law and rule of this village! Villagers look on helplessly. Sai says it is for Ram ji's work. He will tell the reason when its time. Sarkar asks villagers if their Fakir does not trust them enough to tell them that. Srikant says you can say anything but you cannot fill our heart against Sai ever. Not just me but all of us know that there must be a reason behind Sai's actions. Sarkar asks him if he trusts Sai so much. Why does a Fakir need land? Why isn't He telling the reason if it is going to help others? Can someone answer me? Baizama asks Sai why He isn't telling anyone anything and bearing these accusations quietly. Sai smiles. Sarkar tells Sai he got his answer. I challenge you, Fakir. Try to take the land in my presence if you can! Sai says Allah Maalik in reply. Sarkar tells Him to ask Allah or Ram ji only then. I can bet that no resident of Shirdi can get you that. Hari Om! Sarkar leaves.
Kakasaheb Dixit congratulates Prasad. Prasad introduces him to his brother-in-law. Kakasaheb Dixit sits down once they leave. A guy greets Kakasaheb and they exchange pleasantries. The guy tells Prasad that Kakasaheb helped him in getting his son admitted to school and also helped in my daughter's wedding. He dint want anyone to know about it so he kept quiet. I am still indebted to him though. Kakasaheb Dixit calls it his duty as humanity. Aatya says I have taught him to do good and not think of getting anything in return. I am glad that he listens to me. Everyone smiles.
Kids greet Sai excitedly. We decorated our bulls and did their aarti. It was fun. Ragini asks Sai about the rope in His hand. Sai says it will be used to make butter from the cream. We offer that butter to the bulls as a Prasad. Prahalad gets up sadly. Sai asks him why he is sad. Prahalad says you told me I will get what I want. All my friends decorated their bulls and did puja as well. Will I get a chance too? Sai tells him to call the bull with all his heart if he really wants to do it. Prahalad shares that Azoba got angry after finding out what I want. He locked my bull. How will it come? Sai tells him to call the bull with pure intentions. It will surely come. Prahalad shouts Heera. Mere Sai plays. Sai slowly unties the knot in the rope he was holding. Prahalad's bull is freed and runs out of the stable.
A lady requests Kakasaheb Dixit to bless her son. His naamkaran happened just now. I am very poor so I have nothing to give to him. I have heard a lot about you. I can atleast request you to bless him. She keeps the baby on the floor. Kakasaheb asks her to pick the baby. Don't put him on the ground. Aatya asks Kakasaheb to pick the baby and bless him. Kakasaheb Dixit takes support of a small table while trying to stand. A basket of flowers is kept above it. Sai gets tensed in Dwarkamai. He notices a spider hovering above the cream. He puts a giant banana leaf on the cream suddenly. People scream in shock as Kakasaheb Dixit loses his balance. He uses his arms to maintain safe distance with the baby. Kids mock Kakasaheb Dixit. The lady asks Kakasaheb why he stomped the baby. I brought him here to seek your blessings. Thank God he is safe. Aatya says he lost his balance yet he made sure your son isn't harmed in any way. Aatya gives her Rs. 10. Buy something for the baby. The lady nods and leaves. Prasad tells everyone everything is fine. Kakasaheb Dixit is still shaken. I felt as if someone stopped me from falling on the baby at the last minute. He overhears people speaking about the incident and pitying him. Maybe he committed a sin. Kakasaheb gets tensed. Two ladies also discuss his condition. We are better than him. We have less but we don't make a drama every time we go somewhere. Kakasaheb heads for the door. Prasad requests him not to take it to his heart. It was an accident. Kakasaheb tells him to focus on the occasion. Prasad's friend looks on.
Prahalad tells Sai he shouted many times yet Heera isn't here. Sai says Shradda and Saburi. Prahalad rues why it isn't here yet. They hear the sound of a bell and look up. Everyone is surprised to see Heera there. Aayegi fir bhor plays. Sai nods at Prahalad who rushes to Heera. Other kids follow him. Prahalad caresses Heera sweetly. Sai says love is like a river. You can try to hold it back but only till a certain time.
The wheel of Nanasaheb's cart gets stuck in mud. Driver and Nanasaheb try to take it out but fail. Nanasaheb says it isn't very deep yet we are not able to free it. Driver suggests trying again. Nanasaheb nods and they put pressure again.
Prahalad has decorated Heera. Sai looks on.
Precap: Sai asks Baizama to ask Him what's on her mind. She says I am worried because of Sarkar's questions. Even villagers have started wondering what Sai wants to do with the land. They look back as Prahalad drops something that lands with a thud.
Update Credit to: Pooja
The post Mere Sai 27th July 2021 Written Episode Update appeared first on Telly Updates.