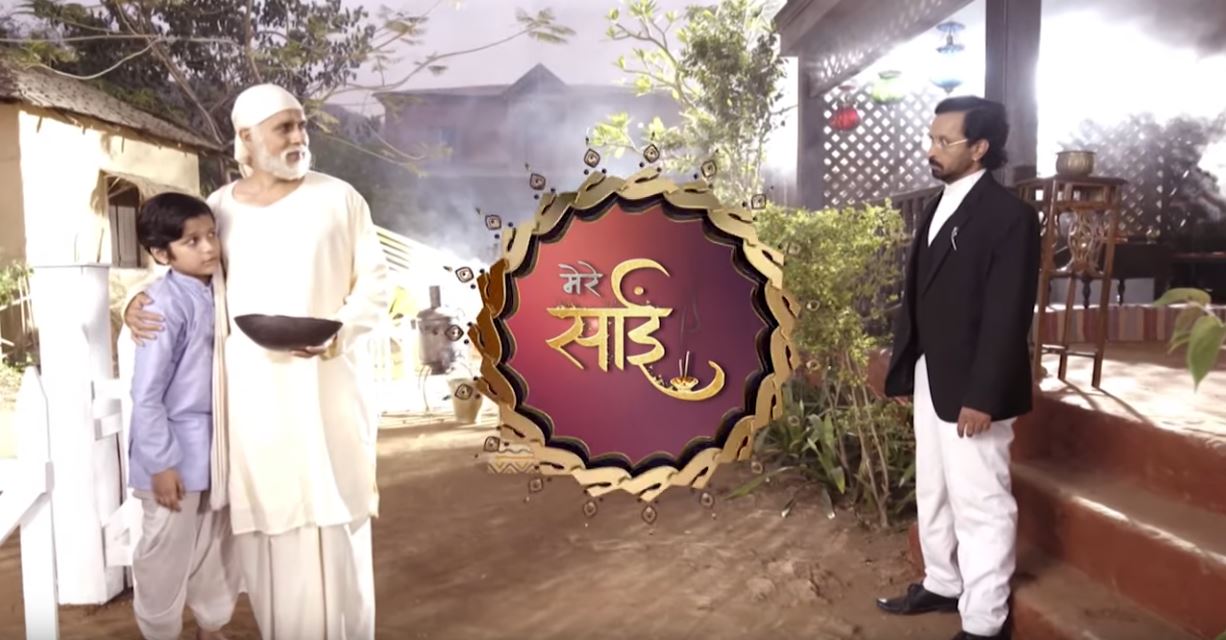 Mere Sai 28th July 2021 Written Episode, Written Update on TellyUpdates.com
Santa and Banta see the food kept on the floor for the bulls and are tempted. Santa tries to pick it but the bull glare at him. Santa and Banta hide. Santa is afraid but Banta requests him to try again. It is food after all! Santa agrees. They see the bell around the bull's neck. It is Heera right? Only Heera has such a bell in Shiri. Banta nods. Santa wonders how he came here. Sarkar had tied him in the stable. Banta says it must be Fakir's doing. We must tell Sarkar. Santa reminds him that Sarkar is in Kopargaon. We will have to wait.
Aatya tells Annapurna Kakasaheb Dixit always exaggerates things. Prahalad's friend asks Aatya about Kakasaheb Dixit's leg. Aatya says he got hurt sometime back. He has visited many hospitals but he wont recover. He should accept the fate. Wish there was a way to cure him. The guy suggests Sai's name. He is the one who has treated many people who has incurable problems.
Baizama gives sheera to Sai. She feeds Him with her hands. Sai tells her to speak her mind. You don't have to hesitate. Baizama says you are asking as if you don't know. I am worried because of Sarkar's questions. Even villagers have started wondering what Sai wants to do with the land. Sarkar's men are trying their best to instigate people against you. They say that you will try to rule over people and may ask for another land tomorrow. Sai smiles. She tells him not to take it lightly. Some villagers have actually fallen for it. They are wondering why Sai asked for a material thing for the first time. I have no answer. You can atleast tell me. Sai smiles. They look back as Chetan drops something that lands with a thud. They see the broken pot. Chetan apologizes to Sai who does not mind it. Chetan requests Him to teach him how to make a pot. I will learn another thing this way too. Sai appreciates his thought. You must bring few things for that. Bala assures Him they will bring everything soon. Kids leave.
Baizama asks Sai to answer her question. Sai says we often get lost while looking for reasons. We forget that many things break or remain incomplete in life. There is a reason behind it. There is a reason behind what's unclear too. There is a reason behind the pot breaking too. It could be that God is telling us to be careful or if He is giving a chance to someone to earn a living. We should have Saburi when we cannot understand God's plan immediately. We should wait for Ram ji's plan to appear in front of us. Baizama smiles. I am still naive. I worry unnecessarily. I should have understood that you need land for a good reason. I wont ask you again as I know that one needs to have faith in God. We don't question God.
Kakasaheb Dixit comes to temple. Why is this happening to me? I am guilty. What if something had happened to the baby because of me today? I thought people used to speak behind my back but it isn't true. They say things on my face too. What's the point of fighting elections when I cannot even stand on my own feet? They will say that I wont be able to do anything for others when I cannot do anything for myself. I don't want to do fulfil these duties anymore. You have blessed me with enough already. I don't want to work anymore. I just want to dedicate my life to you (God) now.
Nanasaheb and driver fail in freeing the cart.
Kids have brought the ingredients as well as the chaak to make a pot. Sai guides them step by step.
The cart gets freed on its own once Sai moves the wheel (Chaak). Nanasaheb looks on. Driver remarks that they tried a lot but it dint budge. It suddenly moved on its own. What could be the reason? Nanasaheb thinks of how his cart had turned to Shirdi last time. Is this Sai's doing again? Nanasaheb sits in the cart.
Sai smiles in Dwarkamai.
Kakasaheb Dixit keeps thinking of all the embarrassing moments. Enough! I cannot bear it anymore. I cannot be patient anymore. He is in tears. It will be best to go away from everyone now. He gets up and begins to go out. His leg starts paining again so he leans onto the wall for support.
Sai stops the chaak. Nanasaheb's cart stops again which puzzles the driver. I don't understand why it's happening. Nanasaheb notices Kakasaheb Dixit and smiles. He greets Kakasaheb with folded hands. Kakasaheb is surprised to see him.
Sai keeps the new pot on the floor. Kaka, this was an attempt to deliver Ram ji's message to you. Don't worry. Let's see when you will come here now.
Nanasaheb tells Kakasaheb Dixit he is glad to see him. We are meeting after a long time. He notices Kakasaheb sad. I can take you to your destination if you are worried about going back alone. Kakasaheb says I will go on my own. Nanasaheb says I saw that you are having trouble walking. I can help you. Kakasaheb rudely replies that he does not want anyone's pity. Nanasaheb politely apologizes to him. I only want to help you. My Guru has taught me that it isn't wrong to seek help sometimes. I too used to be independent like you earlier but my Guru Sai has shown me a new perspective to life altogether. He has taught me that one can take help from anyone if needed. Even Ram ji took help from Vanar Sena to build the Setu. He talks explicitly about Sai. Kakasaheb looks intrigued. Nanasaheb says you used your brain to help people while Sai uses His heart. The only difference is that human beings get tired but Sai never gets tired.
Precap: A girl opens a cupboard. There are 2 suitcases above it and the cupboard is shaky. Sai picks up few sticks in Dwarkamai. One suitcase falls. Sai straightens the stick. The girl screams. Kakasaheb Dixit runs to the room to check on his daughter Gayatri.
Update Credit to: Pooja
The post Mere Sai 28th July 2021 Written Episode Update: Nanasaheb meets Kakasaheb Dixit appeared first on Telly Updates.