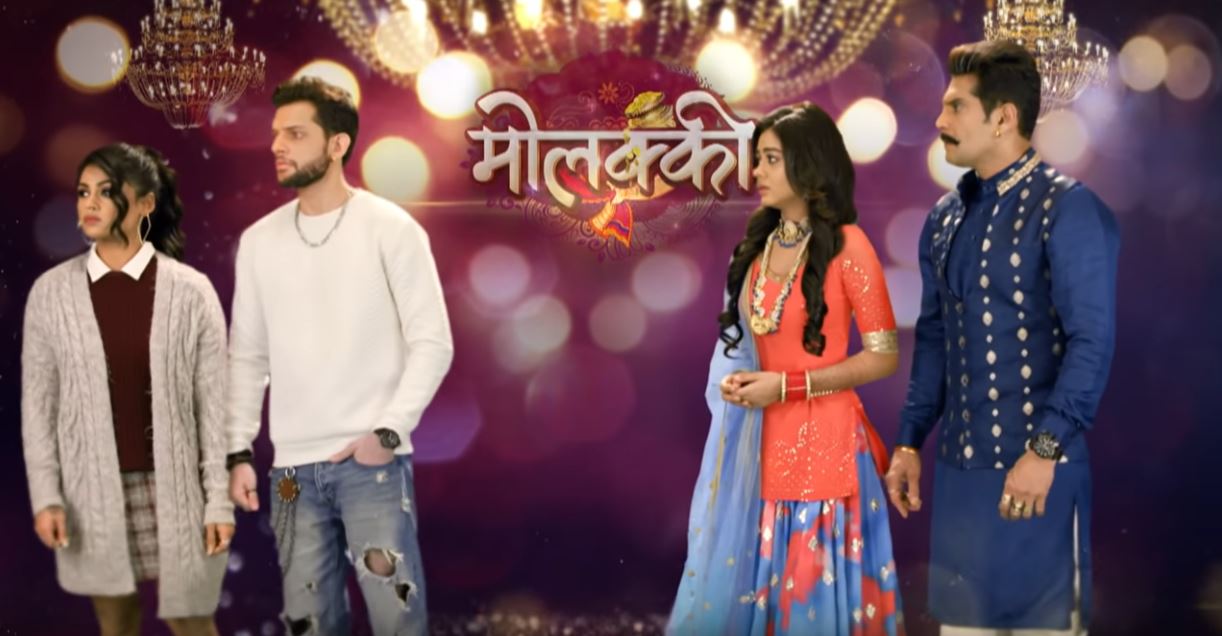 Molkki 27th July 2021 Written Episode, Written Update on TellyUpdates.com
Veer is leaving when Priyu shows up. He tells her that he is going to give driving lessons to Sudha. Priyu shows an inclination to learn driving. Veer offers to teach her. Priyu tells her to learn today. I will teach Sudha ji tomorrow. She asks him if he is sure. He nods and helps her sit. Virender notices them from upstairs. Looks like they have become great friends.
Purvi comes to Chaudhary's haveli and meets his wife. She asks Purvi how she is here suddenly. Purvi says I came to meet Nandini. Is everything fine? Chaudhary's wife nods. Purvi begins to go upstairs when Chaudhary's wife sends a maid upstairs to call Nandini. Purvi wonders what she would have told the maid in her ear. Chaudhary's wife makes a lame excuse. Maid comes back and tells that Nandini will take time. Purvi decides to wait.
Nandini has bandaged Aarav's wounds. Why is Purvi here? She shouldn't see you in tis condition. I will be back soon. Aarav nods and covers himself.
Purvi decides to go upstairs herself. Chaudhary's wife and maid tries to stop her but Purvi enters in Nandini's room. Nandini suggests going downstairs. Purvi asks her if everything is fine. Where is Aarav? She notices him covering himself with a blanket. It is so hot. Why is he using a blanket? Nandini makes an excuse. Aarav sits up just then. He makes an excuse but she notices the bandages in the dustbin. Nandini and Aarav lie that he had an accident. Nandini adds that doc advised him to take rest. We will go outside and talk. She brings Purvi downstairs. Nandini says everyone is very worried about Aarav. Come some other time so we can actually sit and talk. Purvi nods but is sure something is wrong. Everyone is behaving strangely. Nandini is also hiding something from me which is why she wants me to leave asap.
Veer and Priyu look at each other as he ties the seat belt. Priyu tells him to look ahead. How will you teach me driving like this? He says sorry to her and tells her about clutch, gear. She keeps her hand over his on the gear and starts driving. This time he tells her to look in the front. Veer looks a little uncomfortable. She asks him to move her hair away from her face. He complies.
Virender and Chaudhary go around promoting themselves for the post of Mukhi. The voting begins. Virender tells Chaudhary he is bound to lose. Now you will know where you belong. Chaudhary says we will find that out later. I still have an ace card. He leaves with his wife.
Nandini comes to haveli. A lady congratulates her. Your Baba is going to win again. She wipes the colour off her face as she walks up to Virender. Congratulations Mukhi ji. You must be happy as you defeated your daughter. He tells her to look at the villagers. How could I snatch their happiness from them? She asks him about her. Don't you regret becoming the Mukhi by disappointing your daughter? He reasons that he is doing everything to save villagers from Chaudhary. You will very soon find out what kind of a person he is. Nandini requests him to listen to her for her sake. There is only one day left. This day will decide your daughter's happiness. Please think again. She starts crying. Veer comes there just then. Virender tells Veer to bring her inside.
Virender gives Nandini his swear. Tell me the truth. Veer gives water to Nandini. Nandini says I dint want to tell you but I have no option now. Please save my Aarav. He will kill him otherwise. Onlyy uou can save him. I have come to beg for his life. You were right about Chaudhary ji. He is a cheap man. He got me married to Aarav only to seek revenge from you. He was very nice to me before wedding but he was only using me against you. Aarav's life is in danger today. He will kill him. Only you can save him. Please Baba. Save my Aarav. Virender becomes emotional. She tells them how Chaudhary treated Aarav earlier. Virender and Veer ask her why she dint say anything earlier. Virender assures her that Aarav will be fine. I wont spare Chaudhary! He takes out his gun. Nandini asks him about it. No, Baba. You wont do anything ike this. She keeps his hand over her head and gives him her swear. Chaudhary ji will kill Aarav if you do anything to Chaudhary. Please withdraw your name from the elections to save Aarav. Veer says it is important to teach him a lesson. He will continue to make such requests otherwise. We can get Aarav out of there safely. She tells him against it. Every corner of that haveli is manned by guards. They will kill Aarav if they find out about it. Virender seconds her. chaudhary can go to any extent to win. I am ready to give up on the elections. Things wouldn't have aggravated to this level if I knew about it earlier.
Virender has gathered everyone in the living room. I know I wont be able to rest for another 5 years if I become Mukhi again so I have decided to withdraw my name from the elections voluntarily. Purvi is shocked. What are you saying? People want to see you in that position again. Voting has happened already. Don't shy away from your responsibility. Virender refuses to budge from his decision. I don't want anyone's suggestion on this matter. It is time to sleep. I will withdraw my nomination tomorrow. Veer doesn't look happy with Virender's decision either. Servant takes Virender to his room. Purvi wonders what made him change his decision suddenly. He did everything to win the elections. There is something wrong. I must find out what it is.
Anjali and Prakashi decide to share the good news with Nandini. Nandini is surprised to see Prakash's call. She tells Nandini that Virender has decided to withdraw his name from the elections. Your FIL will be the new Mukhi of Rewari. She ends the call. Nandini apologizes to Virender mentally. You have to do this because of me.
Purvi is looking after Manas. Virender asks about his health. She shares that his fever isn't reducing. I have called doc. He checks Manas's temperature. I am going to withdraw my name. Purvi asks Virender if he is under any pressure. Why are you taking your name off elections? I know you are hiding something from me. Virender says you know I don't come under anyone's pressure. No one can dare to do so. I am really tired and want to rest. I want to be with my family so I am doing this. He leaves. Purvi is still not convinced.
Precap: Purvi reads Nandini's message on Virender's phone and runs to stop Virender but he leaves in his car. She tells Veer they must stop Virender from withdrawing his name. Virender is at the elections office. Nandini and Chaudhary are also there. Virender is about to sign the letter but Purvi enters just then. Stop, Mukhi ji! Everyone looks at her in confusion.
Update Credit to: Pooja
The post Molkki 27th July 2021 Written Episode Update: Virender to withdraw his name from elections? appeared first on Telly Updates.