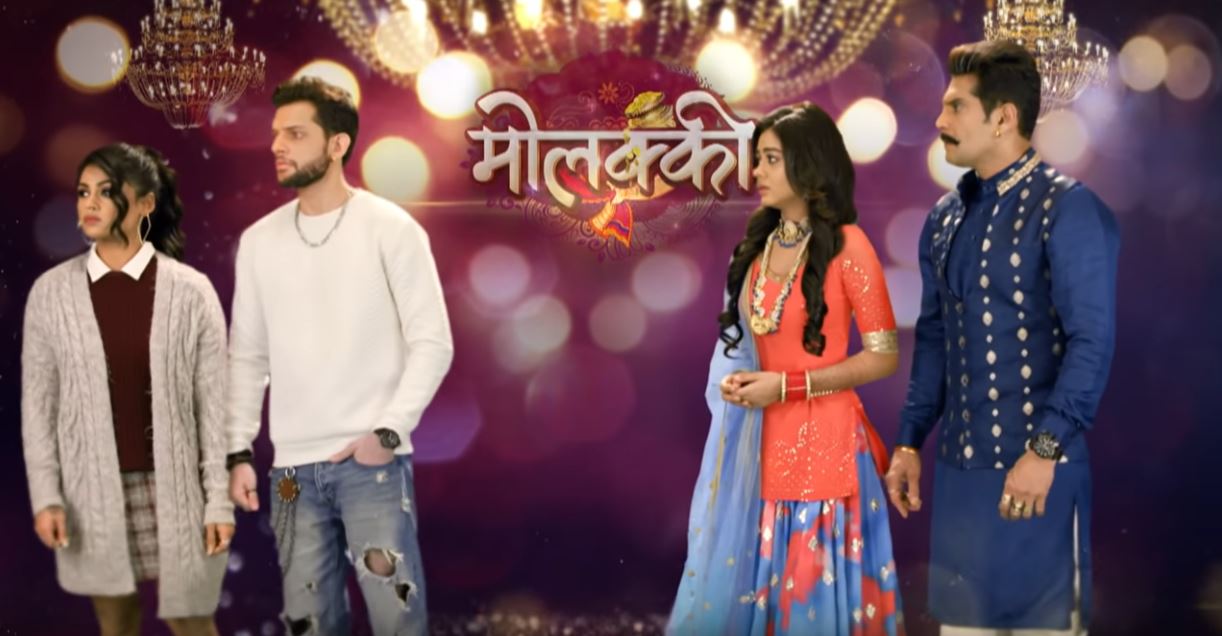 Molkki 28th July 2021 Written Episode, Written Update on TellyUpdates.com
Veer puts the news on. Virender joins him. They watch the news. Villagers are positive about Virender's victory. Virender smiles with pride and accepts their wishes and garlands. He becomes sad when villagers leave.
Nandini calls Virender but he has left his phone in kids' room. It is on silent. Purvi is tending to Manas. Nandini sends him an apology text. I am sorry for making you do this. I dint know that you love me so much. You are making such a big sacrifice upon my askance. Thank you so much. I am coming to meet you Baba.
Doc tells Purvi there is nothing to worry. Manas has viral fever. It will be down in 2 days. She thanks him and asks about Aarav. Doc says I am not treating anyone named Aarav. She tells him about Aarav's accident. I have heard that he had an accident. He tells her that he gets to know immediately if anything happens to anyone in this village. He takes her leave. Purvi wonders why Nandini lied to her. How did Aarav get hurt if it wasn't an accident? I saw his wounds. How to find out the truth? Virender's phone beeps. Purvi decides to give it to him but then notices Nandini's message. She runs downstairs. Servant points her to the door when she asks him about Virender. Virender leaves for the election office.
Veer asks Purvi why she is worried. She asks him to take her to Virender. He asks her about the problem again. She tells him about Nandini's message. I don't understand why Virender is doing it and why Nandini is asking her to do him. Veer says I know the truth. She asks him to tell her. Veer shares the reason with her.
Virender reaches election office. Chaudhary is there with his wife and Nandini. Host announces that Virender is leading as per the count till now. Villagers are pleased to hear it while Chaudhary fumes. Chaudhary says they don't know that the one they trust is going to stab them in the back now. I will turn their happiness to pain once I become Mukhi. Virender is about to retort but Nandini signals him against it. He calms down. Chaudhary praises Nandini and follows Virender to the office.
Host wishes Virender on the impending victory. Virender says it is of no use as I am here to withdraw my nomination from elections.
Veer and Purvi are on their way to election office.
The guy asks Virender if he is under any pressure. Tell us if it's true. We will help you. Virender denies. I am really tired so I am taking a break. You know that no one in Rewari is capable of pressurizing me. I am just tired of all this.
Purvi is worried that things will be wrong if she wont reach on time. Please help me, Kanha ji.
The guy asks Virender to sign a paper. Chaudhary Charan Singh will become the new Mukhi of Rewari once you sign it. Virender takes the pen and looks at Nandini.
A kid comes in front of Veer's jeep. He applies emergency brakes to save the boy. His father charges at Veer and holds him by his collar.
Virender looks at Nandini's sad face.
Purvi admits their mistake and apologizes to villagers but they refuse to let him go. They even take the key of his jeep. What will you do now? Purvi starts running. Veer follows her as well.
Virender is about to sign the letter but Purvi enters just then. Stop, Mukhi ji! Everyone looks at her in confusion. She requests Virender not to sign the papers. Nandini requests her to understand. Its about my life. She tells Virender not to stop. I will pacify her later. Purvi asks Virender for a chance to hear her out. Chaudhary asks them to stop this drama. Tell him to sign the papers quickly. Virender tells the guy at office to tell Chaudhary to wait. Let me hear her out first. The guy agrees. Be quick.
Purvi, Nandini and Virender are in a room. Purvi tells Nandini she knows everything that Aarav has been through. He is perfectly fine. No one will do anything to him. She tells Virender not to withdraw his name. You will become Mukhi. Nandini is worried for Aarav. How did you find out? Purvi assures her that Aarav is fine. Listen to me. Flashback is shown. I read your text on Mukhi ji's phone as he left it in Manas's room. I met Veer later who told me everything. Purvi tells Veer they must stop Virender. Veer says no one can change his decision once he makes up his mind. Purvi insists that they must find out a way to save both of them. Why did Mukhi ji hide it from me? Veer says maybe he dint want you to feel guilty as you went against his wish to get them married. Purvi feels bad that Virender cares so much for her. I decided to get Aarav out of Chaudhary's clutches. She asks Veer to come with her. veer reasons that the security is very tight there. We wont succeed. She refuses to back out now or be afraid. It is time to be strong for Aarav, Nandini and Mukhi ji. He says I am sure you have an idea already. She nods.
Purvi and Veer are outside Chaudhary's haveli. They have paid a group of people to cause commotion outside the haveli. They will celebrate Chaudhary's victory and Veer and Purvi will get a chance to enter inside. They both smear color on their faces and mix in the crowd. Guard notices 2 people entering in the haveli stealthily. He calls at the main door to alert others but no one answers the call. He decides to check himself. Purvi tells Veer Aarav must be in his room. They head upstairs. Guard gathers all servants and tells them to catch Veer and Purvi. Veer beats a guy single-handedly. Purvi looks at him in awe. He tells her that he learnt martial arts in London. Let's go. They head to Aarav's room but Aarav isn't there. Purvi says they must have hid him in the dark room. He is shocked to know about it but she explains that every old haveli has one such room. They start looking around.
Veer and Purvi beat the guards and servants that block their way. A servant is afraid to see her beating the guards with a stick. Veer reminds Purvi not to be the Jhansi ki Rani. We have to save Aarav. She nods and they continue searching for Aarav. She stands guard while he breaks the lock using an axe. Guard closes the main door. Servants hear the noise and head to the dark room. Purvi and Veer find Aarav lying unconscious inside.
Precap: Virender says I wont withdraw my name. He tears the papers and beats Chaudhary. Chaudhary asks someone to become his spy. Purvi tlls Virender they must get out of here. Chaudhary's men are after us. Few dogs are chasing Virender and Purvi. Chaudhary shoots a bullet.
Update Credit to: Pooja
The post Molkki 28th July 2021 Written Episode Update: Purvi reaches election office appeared first on Telly Updates.