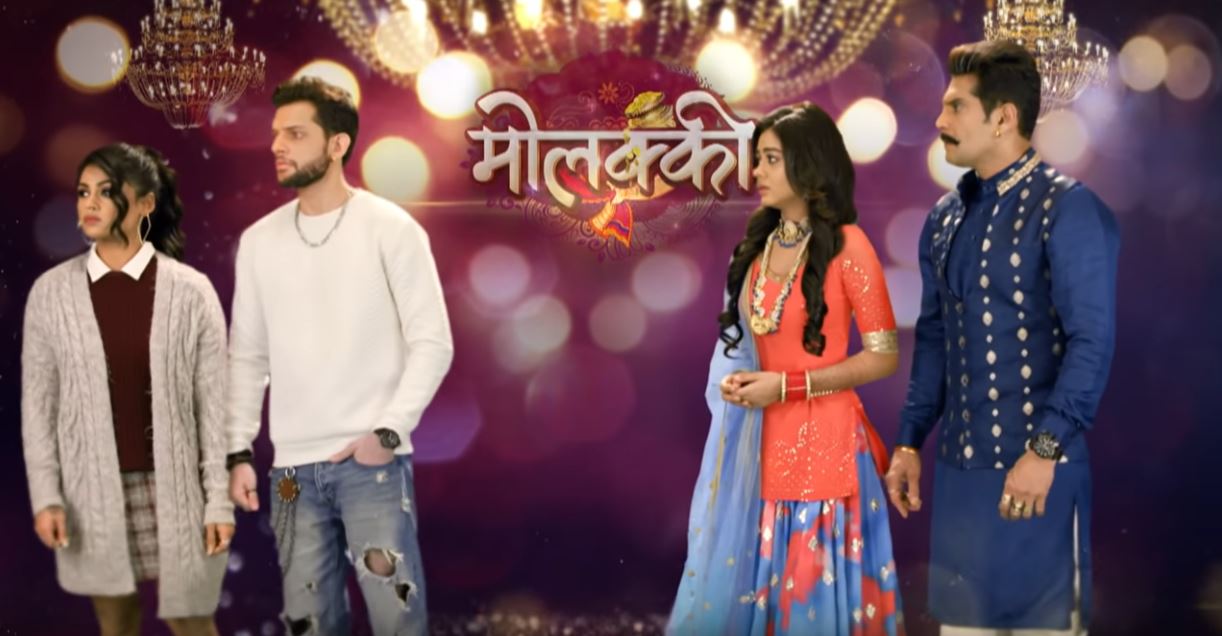 Molkki 29th July 2021 Written Episode, Written Update on TellyUpdates.com
Chaudhary's men try to break in the room. Purvi tells Veer that she won't go without Aarav. Aarav asks them what they are doing there. Purvi says they are there to save him from his father. He says that they don't know his father. He will kill them all. It's impossible to leave from there. Purvi says they will manage, but he keeps saying no. Veer hits a stick on his head and he falls unconscious. Veer hides with Aarav. Guards break in and see Purvi running from a window. They follow her. Veer brings a car and Purvi gets into it.
Nandini asks Purvi that Aarav is fine, right? Purvi says that he's in their home and he is fine. Nandini hugs Purvi. Virender tells Nandini not to cry. It's time for Chaudhary to cry. He has hurt everyone a lot and now it's a payback time. Veer comes there. Nandini hugs him. Virender calls Purvi "Jhansi Ki Rani" and asks if she's fine. She once again did a favor on his family. She says it's her family too. Nandini says that she's right. They are one family. She thanks both Virender and Purvi. She also asks for forgiveness for doing wrong with them. She hugs Virender. Veer tells Nandini that she should have seen how Purvi beat up those guys. Karate and all is nothing in front of that. He further says that he understood true value of parents today. They don't let kids get hurt even the slighest. He calls Virender father and says they are lucky to have them as their parents. They have a group hug.
They come to the office. Seeing Virender's confidence, Chaudhary wonders what happened. Virender throws ink on him. Chaudhary asks if he is in his senses. Virender says he will fight in the election and win as well. He is not withdrawing from the election. Chaudhary asks him if he forgot what he can do with Nandini. Virender starts beating him up. Nandini tells Chaudhary until her father is there, no one can do anything to her. Chaudhary is taken away.
Everyone gathers for the election results. Virender is declared as a winner. Everyone is happy. He's given a new turban. Virender says that he wishes to get it from his son. Veer feels happy. He goes on the stage and puts the new turban on Virender's head. Priyu smiles looking at Veer. Sudha also gets happy.
Veer is blindfolded and he's playing with kids, Sudha, Priyu. He falls down and gets hurt. Sudha gets worried. Priyu is going somewhere. Purvi asks whether she's going to get medicine. Priyu says it's just a small wound, he will be okay. She is thirsty, so is going to drink water. She leaves. Sudha tells Veer that she will go and get medicine/aid. Purvi says in her mind that Sudha worries so much for Veer and it makes no difference to Priyu. Sudha really cares a lot for Veer and understands his pain, that's why she ran to get medicine.
Purvi is making bed. Virender comes and watches her. She turns and asks when he came. He says he's always around her. She says that he's showing too much love today. She asks him to move and let her make the bed. He tells her to first listen what's in his heart. She tells him to go ahead. He says that he wants to thank her from his heart. She asks for what? He says for what she did for his home, his children. He never imagined that everything would be fine between him and his kids. Today they are calling him father from their heart. She turned enmity into love between him and Nandini, Veer. She says that she should be thanking him. He told Veer and Nandini to not tell Chaudhary's truth to her, so that she doesn't feel bad or guilty. She trusted a wrong person and went against him and got Nandini married. He was going to take such a big step for her. He says thank you is a very small word for what she does for this family. He is mukhi again just because of her. She says he's misunderstood. Whatever she did was for her. He's confused. He asks how's that? She shows attitude and asks she looks like a mukhyani, right? She just used him, so that she can remain mukhyani. She asks him to salute to her. He is impressed. He asks what she will do as a mukhyani? Rule village people? She says that it's not fun to rule people. It's fun to rule the ruler, meaning him. He says he's already her slave. He asks for a hug. She hugs him. He doesn't leave her. She says someone may come. He says who has daring to come to mukhyani's room without permission beside her slave. She smiles and hugs him back.
Chaudhary meets someone and says he did so much, yet he couldn't become mukhi because of that molkki. He still has one last move. He tells that person that he will go to their home and take revenge. That person's face is shown and it's Aarav. Aarav says he will take revenge from Virender that he will remember for his entire life. He laughs recalling how they fooled Nandini. He never got injured, just faked all the injuries. Aarav assures Chaudhary that soon he will be mukhi.
Precap will be added later.
Update Credit to: Simmy
The post Molkki 29th July 2021 Written Episode Update: Virender wins the election appeared first on Telly Updates.