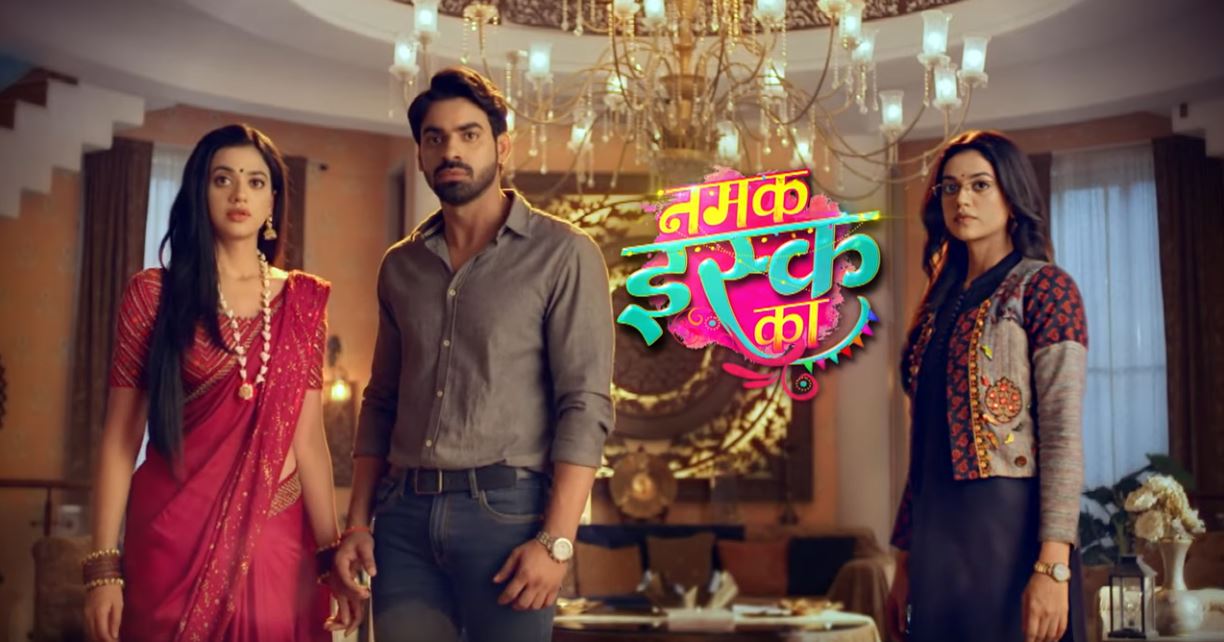 Namak Issk Ka 27th July 2021 Written Episode, Written Update on TellyUpdates.com
Scene 1
Yug asks Kahani to stop blaming others. Kahani says Gunjan is responsible for everything. She and Iravati forced me to do all those things. Dadi asks Iravati what is she saying? Iravati asks her to be silent. Kahani glares at Gunjan amd asks her to tell the truth. Gunjan gets scared and says that's the truth. Iravati says Kahani is threatening Gunjan, she is a cheap dancer. Satya thinks now I will trap them. She says Gunjan has accepted her crime but no one is questioning her? I get questions because I am a dancer. She leaves from there.
Satya comes to her room and says I will keep Iravati trapped. She starts packing her stuff as Yug comes there. She says you should have trusted me but you went against me. Yug says I don't understand anything. Rupa comes there and says why can't you understand Yug? You know Kahani won't do something like that to Maa. I asked you to give her a chance. You know Gunjan tried to break your relationship before also. She says sorry to Kahani and says where did you leave? Satya says Gunjan threatened that she would hurt Yug if I didn't do what she asked. Rupa says Kahani had to bear a lot. Satya thinks Kahani didn't do anything, Satya will do everything now.
Iravati slaps Gunjan and says what did you say? Saroj says Gunjan is lying or telling the truth? Iravati says let me talk to her, how can she blame me like this? She takes her from there.
Iravati asks Gunjan who was this? Satya or Kahani? Gunjan says it's Satya. The flashback shows how Satya had grabbed Gunjan and threatened to beat her. She took her phone and saw Kahani's message to Yug. She says I will show this message to Yug. Gunjan cries and says no. Satya says why were you here now? Gunjan says we wanted to send you to jail. Satya says I will send you to jail now but do what I say so I will spare you. The flashback ends. Iravati says what if Satya sends us to jail? Gunjan says I can't go to jail, Satya told me that there is a way. She said that you have to sit at her feet and apologize only then she won't show the message to Yug.
Scene 2
Satya tells Saroj that I just wanted your love but you just insulted me. Saroj says did Gunjan really threaten to hurt Yug? Satya says yes otherwise why would I send you to jail? You people still doubt me because I am a dancer. I have Gunjan's phone so you might find some proof inside. Iravati comes there and says that's not needed. Gunjan did everything to get Yug, Kahani is innocent. Ronak says Gunjan has no brains. Yug tells Gunjan that I won't spare you this time, you sent my mother to jail. You will go to jail now. Gunjan gets scared and says I can't go to jail. Ronak asks Rupa if she won't give a chance to Gunjan now? Saroj says Gunjan is a daughter of this house, she won't go to jail. Yug says you decided to send Kahani to jail but Gunjan did wrong with Kahani so she will decide about her. Satya glares at Iravati. Iravati says Gunjan did a big mistake, she thinks I will grab her neck and kill her soon. She sits at her feet and says please forgive Gunjan. Kahani says Gunjan repents her mistake so it's okay, I won't send her to jail. She hugs Iravati and whispers that if you try to trap me again then I will be worst than this.
At night time, Satya is preparing food. Rupa comes there and says food? Satya says I am taking food to Gunjan and Iravati. Rupa blesses her. Satya says you never doubted me. Rupa says I am always with you.
Iravati tells Gunjan that I won't spare this Satya now. Does she know that Kahani is locked in the basement? Gunjan says no, I wanted to take her away from there that's why I agreed to everything she said. Iravati says at least you did something right. Gunjan says what will we do now? Satya brings food for them. Iravati asks her to get lost. Satya says tell me what's your nature? I was listening to everything you asked but you tried to trap me? Iravati says I wanted to send Kahani to jail and not you. Satya says I am not a cheat and liar like you. If you try to threaten me then I won't spare you, I am an animal so don't try to irritate me. Just focus on my mother's treatment. She asks Gunjan to take care of herself and leaves from there. She has stolen the basement's key from Gunjan.
Precap: Iravati plans to tell Yug that Kahani is not Kahani, it's Satya. So Yug will go to search Kahani and when he reaches to her, Satya will have murdered Kahani.
Update Credit to: Atiba
The post Namak Issk Ka 27th July 2021 Written Episode Update: Satya traps Iravati in her own game appeared first on Telly Updates.