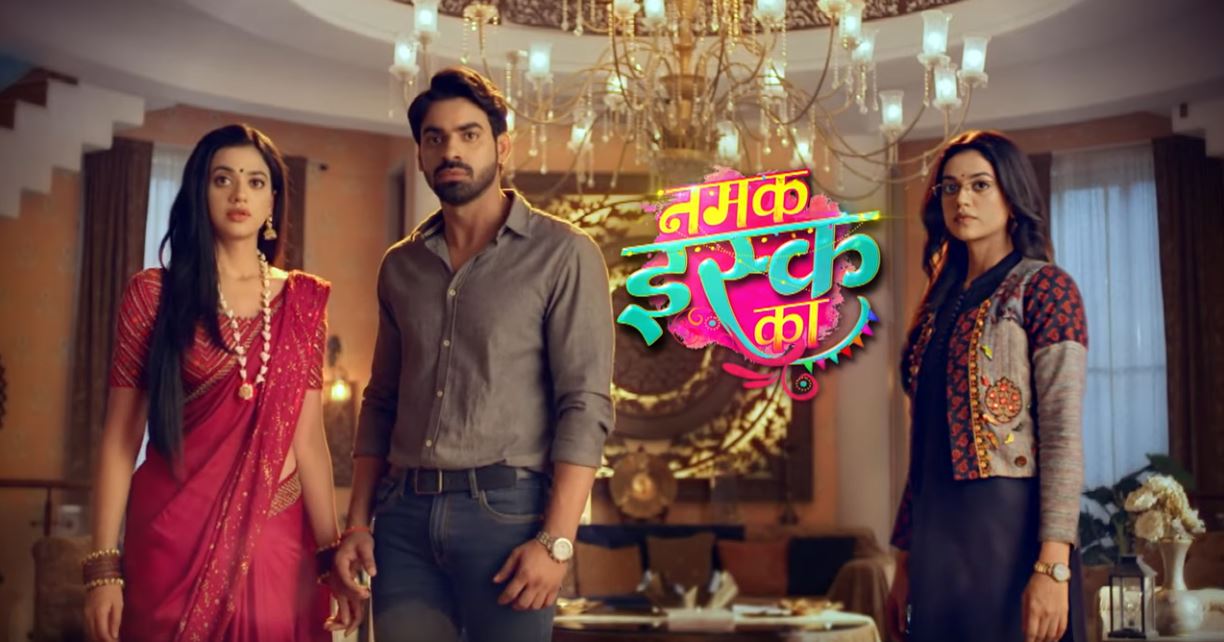 Namak Issk Ka 28th July 2021 Written Episode, Written Update on TellyUpdates.com
Scene 1
Iravati recalls how Satya threatened her. She says after years, someone has made me bow down to them. I forgot my old life but Satya brought all those bad memories back. She is free and can threaten Gunjan to get to know the truth. I won't let it happen. I have to do something before she can do anything. I will tell Yug that it's not Kahani but Satya. I will tell him that she kidnapped Kahani, then he will go to look for Kahani but he would find Kahani's dead body as Satya would have killed her by then. This bloodshed will end Kahani and Satya both.
Satya comes to the basement door and thinks maybe Kahani is locked here. She opens the lock with the key she stole and opens it. She says is there anyone here? She turns to see Kahani sitting there? Satya stammers and says you are totally like me.. I can't believe it. Kahani says so you have taken my place? Why are you doing this? Satya says for my mother.
Ronak asks Iravati what is going on? How did you fall in Kahani's feet? Just take a chance on me and I will help you. Iravati says you have no standard to help me, just leave me alone. Ronak says everyone wants to insult me in this house. I am so unlucky. Iravati gets an idea and thinks Lucky and Rani would take on Satya now.
Satya tells Kahani that I needed money for my mother's treatment. That Iravati Bua asked me to do things but she wanted to send me to jail. Kahani says she must have wanted to send me to jail. Satya says why did you marry in this circus? That Iravati Bua is so shrewd and jerk. Why didn't you try to tell her the truth to everyone? Kahani says I tried but fate was against me. Iravati is behind all the wrong things. She has done something wrong with Yug's father too. She tells her about Ravi's accident and how Iravati was behind it. Satya says that woman is evil. Kahani says have you thought about why we look exactly alike? I had a twin sister that got lost in childhood. Satya laughs and says you watch Bollywood movies too? Kahani says I am not asking for anything but I just want to go upstairs once. I will make everything fine, I will ask Yug to get your mother treated. Satya says you can't do anything, I will go and bring out the truth about Iravati. Then I will come to save you. She Kahani asks her to take care. Satya says don't worry and goes from there.
Scene 2
In the morning, Satya tells Yug why Iravati and Gunjan are not eating with the family? Dadi asks Juhi to bring Iravati here. She asks everyone to stop talking about the police. Gunjan did a mistake so we shouldn't punish Iravati. Satya thinks they don't know what evil woman that Bua is. Iravati comes there so Satya tells her that Gunjan should stay in her room. Saroj says you should forgive her. Satya says I have a condition. She brings marriage annulment papers and says Gunjan thinks she still has something with Yug. After she signs these papers then everything will be finished. Yug says she is right, we should end this fake marriage. She should realize that I am Kahani's husband and should move on. Gunjan comes there. Satya asks Gunjan to sign the marriage annulment papers. Gunjan says what are you saying? Yug signs the papers and asks her to sign them. Satya tells Gunjan that you have to move on in your life. Saroj tells Gunjan that Kahani and Yug are married so it's better that you move on in life. Rupa and Ravi ask her to sign. Gunjan asks Iravati to say something. Iravati asks her to sign the papers. Gunjan cries and signs the papers. Satya tells Gunjan that you should take off your mangalsutra also. Gunjan takes it off and cries. Satya says do remove your sindoor also, I wish you a good life. Gunjan leaves. Iravati glares at Satya.
Iravati thinks Satya has good luck but I will finish her as I did to people who came in my path. She starts doing her black magic. She gets a call and says very good. Just come home fast.
Satya spies on Saroj and thinks I have to do something about her also, I need to do something good for her.
Patanga comes back home. Dolly is happy. Yug greets him. Satya comes there. Yug says Kahani look Patanga is here. Patanga brings Lucky and Rani inside. All are happy to see them. Satya thinks who are they? Iravati thinks she doesn't know they are Kahani's siblings. Yug thinks why is Kahani not reacting? Satya says hello to the kids. All are confused.
Precap: Iravati throws a glass of water at Satya saying she needs to calm down. Satya answers back saying that much water doesn't stop a fire, instead increases it. She is determined to end Iravati's game.
Update Credit to: Atiba
The post Namak Issk Ka 28th July 2021 Written Episode Update: Satya traps Gunjan in her game appeared first on Telly Updates.