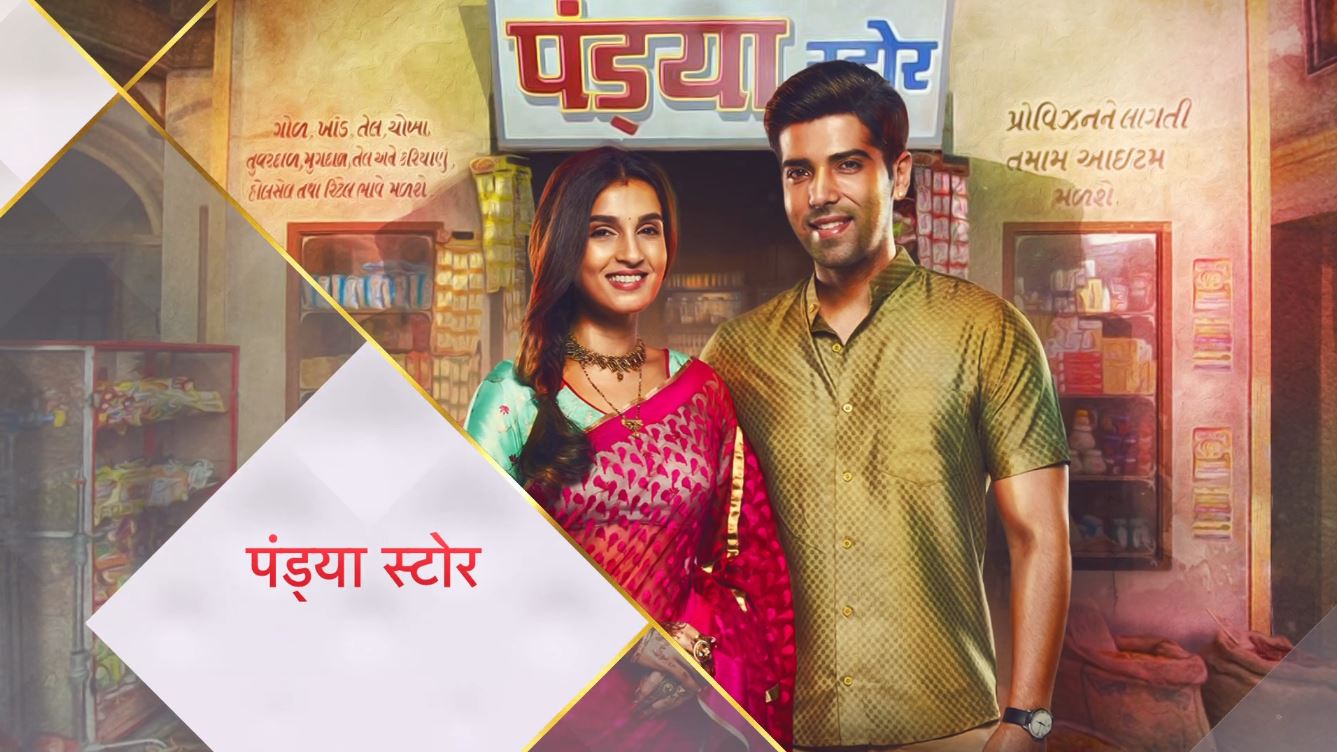 Pandya Store 27th July 2021 Written Episode, Written Update on TellyUpdates.com
The Episode starts with Dhara asking where did you go at night. Raavi says its not my mistake, Shiva.. Shiva says yes, she is right, I went for a walk. Krish asks why, are you a Shahenshah to go out. Dhara checks Shiva's hands. Shiva says I didn't drink alcohol, I did mistake once. Dhara says I don't find your behavior right. Gautam says it won't happen again, don't worry. Rishita says a thief has come here, a kidnapper can come also, I can't sleep in my room alone. Krish says Dev sleeps with you. They stop him from talking. Anita comes home. Prafulla sees her and beats on her back. She scolds Anita. Anita says I won't let Dhara's room get built.
Prafulla slaps her. She says you are going out at night, anything could have happened, I was so worried for you, you are mad. She hugs Anita and says you won't go out without informing me, else I will break your legs. Anita says I will break Dhara's wishes. Prafulla says forget this madness, you won't get anything. Anita says you lost, I didn't lose, I will do anything to get Gautam. Rishita lies beside Dhara. Krish asks Rishita to go and sleep in the room. Dev says you can't sleep here for more time. Rishita asks Dev to come and sleep beside. Dev goes. Shiva and Raavi go to their room. Raavi sees Shiva. She says you didn't tell anyone about our fight, I also thought you will get drunk, listen to me, you know I had seen that thief first. He says okay. She says I didn't get scared like Rishita. He asks do you want a bravery award now. She says I won't feel bad if you get this.
She smiles and sleeps. Shiva looks at her and smiles. Rishita gets troubled by mosquitoes. Dhara asks what happened. Rishita says there are many mosquitoes here. Gautam gives the repellent cream. Krish says let us sleep if you can't. Rishita says I m going to my room to sleep. She goes. Krish says Dev said right, she will go to her room, not everyone is like Dhara to adjust anywhere. Dhara asks him to sleep silently. Dev smiles seeing Rishita. He says you were going to sleep outside. Rishita says I didn't know about the mosquitoes, how can anyone sleep outside. Dev says exactly, Dhara and Gautam sleep outside every night, its imp to make a room for them. Rishita says you always taunt me.
Its morning, Dev asks Shiva and Krish to have tea fast, they have much work. Gautam says I will also help you. Krish says you are in hurry to make a room in this age. Gautam runs to beat him. Dhara smiles. Krish says its not your age to run. The brothers come upstairs. They open the cement sacks and find the cement solidified. They get shocked. Shiva asks Gautam to see.
Krish says all our hardwork got waste. Dev asks how did this happen, it didn't rain. Dhara comes and asks what happened. Dhara, Raavi and Rishita also get shocked. Suman hears them. Gautam says the cement has become stone, someone did this intentionally. Dev says someone did this to stop the room from getting built, Janardhan did this. Rishita gets sad. Dhara stops Dev. Gautam asks how can you say this surely, he won't know that we are making a room. Dhara says yes, he can't be behind this. Shiva asks who can do this. Dhara says someone wants this room to not get built. Raavi says Rishita said bathroom should be made, not this room. Rishita says I just told that. Everyone looks at her. Suman worries.
She thinks my children were making a room, what will they do now. Rishita scolds Raavi. Raavi says sorry. Rishita says leave me alone. Dhara says don't talk to Raavi like this. Rishita says anyone can talk to me like this. Dev says Raavi, don't make an opinion about Rishita, what happened, you aren't like this. Shiva says she is such since childhood, you know it now, she always thinks wrong about others. Gautam says forget it, Krish go to college now, you both go to the shop. Dev says but… Gautam says I told you, if material gets spoiled, then I won't give money, room won't be built now, no arguments now. He goes. Anita comes home and thinks to see Dhara's upset face. Everyone comes. Anita gives the pickles and asks aren't you all working today. Raavi says no, cement got damaged. Anita asks what, how did this happen.
Rishita says I got an attack at night and put water on the cement sacks, I m crazy, right Raavi. Dhara asks her to forget it. She says I trust you a lot, but someone has a problem with this room construction, so that person did this. Krish says we can't let that person win, we can't lose, we are Pandyas, we will make the room. Gautam says we will arrange the money first and then make it. Anita says I was happy that a room was getting built for Gautam and Dhara. Krish says I will throw that person in this well if I find out. Anita coughs. Raavi gets water. Anita says I don't want water, Prafulla has sent your fav pickles, I will go now, take care. She leaves. Raavi finds her hurt. She recalls hitting the thief on leg. She stops Anita and asks what happened to your foot.
Precap:
Shiva says you and Dhara sleep in my room. Dev says no. They both pull Gautam. Rishita says Dev, I won't leave my room. She locks the door of her room.
Update Credit to: Amena
The post Pandya Store 27th July 2021 Written Episode Update: Pandyas receive a shock appeared first on Telly Updates.