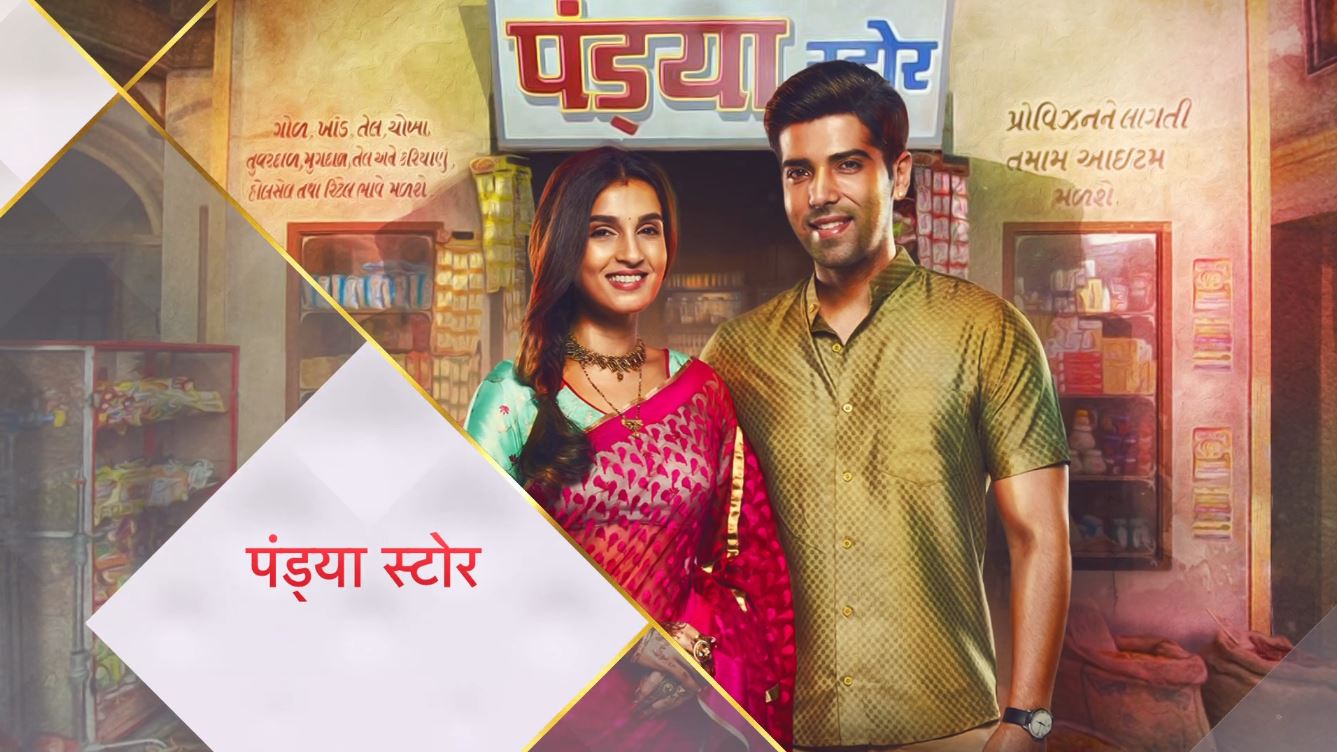 Pandya Store 30th July 2021 Written Episode, Written Update on TellyUpdates.com
The Episode starts with Gautam waking up and finding Shiva and Dev beside him. He says they are still sleeping. Shiva says let me sleep. Gautam asks Krish and Dev to wake up. He calls out Dhara. They wake up and say Bhabhi. Rishita asks Suman to have it, its organic tea. Suman asks with garlic? You have it. Rishita says I have made this for you. Suman says you made it with hardwork, taste it. Rishita tastes and gets up to run. Suman asks her to eat all the breakfast if she makes it bad. Rishita goes and vomits. Krish says its a good news. Rishita says its tears of torture. Gautam asks who tortured you. Rishita says I had made tea for Suman, Suman made me drink it. He asks where is Dhara. Rishita says Raavi took her out, its Dhara's day out today. Hardik stops Dhara. Raavi asks Hardik not to send Dhara home before evening. He apologizes. He says try to understand your brother, I told that for your betterment, see that room is build for you. Dhara says yes, but Gautam was hurt, I also feel the pain. Gautam asks what does day out mean. Krish jokes on his studies. Shiva says your room is built, so we thought to send Dhara to Hardik, they will end their issues. Gautam says fine.
Rishita says Suman said that she will make me eat all the breakfast if its not good, where is Raavi, I can't do this. Shiva says don't take tension, you are in our team now. Hardik says you don't think of your betterment, someone has to think of it, I m sorry, won't you forgive me. Dhara cries. She hugs him and says how will you convince Gautam, your friendship suffered. He says we will never get apart. She says I wish so. Dev helps Rishita in kitchen. Suman asks are you making the breakfast. Dev and Rishita say yes. Dev makes excuse and takes Suman. Shiva comes and runs to kitchen. Rishita asks where is the breakfast. He says you said that you can handle it. He gives the packet and says I got the breakfast, serve it to everyone. He goes. Suman and everyone wait for breakfast. Dev says its ready, Rishita will get it. Shiva comes. Gautam asks aren't you going to the shop. Shiva says no, I have stomach ache. Gautam says fine, Dev and I will handle. Dev and Krish also complain of stomach ache. Krish says surprise.
Gautam asks what surprise. Shiva says he was saying Supari, he got betel with full supari, we are having stomach ache. Suman says now I will also have stomach ache by having breakfast made by Rishita. Dev says no, she made it well. Shiva says yes, I have seen it too. Gautam says fine, send tiffin at the shop. He leaves. Rishita gets the breakfast. Suman thinks what will happen here without Dhara. Everyone eats the dhoklas and like it. Shiva asks Suman to have the samoas. Suman says when you were young, did you steal in school. Rishita says no, I never needed to steal. Suman says you don't lie, you want everything fast. Rishita says have the dhokla. Suman says when the teacher caught you cheating in exams, what did she punish. Rishita says negative marks, and sometimes punishment. Suman asks her to show how she used to stand. Shiva and Dev worry. Rishita stands near the wall. She says I hate the Murga punishment. Suman says sit down. Rishita says you are joking right. Rishita sits down. Suman says you think I m a fool, you can't make such dhokla, you are lying to me, you made my children lie to me. Krish asks Rishita to cover the ears and sit right. Rishita says shut up. Suman says Dev made this tea, right. Dev asks is it good. Suman says you had put much Elaichi in it, so I caught you. Raavi comes and laughs seeing Rishita. She jokes. Suman says there is no competition, she is alone, come on, sit down beside her. Rishita smiles.
Shiva smiles seeing Raavi sitting down. Raavi says I went to drop Dhara to Hardik's room, we thought to give her a surprise. Krish says yes, Shiva asked Hardik to keep Dhara there till evening. Krish laughs on Rishita and Raavi. Shiva also jokes. Raavi jokes on Shiva. Suman asks Shiva to sit along. Shiva says its fine. Shiva also sits. Krish says I will take their pic, they look like made in heaven jodi. Suman says you also sit. Dev smiles. Krish also sits. Suman says you would be feeling lonely, come. Everyone gets punished.
Raavi cooks food. She asks Rishita to help. Rishita helps and makes a face. She leaves the tap open. Rishita argues and goes to get a fan. Raavi asks her to pass the chilli box. Rishita says I m not your maid. They argue. Suman asks where are my medicines. Raavi says go and give medicines to Suman, its kept in the room. Rishita asks her to go. Raavi says fine, I will go. Rishita says I never took orders from my dad. Raavi goes. The water falls on the floor and goes near the fan wires. Sparks get ignited. The water reaches near Rishita's foot. Raavi comes back. She gets shocked seeing the watery floor. She sees Rishita stepping on the water.

Precap:
Gautam and Dhara come home. She sees the decorations and asks what's happening. Everyone surprises them. Suman does their aarti and welcomes Dhara. Gautam lifts Dhara and takes her to their new room.
Update Credit to: Amena
The post Pandya Store 30th July 2021 Written Episode Update: Suman punishes the children appeared first on Telly Updates.