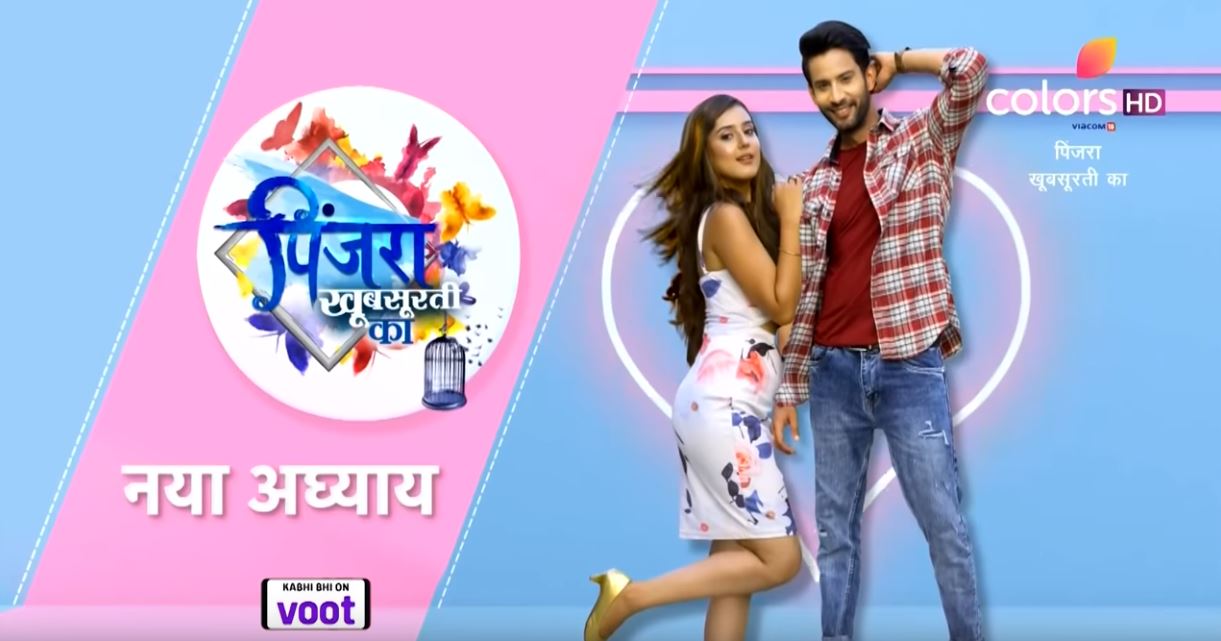 Pinjara Khubsurti Ka 27th July 2021 Written Episode, Written Update on TellyUpdates.com
The Episode starts with Vishaka thinking of Mayura's words that God made them meet so that they can fight against evil forces. Just then she hears about past birth on radio and asks driver to stop it. Her car stops. Someone asks her to get book on past birth. Vishaka is shocked and says she doesn't want. She thinks how can they come together, if Omkar remembers about his past birth, if Mayura and Omkar are planning against her, thinks she had neither lose then nor you. A biker hits Omkar's mother and she falls on the road. Vishaka comes and holds her. She says the bikers ride carelessly. Omkar's mother says it was my mistake. Vishaka says I will drop you and don't worry I will not kidnap you.
Bela apologizes to Mr. Goswami. Mr. Goswami says Mayura shall not leave from here. Bela says she will keep her eyes on her. Sachin says this house is like pinjara for her. Mayura is locked in the room and thinks of Mayura's words. She thinks she has to make Omkar remember everything, before Vishaka does something. Vishaka comes inside and asks Omkar's mother if she stays alone. Omkar's mother says my son Omkar stays with me. Omkar comes there and makes his mother sit. He asks what happened to her? Omkar's mother says she is fine now, had fallen on the road. She says this lady has helped me and came to drop me here. Vishaka introduces herself and forwards her hand. Omkar looks at her and says I am Omkar, asks why I have a feeling that I heard your name before and your face seems familiar too. Vishaka says I am certain that we didn't meet before, anyone's name can be Vishaka. Omkar thanks her for helping his mother and goes to get medicine for his mother. Vishaka looks at inhouse temple and says your temple is good, it seems you all pray. Omkar's mother says Omkar stays away from God, only she prays. Vishaka thinks old Omkar was devoted to God. Naina comes there and says this is the same woman whom I saw on factory side. Vishaka says I didn't know much about factory. She says she has a small partnership with it. Omkar says thank you for helping my mother, but we will not let you set up the factory. Vishaka says so you are that Omkar. She says just as she came to know about it, she has set up the team to make sure that chemical from the factory will not pollute the factory. She asks her to ask the basti men to cooperate with them as they will get jobs too. Omkar asks her to have samosas and breakfast being their guest and leave. He says we know how cheap Mr. Goswami is, and that's why we will not be affected. Vishaka thinks he has the same attitude. Omkar's mother tells that they can't help her in factory problem. Vishaka asks them to do what they want to do, your basti, your people and water is more important, and factory can be set up anywhere else, and says I will talk to Mr. Goswami and his daughter Mayura…Naina asks her not to take Mayura's name and says Omkar has nothing to do with her. Vishaka smiles and says I will leave. Omkar tells Naina that he knows her from before. Vishaka hears him and leaves. She comes out to her car and thinks Omkar didn't remember anything, but why she felt with Mayura's talks that she remembers everything. She thinks she has to separate them, before Omkar remembers everything. She calls Mr. Goswami and says she needs to meet him now itself.
She comes to Mr. Goswami's house. Mr. Goswami asks why did you call for this meeting suddenly. Vishaka says she wants to convert their partnership in relationship and that's why wants her son Ishaan's marriage to be done with Mayura. She asks if you agree for this alliance. Bela comes to Mayura holding the garland and congrats her. Mayura says my mood is already off. Bela says she has good news for her. Mayura asks if she is leaving the house. Bela laughs and says you are leaving this week itself, as your marriage is fixed with Ishaan. Mayura says what nonsense? Bela says your father and Ishaan's mother are taking out marriage mahurat. Mr. Goswami and Vishaka fix the alliance and have sweets. Vishaka says marriage shall be done at the earliest. Mr. Goswami says we are now relatives.
Mayura calls Omkar. His mother gets upset and refuses to drink milk. Omkar asks her to drink milk before having medicine. His mother asks him to marry Naina. Mayura comes out of room and tells that she will not do this marriage. Guards stop her. Vishaka says let her come. Mayura comes downstairs and tells Vishaka that she will never marry Ishaan. Mr. Goswami asks what is this joke, Ishaan is your good friend, why don't you want to marry him. Mayura says we are friends and says this is not business that he fixed the marriage without her consent. Mr. Goswami says Vishaka ji brought alliance for you herself and says you shall thank her. Mayura thanks her and says you don't know her, and says Vishaka is a murderer and have done many murders. Mr. Goswami slaps her and asks guards to take her inside. Mayura says you are doing wrong and fixing my relation in a wrong house, I will never become her bahu. Vishaka thinks I want to check this only, I knew that she will never agree for marriage if she remembers everything. Mr. Goswami apologizes to Vishaka. Vishaka insists to talk to Mayura alone and clear her misunderstanding. She stops the guards and goes to meet her. Sachin says this girl will ruin our plan.
Omkar's mother tells him to marry Naina and says she loves you a lot. Omkar says she is my good friend, but this reason is not enough to marry her. His mother asks if he wants to marry Mayura then? Omkar says he wants to study and do job first. Naina says he is right. Omkar's mother says I know how much you love him. She coughs. He asks her to have medicine. She says she wants to see his marriage before her death. She asks will you marry Naina or not. She throws the medicine and goes. He says Mummy.
Vishaka and Mayura look at each other. Vishaka says Mayura, so you remember everything which happened with you in last birth. Mayura says ofcourse Vishaka, it can't be forgotten. Vishaka laughs and says I will kill you and Omkar even in this birth and this cycle will repeat, so it is better for you to marry my son and I will forgive you.
Precap: Vishaka plans to send Ishan and Mayura to London once they get married and there, she plans to do Mayura's accident. Mayura comes to Omkar's home to tell him the truth. There she sees Omkar and Naina's alliance getting fixed. He requests her to leave saying his alliance is fixed and they can't be together.
Update Credit to: H Hasan
The post Pinjara Khubsurti Ka 27th July 2021 Written Episode Update: Vishaka threatens Mayura appeared first on Telly Updates.