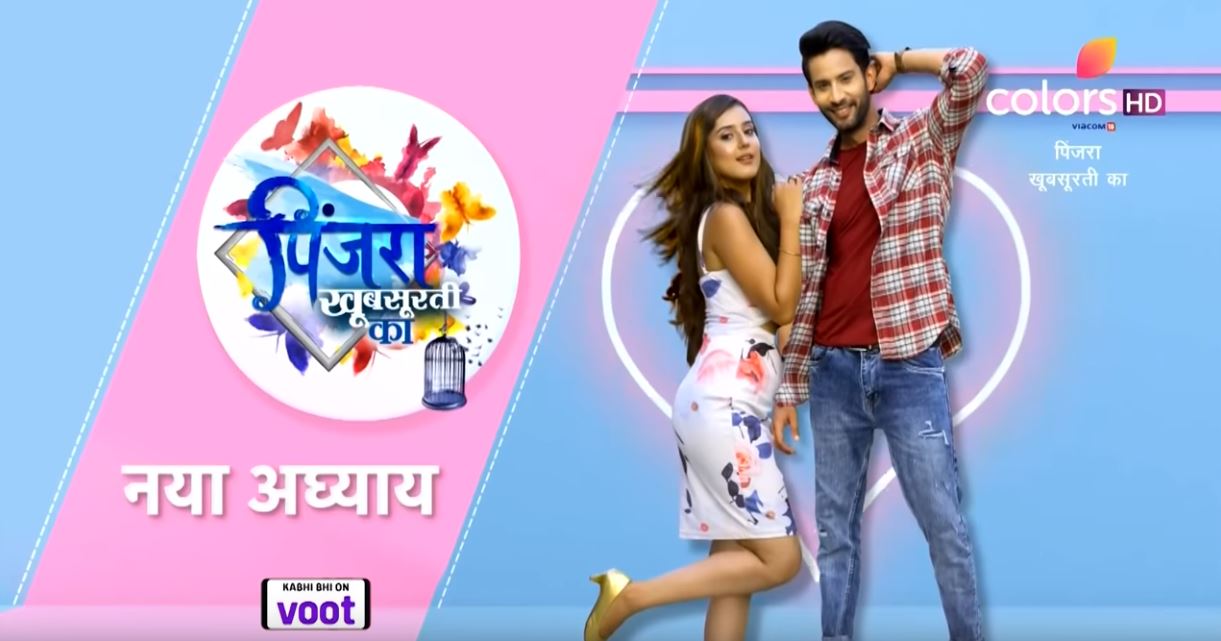 Pinjara Khubsurti Ka 28th July 2021 Written Episode, Written Update on TellyUpdates.com
The Episode starts with Vishaka asking Mayura to care for the new birth in a big house. Mayura says I knew why you have brought this marriage proposal, so that can you can keep Omkar and me separately. She says you have the fear that we will do your "the end". She asks her to think why they have taken rebirth and asks her to start the reverse countdown. Mr. Goswami comes there and asks guards to take Mayura inside. He asks Vishaka if she is fine. Vishaka says I am fine, but it seems your daughter is not fine, says she has refused to marry my son and that's why I will not do investment in your project. She says the ball is in your court. Mr. Goswami assures her that Mayura will marry Ishaan and asks her to make the arrangements.
Omkar asks his mother to open the door. Mayura calls him. He picks the call and asks her to stop calling him, and says he is blocking her, so don't contact him. She calls again, and finds her number blocked. She cries and sits down on the ground. She asks why Omkar is not remembering his last birth and cries, thinking what to do. DM comes there and asks her to have food. Mayura asks her to help her to get out from here and says please.
Naina asks Omkar to have tea. Omkar says sorry to Nain and says I can't marry you. He says you are so good, if I agree for marriage then it will be wrong as I…Naina says you don't love me. She asks if he likes Mayura very much. She says just like my eyes have love for you, your eyes have love for Mayura. She says today I want to tell you something and says I love you, Omkar. She says let me speak, says I love you, don't know from when. She says I will love you even if you don't love me and is ready to marry you. She says I will always stand by your decision. Omkar is in dilemma, about what to do.
In the morning, DM gives laddoos to the guards and says our Mayura's marriage is fixed. She goes inside and tells Mayura that she made the guards have bhang laddoos. Mayura asks where is Dad and bhai? DM says they went to office. Bela comes there and sees Mayura sleeping on the bed. She asks DM what is she doing? DM says she has come to give food to her, but she is sleeping, and had cried a lot in night. Bela says she will read magazine here. DM asks Bela if she has done arrangements of her clothes for Mayura's wedding. Bela says you spoke so wisely, takes laddoo and goes. Mayura thanks DM and leaves.
Ishaan asks Vishaka, what is she saying, marriage with Mayura? Vishaka asks if you don't like her? Ishaan says I like her, but she doesn't like me that way and is interested in that cycle rider guy. Vishaka says soon Mayura's fascination for Omkar will end and then she will like you. Ishaan asks really and thanks her. He hugs her and goes. Vishaka says once Ishaan and Mayura get married, then I will send them to London and suddenly Mayura will meet with an accident there and nobody will doubt. She says she will see Omkar here. She says Mayura and Omkar will take how many births to be together and says I had killed them in last birth, until I am alive they will never unite.
Mayura comes to Omkar's house and thinks to make him remember the past. She comes inside and sees Omkar's mother doing Omkar and Naina's tilak and aarti. She takes off bad sight from them and call Naina as her would be bahu. Mayura calls Omkar. The basti guy identifies her as Mr. Goswami's daughter and asks why did she come here? Mayura walks inside with tears in her eyes. Omkar asks her to stop right there. Vishaka comes to know from her spy that Mayura reached Omkar's house. She asks the spy to keep informing her and thinks Mr. Goswami is not keeping eye on his daughter, thinks to stop Mayura before she splashes water on her plan. Mayura says you are born to be with me, you can't marry someone else. She asks him to remember Narmada river. He says he don't want to remember anything and holds Naina's hand, says she loves me a lot. Mayura asks Omkar if he loves Naina. She asks him again. Omkar says I will marry Naina only. Mayura says this means you don't love Naina. Omkar leaves Naina's hand. He holds Mayura's hand and drops her outside his house. He requests her that they can't unite and asks her to leave from there. Mayura says we are born to unite. Omkar's mother asks Mayura what is she saying to trap her son. She asks Mayura to stay away from her son and threatens to call her family. She tells Omkar that he will see her dead face, if he sees Mayura again. Omkar gives two options to Mayura, asks her to either leave, or clap like other relative for Naina and his tilak rasams. Mayura looks on helplessly.
Sachin comes home and finds guards laughing. DM tells Mr. Goswami and Sachin that she found wine bottles with them. Mr. Goswami asks how dare they to drink on duty and asks where is Mayura? Vishaka comes there and greets Mr. Goswami. She says Ishaan wanted to meet Mayura so I came along with him. DM says Mayura is sleeping. Bela comes there and behaves strangely, says she will call Mayura. Vishaka asks what happened to her. Mr. Goswami says Bela is happy. Mayura takes a stone and writes something on the wall, thinks he will remember that their togetherness is for births.
Precap will be added later.
Update Credit to: H Hasan
The post Pinjara Khubsurti Ka 28th July 2021 Written Episode Update: Mayura shocked to see Omkar engaged to Naina appeared first on Telly Updates.