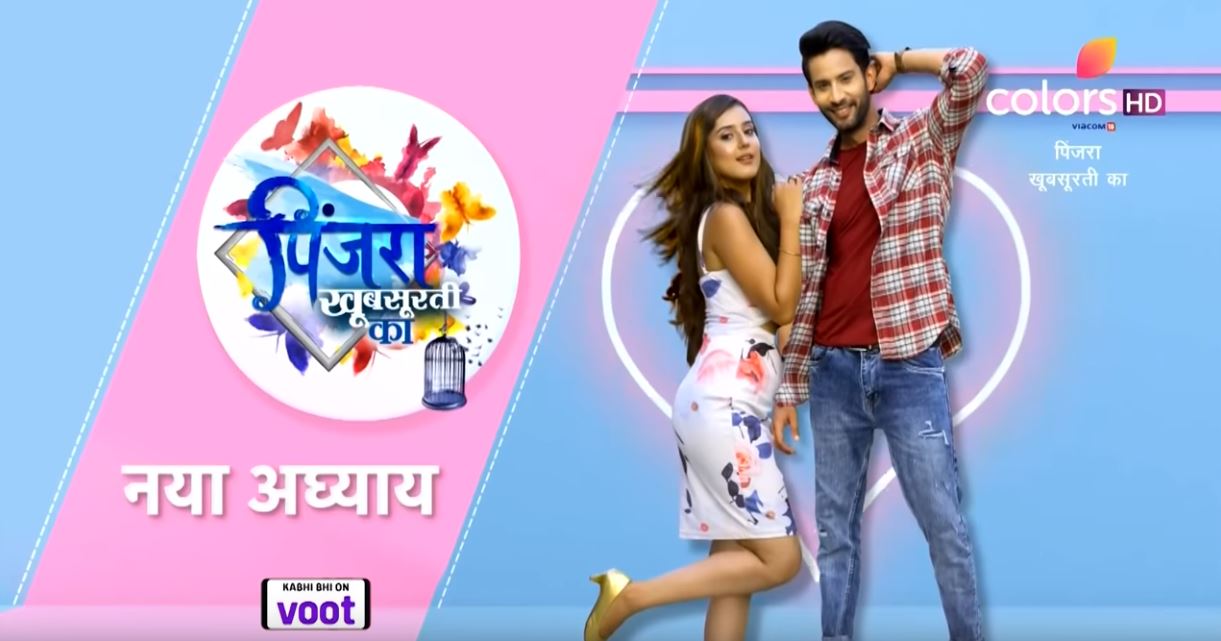 Pinjara Khubsurti Ka 29th July 2021 Written Episode, Written Update on TellyUpdates.com
The Episode starts with Omkar's mother taking out Naina and Omkar's bad sight off from them and says I am going to pandit ji to get mahurat for your engagement. His mother looks at Mayura's message on the wall, that their souls will never separate etc. Naina goes to wipe it. Bela comes to Mr. Goswami and says Mayura has eloped, and laughs. Mr. Goswami asks DM where is Mayura, did you help her escape? Mayura comes there and asks why are you scolding DM? She says I was in washroom, you have believed Bela bhabhi and says you should have checked. Bela says I am seeing 4 Mayura. Mayura asks are you drunk? Sachin asks DM to take bela to room. DM takes Bela to her room. Vishaka looks at Mayura. She says she is very smart than she thought and ruined her plan. Mayura smiles and says hello Vishaka ji. Vishaka says hello Mayura. Mayura asks what happened, you are looking worried as if your plan failed. Vishaka says no and tells that she has no plan. She says she had planned to strengthen their relation and brought gifts for her. Ishaan says hi Mayura, you are not looking at me, and asks how are you? Mayura says you are of my generation and shall understand, how I will be, if marriage is happening without my consent. Mr. Goswami asks Mayura to tell about her choice of gifts. Mayura says my choice, you didn't ask me about my choice for my groom, and asking my choice for the things used in the marriage. She says if you are insisting so much then I must check. She looks at the gifts and says why did you waste so much money? I wanted a simple thing, and says she wanted a shroud for you. Vishaka gets up angrily. Ishaan shouts Mayura, what nonsense are you speaking, she is my mom. Mr. Goswami asks Mayura not to misbehaved and signs her to be tight lipped. Mayura says your action will not work on me, as I used to get silent before, as I used to respect you before, but not anymore, what to do. Mr. Goswami says you will marry just Ishaan. Mayura tells Vishaka that Om is her Omkar on her hand and tells that she was killed by sword and that's how it became her hobby, and tells that she likes marbles as her Omkar was sangemarmar sartaj in their last birth. Mr. Goswami asks Sachin to take her inside. Mayura says when even death couldn't separate us, nobody can separate us and tells that she will marry Omkar in this birth. She goes to room. Mr. Goswami asks Vishaka not to feel bad. Vishaka asks him to make arrangements for marriage and asks him to make sure that they will not bear the insult again and again. She says if we have relation then will be family and if we are not family then will not have business. She asks Ishaan to come.
Ishaan tells Vishaka that they shall cancel this marriage as Mayura doesn't love him and insulted her today. Vishaka asks him to stop and says she made plan with much difficulty. She says she made plan of their marriage. She asks will you go against me and behave like Mayura. She asks him if he loves Mayura and asks what does he think, with whom Mayura will be happy. Ishaan says with me. Vishaka asks him to get facial done and brighten himself. She says in last birth, I had killed them with sword, and even in this birth they will be murdered by me, but with this knife.
Mayura writes Omkar and Mayura on the mirror and finds Omkar behind her. She runs and hugs him. She says I knew that you will come surely and can't stop yourself, you will remember everything. Omkar breaks the hug and says he couldn't remember anything and asks what did she write on the wall before leaving. Mayura asks if he didn't remember anything and asks him to tell. Omkar says he don't remember in rebirth or previous birth and says I came to tell you good bye. Mayura hugs him and says I will not come in your way, it is a matter of few days, as my marriage is fixed with Ishaan. Omkar asks what? Mayura says my dad thought about his business advantage and fixed my marriage with Ishaan. Omkar asks how can he do this? Mayura asks him to do last favor on her and asks him to go to Jabalpur once, and asks him to go to Narmada river and Sangemarmar factory and mine. She says if you don't remember then I will accept that you are not my Omkar. Omkar says ok, then we will never meet.
Mayura practices sword fighting. Bela asks what did you and DM make me eat? She says you fooled me and went to meet Omkar. She asks her to leave the sword and wear the clothes which she shall wear for engagement tomorrow. She says you are practicing as if you are going to war and says your marriage is there. Omkar practices sword as well and thinks of Mayura's words. His mother thinks he might have gone and meet Mayura, I shall do something. She comes to Mayura's house. Bela says she is Omkar's mother. Mr. Goswami syas what do you want? Omkar's mother asks him to make his daughter understand to stay away from her son. Sachin says your son is provoking our daughter against us. Omkar's mother tells that she will not let Mayura ruin her son's life. Mr. Goswami says push her out. Bela says she will push her out. Mayura shouts Bhabhi and asks if this is your manners, that you are behaving this way with her. Bela says you are go much affection for her. Mr. Goswami asks Mayura if she had gone to meet Omkar. Mayura says yes, I had gone to meet him. She tells Omkar's mother that she will not meet him again, if they are destined to meet then will meet surely. She requests her to leave before her father and brother insult her. Omkar's mother leaves. Mayura thinks Omkar shall go to Jabalpur before Vishaka does something.
Precap will be added when available.
Update Credit to: H Hasan
The post Pinjara Khubsurti Ka 29th July 2021 Written Episode Update: Mayura requests Omkar to go to Jabalpur once appeared first on Telly Updates.