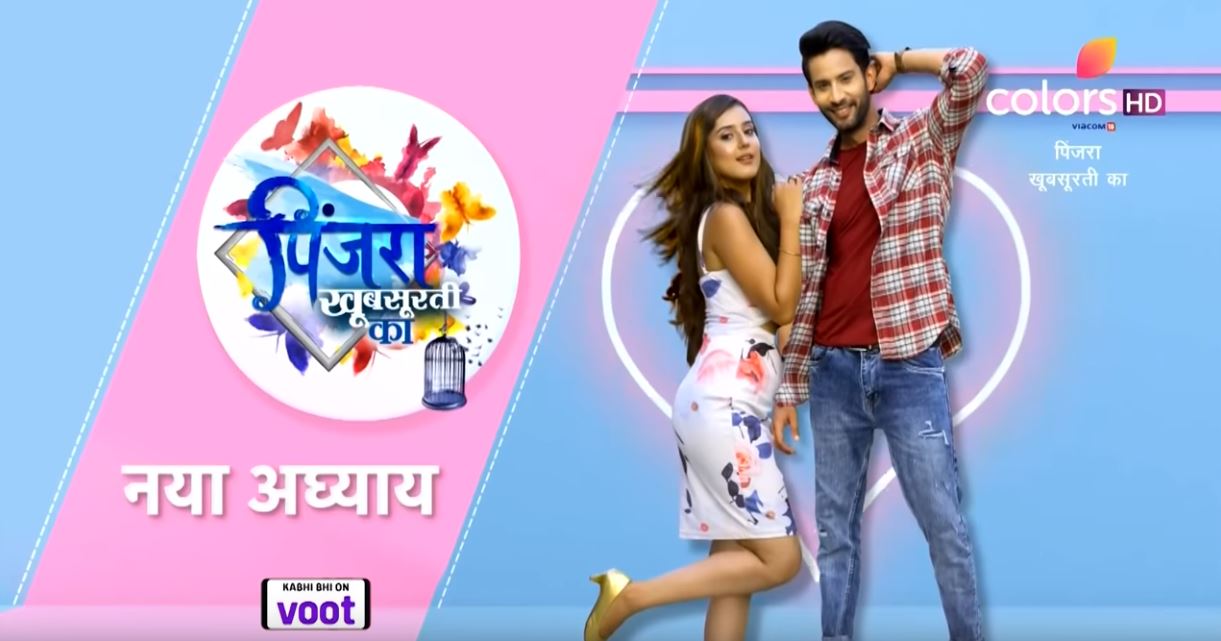 Pinjara Khubsurti Ka 30th July 2021 Written Episode, Written Update on TellyUpdates.com
The Episode starts with Vishaka telling Omkar that she was waiting for him. She has come to meet him in his house and tells that she was thinking about the basti people and him, and enquired about him. She says you are a scholarship student and I think you are wasting your time in a small city and tells that she has a good offer for him. She says she got his admission in a Singapore best college and you got job in research dept. His mother says it is a good news. Omkar says he can't leave the college midway. Vishaka says your mum agreed and now it is your turn. Omkar says I need time to think. Vishaka says you don't have time, as if you say yes then you have to leave tomorrow night. Omkar says tomorrow night? His mother says you didn't tell me before and say his alliance was fixed with him yesterday. Vishaka asks his mother to get them married before he goes, and then he will call Naina and you. Mayura thinks to message him. Omkar asks Vishaka if she is sending him away as he is coming in between her project. Vishaka laughs and says whenever someone wants to do something for anyone, they doubt them. She says she has cancelled her plans of factory. His mother says Mayura's mother said that factory will set up. Omkar asks how do you know? His mother says she had gone to Mayura's house to ask them to stay away from him. Omkar says Mayura might get in problem, why did you go there? Vishaka asks Omkar to think and tells that it is a good offer. Omkar refuses her offer. Vishaka asks how can you refuse? Omkar says I can't leave my mother in this condition. Vishaka is shocked. Mayura gets Ishaan's call and he tells that he will keep her happy. Mayura asks him to refuse for marriage, if he really wants her happiness. She asks what is the use of marriage, if we can't be happy. Ishaan says you can't be happy with cycle rider. Mayura says you can't understand our connection and tells that she wishes that he supports her as a friend. Mayura messages Omkar asking him to go to Jabalpur. His mother emotionally blackmails him for worrying about Mayura more than his own mother. She says I had asked Mayura to stay away from you, but she is calling and messaging you. Omkar agrees to go to Singapore. Vishaka looks on happy.
Mehendi designer asks Mayura about her would be husband's name. Mayura says Omkar. Bela comes there and says her would be husband's name is Ishaan. The mehendi designer writes Ishaan. Omkar messages Mayura not to call him. Mayura calls Omkar. Omkar tells that he can't go to Jabalpur as he is marrying Naina today. He says Vishaka ji had come home and told…Mayura understands everything and asks him to give a chance to their love once. Omkar says sorry Mayura and ends the call. Mayura does aarti of the Goddess and asks her to make Omkar remember their last birth, and return their love. Bela tells Sachin that Mayura is made for that basti guy. Omkar gets Vishaka's message and she sends him ticket to Singapore. DM asks Mayura to stop doing aarti. Mayura tells Goddess to make Omkar remember everything, he don't trust her, and she will also lose trust on her. Naina comes to Omkar and shows her mehendi. She says your name mehendi is darker on my hand. Omkar asks how can you be happy. Naina says I am your friend and we will be happy in Singapore. Her mother comes there and hugs Naina. She says she is happy that Naina got Omkar. Omkar's mother asks her to apply haldi and mehendi to her. Omkar thinks everything seems good, but why it is appearing wrong.
Ishaan comes to Mayura and asks what did Bela Bhabhi tell that you left food and everything on our sangeet day for that omkar. Mr. Goswami asks her to answer Ishaan. Ishaan asks her to get up and says we are getting married. Mayura says I thought you are effected by my words, but no, afterall you are just like your Mom. Ishaan raises his hand to slap her. Mayura asks if he felt bad and says how bad you will feel, when you come to know what wrong she has done. She asks him to go and ask his mom, why she is so eager for their marriage, as she disrespected me. Ishaan says she wants my happiness. Mayura says you agreed for marriage as you love me and says I am not a toy which my dad will invest in a business and your mom will buy. She says I just love Omkar and will marry him only. She says we will never unite and asks her to go and tell his mother that this time only Mayukar will win and not your mom. Mr. Goswami says if you marry then will marry Ishaan only. Mayura asks really dad? She says he was about to raise hand on me. He says I didn't slap you and says I agreed to marry you, as I thought that you will ruin your life with Omkar. He says now I will marry you to fulfill my mom's wish and asks her to get ready for their sangeet. Mayura gets shocked.
Precap will be added later.
Update Credit to: H Hasan
The post Pinjara Khubsurti Ka 30th July 2021 Written Episode Update: Omkar accepts Vishaka's proposal appeared first on Telly Updates.