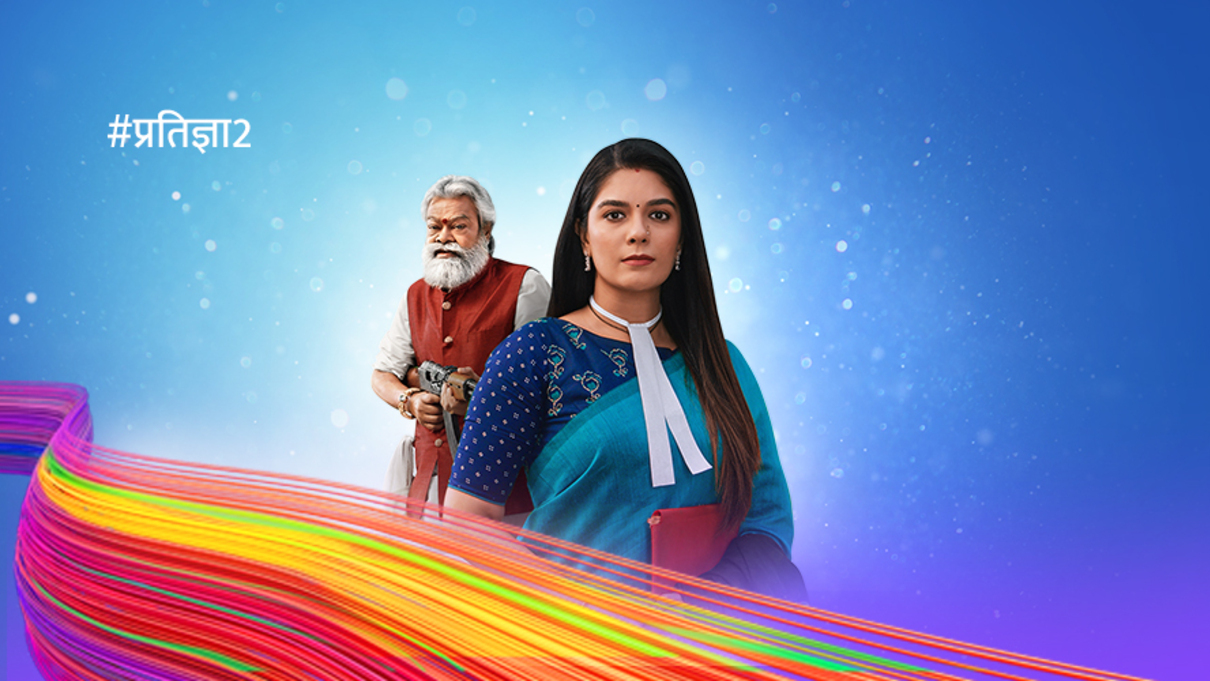 Pratigya 2 26th July 2021 Written Episode, Written Update on TellyUpdates.com
Scene 1
Pratigya recalls Meera's words that she would be with Krishna all her life because of their baby. She cries in the washroom. Krishna calls her as the kids come to their room. She comes to them and asks what happened? Kriti says why is Meera aunty here? She is bad. Krishna says she is ill and will be gone soon. The kids nod and leave. Pratigya says you should have told them the truth, Meera is filled with poison and she can poison our kids' lives. Krishna says I don't care what she does, I am just happy with you.
Sumitra tells Meera that no one can throw you out, you are bringing Krishna's baby. She looks at Kesar and says you must be feeling angry but Meera should have sweets, so bring them. Kesar says I am not her servant, I am the daughter-in-law of this house, she goes from there. A man brings Krishna's photos. Meera asks him to put his photo everywhere, I want my baby to look like him. She sees Kriti and Garv coming there. She says you didn't get to know the truth? Your small sibling is going to come. Pratigya and Krishna come there. Meera says Pratigya you didn't tell them the truth? Pratigya says you are again spitting poison. Why don't you tell them you trapped their father because he lost his memory? Tell the kids truth. Don't try to mess with my family, I am not like you, I won't keep threatening you to throw out of the house. I am just stopping myself because you are pregnant. Do you really think you can put Krishna behind the bars? I can go to the police and tell them you are a fraud, how you kept fooling Krishna when he didn't even marry you and I can frame others who were part of the scheme, so stay in your limits, just give birth to the baby and get lost.
Krishna is in the room and tells Pratigya that we shouldn't have been soft with that woman, we should throw her out of the house. Why are we not filing a case on her? Did you forget what she tried to do with you? Just throw her out of the house. Pratigya says she is pregnant with your baby. Krishna says don't keep repeating it, I am embarrassed. Pratigya says but it's the truth and she is not alone, the whole family is taking her side, they are part of this scheme. Krishna says I don't care, I can jail them all. I stopped because of my father's health but I can't change their fate. Pratigya says we shouldn't make a hasty decision. We just got each other back so let's calm down. Krishna leaves from there.
Meera sees Krishna coming into the lounge. She screams in pain and calls out to Krishna but he ignores her and leaves.
Meera tells the family that Pratigya is a lawyer so she can easily frame us. Sumitra says so she will keep threatening us? Sajjan calls Adarsh there and asks if they can all go to jail if Pratigya files an FIR? Adarsh says as per the law what Meera did was a crime, his wife was alive and she pretended to be his wife and the family took her side so you all can be jailed. Sumitra says Meera is pregnant so shouldn't she get married to Krishna? Adarsh says he can't marry her before divorcing Pratigya. Komal says isn't there a way out of this? Adarsh says if Krishna and Pratigya adopt Meera's baby then she will be free of all responsibilities. Meera says I don't want a free life if Krishna is not in it. I will bring up my baby with Krishna. Adarsh says that's not possible as he didn't marry you. He goes from there. Meera says I will get Krishna at all costs. Sumitra says now the only way is if you win Krishna's heart. You are his baby's mother so you can melt his heart. Meera smirks.
Pratigya is making the bed. Krishna hugs her but she moves away. She says you didn't listen to me in the morning and now hugging me? Krishna says don't be angry, let's forget the morning. Pratigya says I am still angry. Krishna hugs her and says I can calm you down. He kisses her cheek, Pratigya smiles. Krishna keeps kissing her face to pacify her. Pratigya hugs him and smiles.
In the morning, Meera sits at the dining table and acts ill. Sumitra asks Kesar to bring some sweets for her. Kesar says why? You are my mother-in-law but she is no one to me, she can go and bring herself. Sumitra says I will bring it myself. Komal goes and brings the sweets. Meera says I am dizzy, I feel like I can't breathe. Sajjan says I will take her to the hospital. Sumitra says you are not well. I will take her myself as someone doesn't care. She glares at Krishna but he ignores them. Krishna thinks I will end her drama today.
PRECAP – Pratigya and Krishna are in their room but Meera knocks and comes inside. She cries and tells Krishna that I am in a lot of pain so can you please stay with me tonight. Krishna says I will go with you, he takes her from there. Pratigya is shocked.
Update Credit to: Atiba
The post Pratigya 2 26th July 2021 Written Episode Update: Meera plans to win Krishna's heart appeared first on Telly Updates.