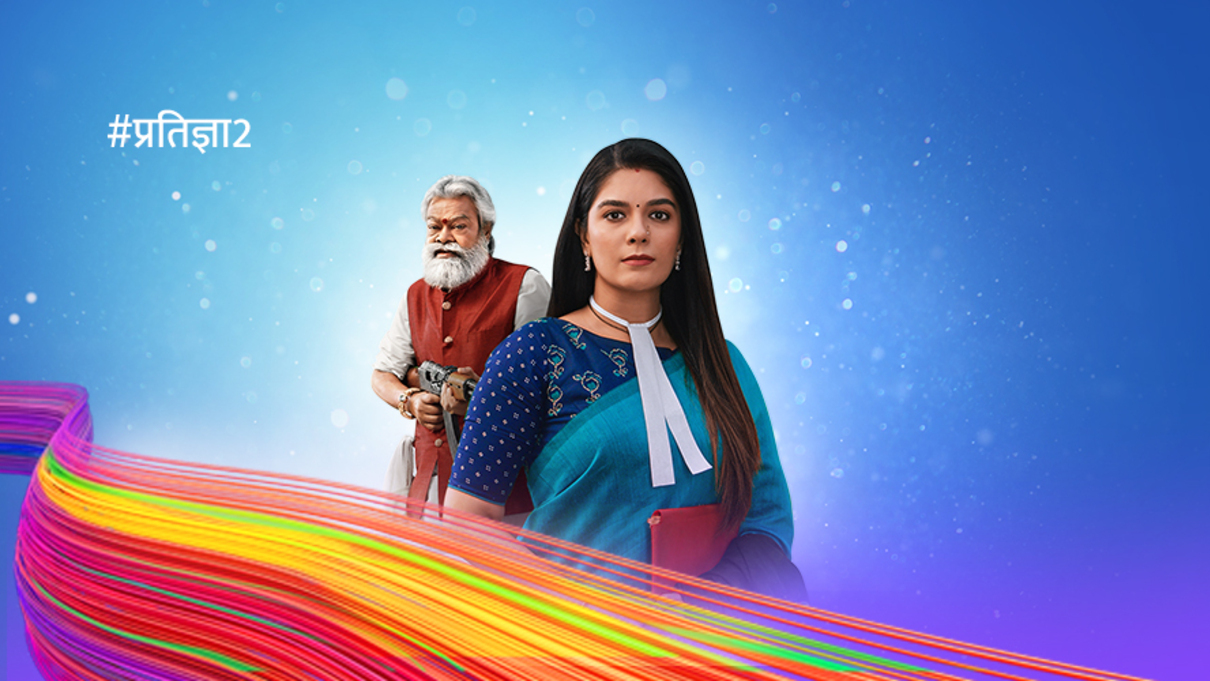 Pratigya 2 27th July 2021 Written Episode, Written Update on TellyUpdates.com
Scene 1
Sajjan is walking on the porch and his walking stick falls down. He asks Kriti and Garv to help him but they leave from there. Kesar ignores him and leaves too. Pratigya goes and picks it up for him. Sajjan says your kids have such bag attitude. Pratigya says they see hatred all the time in this house so they have it too.
The doctor gives medicines to Meera. Sumitra takes it for her.
Pratigya is helping Kesar in the kitchen. Komal says you never cooked in the kitchen so why now Pratigya? Kesar says I know why you are taunting her. Pratigya says to leave it, there is no outcome of this argument. Sumitra brings Meera home and asks Kesar to bring water for her. Kesar brings the glass but gives it to Sumitra. Meera tries taking her medicine but it falls down. She winces in pain and tries to pick it up. Pratigya picks it up for her and thinks this is not a pregnancy medicine. She stops Meera and says this is not good medicine for you. Krishna comes there too. Meera says you are so shameless, you want to kill my baby that's why you are stopping me from taking the medicine? Sumitra says nobody took her to the doctor and now not letting her take the medicine. Krishna asks Pratigya to leave it, let them be. Pratigya says this medicine will harm the baby, she throws the medicine away. Sumitra shouts what are you doing? Sajjan says you have no shame at all. Pratigya says I am telling the truth, it can hurt her. She shows on the internet. Krishna says why are you worried? You don't need to interfere in this, you are not a doctor. He takes Pratigya from there. Meera smirks.
Krishna brings Pratigya to their room and says first you let her stay here and now you are worried about her? Why do you keep interfering in her matter? Pratigya says why don't you understand she could have a miscarriage if she took that medicine. Krishna shouts so let that baby die, I don't care, why are you worried? Are you worried about the heir of this house. Pratigya says I just want Meera and her baby.. Krishna says you are destroying my plan, I want to get rid of that baby and her. Pratigya says what? Krishna says I know that medicine is to kill the baby. Pratigya says what's your plan? The flashback shows how Krishna had bribed the doctor to give that medicine to Meera.
Meera tells Sumitra that Pratigya wants to torture me, she is attacking my baby. Sumitra says she is your enemy so don't listen to her. Meera says she is playing with my baby but I won't spare her if something happens to the baby. Sumitra says the baby will be fine, just calm down. Sajjan says don't worry, he asks Komal to bring the medicine again.
Pratigya tells Krishna I can't believe you want to kill an innocent baby. Krishna says I don't want that baby, she frauded me. Pratigya says but it's not that baby's fault, it's a crime to kill her baby when she is carrying it. Krishna says she took advantage of me when I lost my memory, she wants to tie herself with me for life. I just want to be with you and my kids. I don't want that baby. Pratigya says we will handle everything together but not like this. She asks him to call the doctor. Pratigya calls the doctor and says you did a crime, I can get your license canceled so call her right now and tell her to not take that medicine. Krishna leaves from there.
The doctor calls Sumitra and says I am really sorry, I did a mistake, that medicine is to abort the baby. Sumitra cries and tells Meera that medicine was to abort the baby. Komal says Pratigya was trying to save the baby? Kesar thinks why did Pratigya need to help this woman. Meera cries.
Pratigya brings food to Krishna and asks him to eat. He says I am not hungry. Pratigya says my Krishna can never hurt a baby, just change because of circumstances. Krishna says I was about to do a mistake, I don't know what I was thinking.. Pratigya says it's okay. They eat together. Pratigya says let's go in our room. Krishna says you have to agree to everything I say. He picks her up and takes her from there. Meera sees them and says her happiness will be gone soon.
Krishna and Pratigya are in the bed. He is about to kiss her but someone knocks on the door. He opens the door to find Meera there. She cries in pain and says it's hurting a lot, can you please sleep with me tonight. Krishna glares at her.
PRECAP – Sumitra tells everyone that she has arranged a havan for Meera's baby. Meera comes there wearing mangalsutra and sindoor. Pratigya says you will lie in the pooja too? Adarsh says if the baby's well-being is so important then sit in the pooja with the pure heart only, remove this sindoor and mangalsutra. Meera glares at Pratigya and starts taking it off.
Update Credit to: Atiba
The post Pratigya 2 27th July 2021 Written Episode Update: Pratigya saves Meera's baby appeared first on Telly Updates.