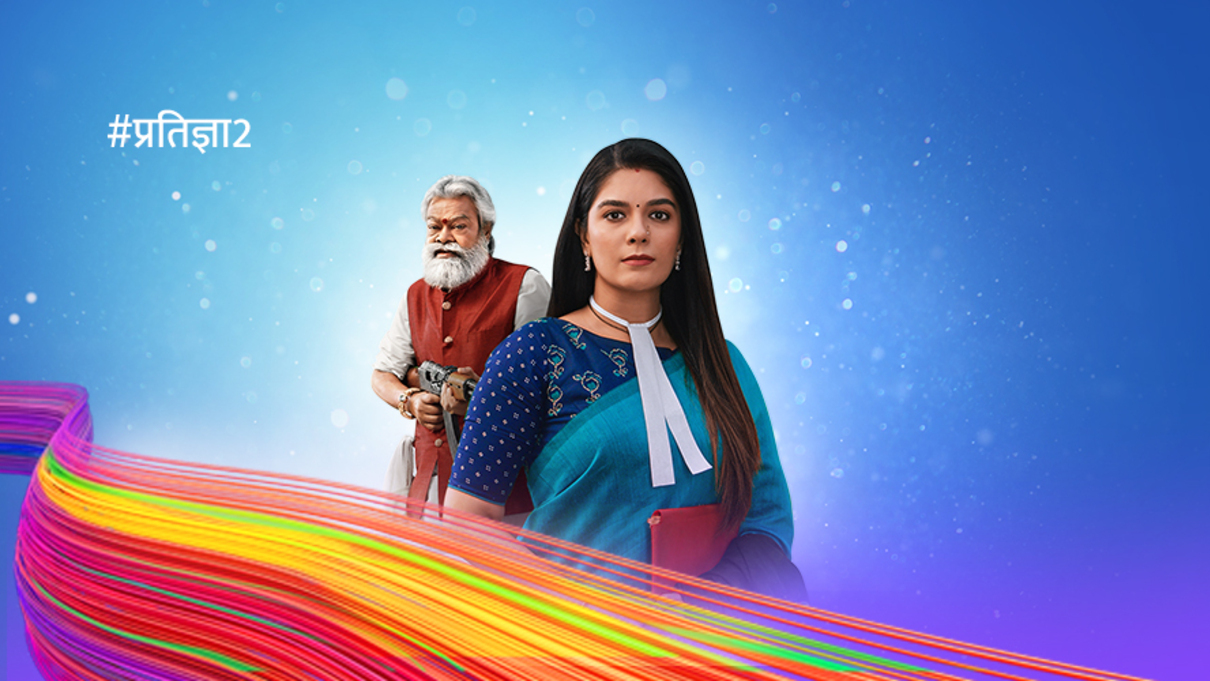 Pratigya 2 28th July 2021 Written Episode, Written Update on TellyUpdates.com
Scene 1
Meera tells Krishna that your baby wants his father. I have no one in my life and if you are not with me then who will take care of me? I loved you so much, where can I go? Who will help me? Krishna says you can go to my mother, she can take care of this baby. Meera says you are this baby's father so it's your duty. Can you please sleep in my room just tonight? You can sleep on the sofa. Krishna says I will go with you. Pratigya is stunned. Krishna goes to Kesar's room and asks her to sleep with Meera tonight, she is not feeling well. Pratigya smiles at Krishna, they both go from there. Kesar says I can go to your room if you want. Meera says I don't need your favor. Kesar says you can stoop so low, such a drama.
In the morning, Krishna is getting ready. Pratigya asks him to close his buttons. She closes it for them. Krishna says you are so possessive. Pratigya says another woman is in the house so she can go crazy and you get many kids from her. Krishna says I will close all buttons if you want. Pratigya laughs. Kriti comes there and says a havan is going on.
Krishna and Pratigya come to the lounge. Sumitra says I have arranged a havan for the baby's safety. The baby could have died yesterday. Krishna says Pratigya saved it. Sumitra says I agree but we have to pray for the baby. Sajjan says he is our heir so we will do pooja for him. Meera comes there wearing mangalsutra and Sindoor. Pratigya says you will lie in the pooja also? You are not married so why this? Meera says but I am bearing Krishna's baby. Pratigya says but that doesn't mean you can wear Krishna's mangalsutra. Don't lie to God. Sajjan says why do you care what she is wearing? Pratigya says I have accepted a baby in this house but not Meera as Krishna's wife. I can see how you all are taking her side but I won't let this happen. Komal says how dare you to talk to Bauji like this? Pratigya says how dare you challenge me? I just tell the truth as it is. Stay out of it. Sumitra asks her to control her tongue. Krishna says Pratigya could have snatched the mangalsutra. Pratigya asks the priest if she can lie in the pooja? The priest says this pooja can happen with the pure heart only. Pratigya tries to take the mangalsutra but Sumitra says enough, she asks Krishna to sit in the pooja. Krishna says I won't. Adarsh says if this pooja is for the baby and if she cares about it then why can't she take off the mangalsutra? Sumitra nods at Meera. Meera cries and takes off her mangalsutra. She wipes her sindoor and sadly looks at Krishna. Eunuchs enter the house and say we came to pray for the baby. They try to bless Pratigya but Meera shouts that I am bearing the baby. I don't need your blessings. Sumitra says don't talk to them like this, their blessings work. Meera says I can work for myself, I don't need anyone's blessings. She asks them to get lost. Pratigya says what is this way to talk to them? Say sorry to them. Meera says I will never apologize. Krishna says she is a fraud, she can never do anything right. Pratigya apologizes to Eunuchs. They bless her. Krishna gives them money. They pray for Krishna and Pratigya's togetherness. They tell Meera that you will never get happiness, they leave. Meera and Krishna sit in the pooja. The priest tells Meera that you can't sit in the pooja because you are not married to Krishna. If Pratigya sits in the pooja and allows you only then you can sit in the pooja. Meera says but I am the one pregnant and I don't need anyone to give me approval. She has no right to tell me what to do. Pratigya says why does it matter who sits in the pooja, you should be worried about the baby and pooja for it. Sajjan asks them to stop it. He asks Meera to move away. Pratigya will do the pooja with Krishna. Meera moves away. Pratigya sits with Krishna. Shakti comes there and says the drama is still going on in this house. Kesar says I will bring cold water for you. Sumitra tells Shakti that Kesar is flying too much these days, you need to bring her back.
Sumitra and Pratigya come to Meera. She asks her to take parsad and tikka. Meera says why? you can give it to Pratigya who did pooja. Sumitra says what is this attitude? You should be most worried about your baby, just think about the baby. She gives her parsad and applies tikka. Pratigya ties a sacred thread on her wrist. Meera thinks I will take revenge from Pratigya for this.
PRECAP – Meera falls down. Pratigya rushes to her and calls out to everyone. She asks Krishna to take her to the hospital fast. Sumitra glares at Pratigya.
Update Credit to: Atiba
The post Pratigya 2 28th July 2021 Written Episode Update: Pratigya does pooja for Meera's baby appeared first on Telly Updates.